Administrator
Windows Modifier
Downloaded

56.1 GB
Uploaded

13.8 TB
Ratio

252.56
Review
BackupAssist is a software application that enables a user to create backups for all types of files, as well as restore and recover items, monitor running processes, and generates reports. The application provides backup of files, folders, and applications, as well as e-mails and SQL databases, to restore and recover items features, and generate reports.
There are several types of backup jobs a user can choose from, such as drive imaging, data replication, ZIP 64-bit compression, and SQL or e-mail backup. User is required to go through an installation wizard, which enables a user to set up details such as source directory, a destination location, schedule on which to repeat the operation, name, and short description.
It is possible to monitor the backup process, as well as create reports along with the number of errors, data usage information, start and end time, job name, label, and computer. Event logs can be displayed in the main window, along with error level, date, event, and category. In addition to that, a user can create a bootable media that can be used in order to perform system recoveries or restore all the data present in a previously created backup.
BackupAssist is a pretty useful piece of software when it comes to protecting user systems from sudden data loss by enabling him to back up, restore, and recover files. The response time is right, yet the CPU and memory usage tends to be a bit high on certain occasions. The interface is accessible to all user categories.
Central Administration so a user can run, manage and monitor multiple installations;
Cloud ready internet backups using Rsync or FTP;
Schedule and automate backups, so user systems, data, and applications are secure;
Rapidly retrieve user data from its backup;
Remote administration and monitoring made easy;
Backup Anything:

Full Systems;
Virtual or Physical;
Files, Folders, Apps;
Backup to Onsite, Cloud;
Incremental Backups.

Data Restoration:

Select File Restore;
Powerful Search Tool;
Boot off Backup Media;
Point-In Time SQL;
Individual M a I l Items.

Disaster Recovery:

Bare Metal Recovery;
Instant VM Recovery;
Hardware Agnostic;
Customize Boot Tools;
Low RPOs and RTOs.

Manage Your Sites:

Single Screen Control;
Remote Backup, Restore;
Global Reports;
Easy Web App;
Remote Deployment.

Ransomware Defense:

Ransomware Protection;
Ransomware Detection;
SMS & E-m a I l Alerts;
Manual Scanning;
Easy Rollout Features.
What is new in version 10.5.2 (Released on March 30, 2020):
The official website does not provide any information about this release at the moment.
What is new in version 10.5.1:
ClosedShow all BackupAssist 10.5 maintenance release notes;
ClosedShow all MultiSite Manager 10.5 maintenance release notes.
System requirements:
OS: Microsoft Windows® 2000, Windows® Vista, Windows® 7, Windows® 8, Windows® 8.1, Windows® 2008, Windows® 2008 R2, Windows® Server 2012, Windows® 10 (both 32 & 64-bit).
Install notes:
1. Kindly read "Readme.txt" file given in download zip file;
2. Enjoy!
Screenshots: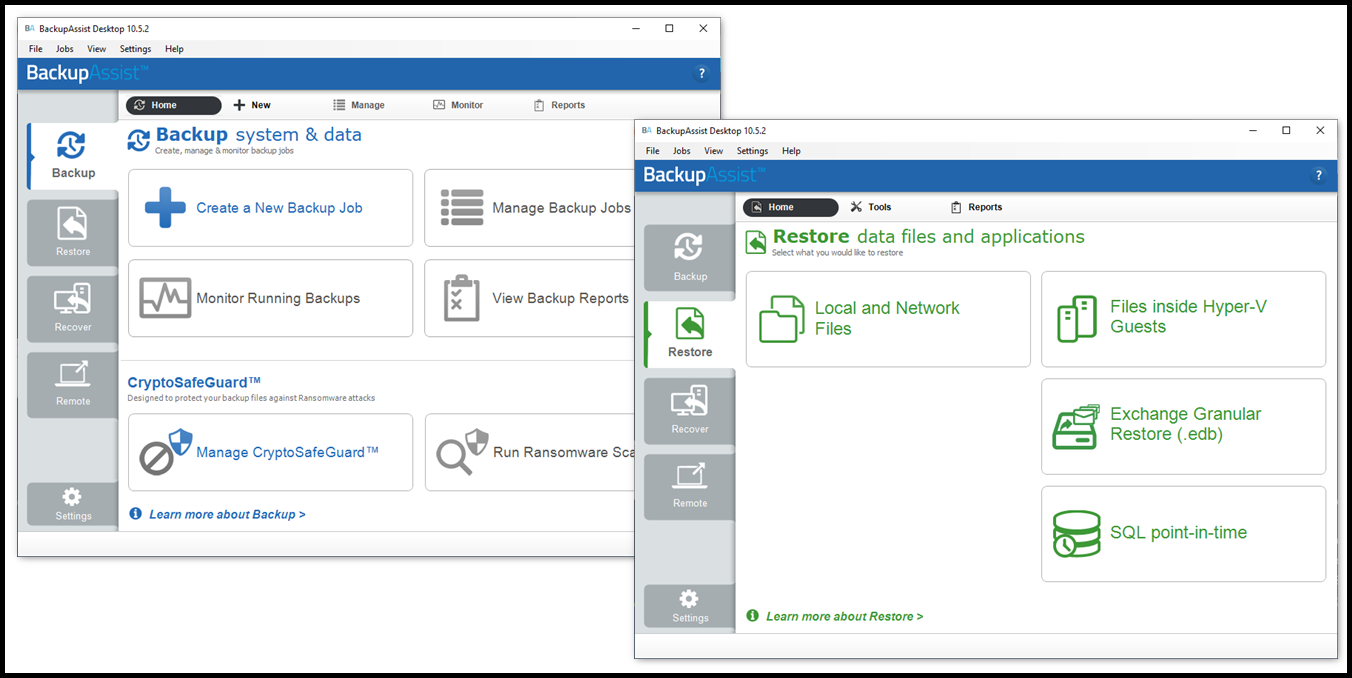 Virus free! No virus signature! 100% clean!
​
File: CortexIT.Core.dll
You must be registered for see links
00/69
MD5: 62BF395350432D112A0E187B25ABA99B
SHA1: 21725B16BDB96469DE14C15DB989228142BE1AEA
SHA256: A2723105D5DD098CFA6DAAB383F98CE781D79801A29275666C1C1AAB88C03DC4
Kind regards,
@Mirkec
in collaboration with TeamOS
Download links - version 10.5.2 (Size: 103.36 MB):
You must be registered for see links
You must be registered for see links
You must be registered for see links
You must be registered for see links