Downloaded

10 GB
Uploaded

11.3 TB
Ratio

1155.06
Seedbonus

51
Upload Count

43

(43)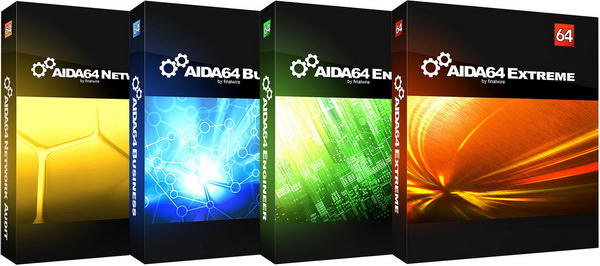 AIDA64 (former EVEREST) - the utility is a powerful tool for identification and testing of virtually all components of personal computers running operating systems Windows. Gives you detailed information about all the hardware and software, in addition, with built-in modules for testing and calibration can be further tested the individual subsystems PC. Displays detailed information about all the hardware and software installed on your system.
Level information about motherboard and CPU
Details of the video drivers and monitor
Information about all storage devices
Exhaustive information about network adapters, multimedia and input devices
Information about other glands (PCI, PnP, PCMCIA, USB)
Details of Windows, including the date of installation, the license key and more
Information about network shares, users and groups list, and much more
Large amount of information about networking status, remote access, network resources and Internet settings
Detailed information about installed programs, scheduled tasks and startup programs
Information about operating system security
A list of firewalls, anti-spyware and anti-
System Stability Test
CPUID Panel
Hardware monitoring
Benchmarks CPU and FPU
Tests of memory
Module performance test drive
Detection of possible misconfiguration and compatibility issues of hardware and software
Report Wizard
Mailing and printing
​
1. Combined in one distribution program installation or unpacking portable version
2. Choosing to install Business, Engineer, Extreme, Network Audit release
3. Does not require registration (key)
4. Removed English Help and license agreement (and references to them in the program menu)
5. Multi-language interface (including Russian)
6. Remove the HD interface resources (the remaining is enough for 1920x1080). but added
opportunity to pick HD resources (just put aida_uireshd.dll next to the installer)
7. Added the ability to install alternative classic design
8. Picks up your settings of * .reg and * .ini files, if any, in the folder with the installer

Removed from repack HD resources (for monitors 4k) - 22,6Mb
​


This repack incudes portable versions of programs
Archive size: 19,7 MB
Extract and install any versions or use silent unpacking to unpack 1 or more versions
1000% virus free
Torrent only!
​
Last edited:
Created With:

ruTorrent (PHP Class - Adrien Gibrat)

Comment:

Downloaded From https://www.teamos-hkrg.com/

Peers:

21 Seeders + 0 Leechers = 21 Peers

Info Hash:

af312ad4d23f19440d1e76e24612830114ed3a2e

Loading…