🤶 Always Love 💞 on 🐼Nicky's & Mirkec🦹 Build 🎃
Uploader
Verified Member
Member
Downloaded

31 GB
Uploaded

7.7 TB
Ratio

253.25
Seedbonus

256,050
Upload Count

24

(24)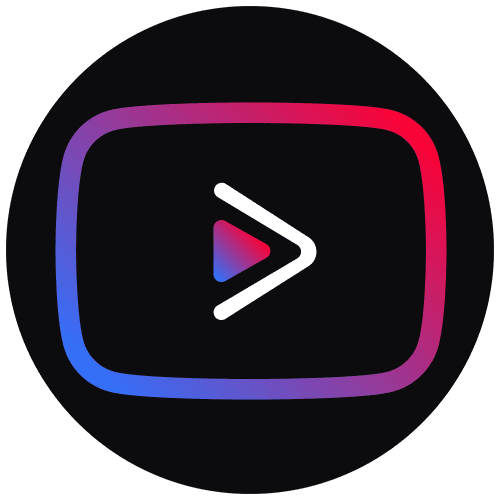 Blocking ads is better than blocking me

YouTube Vanced is the stock Android YouTube app, but better! Includes adblocking, true amoled dark mode and a lot more.​
YouTube Vanced is a Youtube client that lets you use this popular video platform for streaming along with some additional features.
The most interesting part about YouTube Vanced is that it lets you listen to your videos in the background, even when you turn off your smartphone's screen. That way, you can easily listen to music and even use Youtube to listen to podcasts at any moment.
Another cool feature of YouTube Vanced is that it lets you block all the ads in the videos. Of course, you can activate and deactivate that option at any moment but it's activated by default.
YouTube Vanced is an alternative Youtube client that lets you listen to videos in the background, block ads, force resolutions, use the 'repeat the video' option and much more. All of that from an interface that's identical to that of the original client.
Vanced is a well known modded version of YouTube with many features such as adblocking and background playback, the full list can be found below:​
| | | |
| --- | --- | --- |
| | | |
| | Available​ | Not Available​ |
| | Not Available​ | Available​ |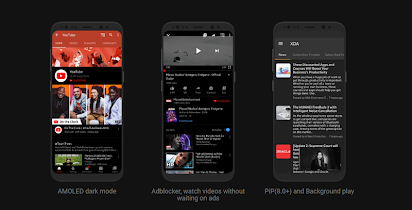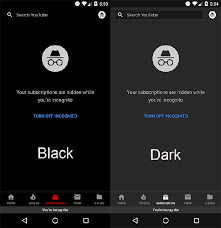 Read the post before asking/posting anything.
​
Android phones: Android phones and tablets running version 4.4 or above.

MicroG Important



YouTube Vanced IS NOT YouTube Premium

Blocks all YouTube ADs (some options are togglable)

Background playback feature

Force VP9(or HDR) or vice versa

Override Max Resolution

Pinch to Zoom on all devices

Casting togglable (can be forced off)

Togglable Theme (White/Dark/Black)

PiP (Oreo Only)

Video window new or old style

Repeat video feature

Preffered Resolution & Speed feature

Swipe controls for Volume and Brightness

New Logo by Logan

Just read the instructions!
​
NOTE:
Please use CTRL+F if you're trying to find a solution to something. If something is missing, you can reply here to alert us.
FAQ:
So, what exactly is YouTube Vanced?
YouTube Vanced is a modified version of Google's YouTube app that adds features and tweaks to make your YouTube experience better!
Such things include:
Background playback
Custom themes (normal dark, OLED black, bright pink, or sky blue)
(Most) ads are gone
Override max resolution
And much, much more!
For a full list, check out the "features" visit official site.
How do I install YouTube Vanced?
See the installation guide.
I'm getting a connection error, and cannot load YouTube!
• Be sure you installed the latest MicroG version along with the latest Vanced version.
Make sure you install MicroG APK before you install the Vanced APK.
(If you are looking to install an older version of Vanced, scroll down to the bottom of the installation guide.)
• If you've recently changed your password or modified anything on your Google account, you'll need to log out, uninstall MicroG and Vanced, reinstall MicroG then Vanced, and then log back in.
• If you have 2-Factor-Authentication on your Google account and encounter the error, remove it, log in to MicroG, then you can add it back to your account.
• You can also try clearing app data (system settings > apps > MicroG for Vanced > storage > clear app data, and repeat the same for the Vanced app).
• Disabling battery optimization for both of the apps might also be helpful.
• Removing your account from MicroG/Vanced can also help. Instructions to do so are below.
How do I remove my Google account from MicroG, and therefore Vanced?
This is useful if you're encountering an error trying to log into the app if you have installed the app and logged in previously, or if you're having issues with connecting.
1) go to system settings > accounts
2) go to the entry with a blue G logo.
3) select it, click "remove account"
Now you can go into Vanced and add your account again.
The non-root variant is force closing on start up!
Uninstall Vanced and MicroG. Reinstall the MicroG APK first, then the Vanced APK.
The non-root variant is force closing when opening cast menu!
This is an issue with your Substratum theme. Grab a logcat and forward it to your theme dev.
The Vanced app just loads infinitely!
Make sure you have battery optimization disabled for both "YouTube Vanced" and "MicroG for Vanced". You'll need to disable Google's battery optimization along with your OEM's battery optimization.
How do I disable battery optimization for Vanced and MicroG for Vanced?
We can't answer this precisely, as the steps and workflow varies from OEM to OEM, so specifc instructions to do so can be found on Google or
dontkillmyapp
.
My splash screen is white, even though I downloaded the black variant!
Google changed the splash screen color from a static color to depend on your system's dark mode toggle.
If you want a black splash screen, you'll need to toggle on your system's dark mode (Google for instructions on how to do so for your specific device) or you can use the May 30th build, which changes the white splash screen to black splash screen.
Notifications aren't working!
Make sure you go into the Vanced app > tap on your profile > settings > Vanced settings > and follow the instructions listed within.
If the Vanced app is not showing up in the "Google Cloud Messaging" section of MicroG, then you need to log out of MicroG (system settings > accounts > find Google with a blue G logo > click "remove account" ) and then log back in.
Make sure you have battery optimization disabled for both "YouTube Vanced" and "MicroG for Vanced". You'll need to disable Google's battery optimization along with your OEM's battery optimization - instructions to do so can be found on Google or
dontkillmyapp
.
I can't find MicroG settings in the Vanced app!
Make sure you're using the May 30th white/black version. If you are and it's still not showing up, or you just don't want to use the white/black themed version, you'll need to manually enter MicroG settings.
Go to your device's system settings > apps > click on Vanced MicroG
click on the settings cog in the top right or "in-app notification settings"
(if either option does not appear, then follow the steps below)
Download Activity Launcher from the Play Store (doesn't need to be this exact app, but needs to do the same thing - launch a hidden activity via a home screen shortcut. This tutorial will use this app though, but steps should be similar enough to be applicable to other apps.)
Select "all activities" from the drop-down menu and select "Vanced MicroG"
From the drop-down menu, select "MicroG Settings"
After going into MicroG settings:
Under "Google Cloud Messaging", you will see 1 registered app, which will be Vanced. Click on it.
If the status is "Disconnected", tap on the 3 dots menu in the top right, and click on "Advanced"
Tap on either "Mobile networks", "Wi-Fi", "Roaming", or "Other networks" (doesn't matter which) and change the ping to "Manual". Then switch it back to "Automatic"
The status will change to "Connected" and notifications will work! If it still isn't working, be sure to follow the steps in Notifications aren't working!
If your Vanced app doesn't show up as "registered" in MicroG settings, reinstall the Vanced app.
Will the app auto update?
No, it will not.Developers have no plans to add an auto updater/checker to the app.
When is an update to the app coming? The stock YouTube already has an update!
The devs already know a new update to YouTube is out. Work is being done behind the scenes. Do not ask for an ETA or where an update is. It will come when it comes
How do I download videos?
Downloading videos is only available in
support google com youtube answer 6141269
.
You need to purchase YouTube Premium or use a third party app to download videos if you're not in one of the supported countries.
Vanced will never add any sort of third party downloader to the app. Please don't ask if the devs can add that feature. If you have any issues downloading, then you need to blame Google - Vanced doesn't touch the downloader YouTube implemented.
Why doesn't my watch history get saved?
Make sure you whitelist *s.youtube.com in your adblocker.
For non-root users, you'll need to be on 14.10.53 or higher for the app to save your watch history. If you can't, then you'll need to merge your brand account in YouTube settings.
This site/user is claiming to be taking donations for the development of Vanced!
The Vanced team does not accept donations, beware of any site/user that claims to be part of the Vanced team and asking for your money, it's probably someone pretending.
But if you'd like to support the Vanced devs, you can use this Brave referral code:
kev231
I get an error when downloading the APKs from the official website!
Follow on TEAMOS
You will be updated on TEAMOS
What's the difference between the non-root variant and root variant?
There is no difference between root and non-root version in terms of features.
Some links don't open directly in YouTube app if using non-root.
Non-root has different package name, it requires microG to login.
Vanced doesn't show up in my app drawer after I flash the installer or install the Magisk module!
For root variant
The root variant won't detach from the Play Store! The Play Store constantly shows an update is available for YouTube!
It is not updated here
and will be ASAP
I clicked update on YouTube from the Play Store, and now my Vanced app is replaced by the stock YouTube app!
It is for root varient
I see ads on my home page, search results, and underneath my video!
Known issue. YouTube serves these ads depending on region, so these ads won't show up for everyone.
Because of this, the devs first need to receive the ad. Then they need to find time to research how to block said ads. Only then will they be able to actually hide it.
So for now, you'll have to put up with such ads. Or you can just change your region to one that doesn't have those type of ads. Your choice.
Will there be a YouTube Music Vanced made?
Short answer: No.
Long answer: already been made. Was dropped because redundancy and dev didn't want to maintain two apps. Beware of any apps claiming to be YT Music Vanced.
A version was released for April Fool's Day though. If you would like the download that version, check here:
https://www.teamos-hkrg.com/threads/yt-music-vanced-3-79-50-build-2-3-ad-free.132642/
Do note that this version will not be receiving updates, so any issues or bugs you find will stay as-is.
How does the new YouTube's Terms of Service affect Vanced?
It doesn't.
Please read
The section of our Terms that you're referring to is *not* about terminating an account if it's not making enough money – it's about discontinuing certain YouTube features or parts of the service, e.g. removing outdated/low usage features. This does not impact anyone in new ways!
and


The specific provision of the TOS is not referring at all to Youtube banning adblocking. (Literally the closest mention of advertising at all is a provision in the TOS that actually prohibits forced "click-throughs" as a condition of viewing Youtube content--i.e. hiding a Youtube video behind an ad(dot)fly URL shortener, for instance.)

The specific provision OP may be thinking of:

[QUOTE][B]Terminations by YouTube for Service Changes[/B]
YouTube may terminate your access, or your Google account's access to all or part of the Service if YouTube believes, in its sole discretion, that provision of the Service to you is no longer commercially viable. [/QUOTE]
Is actually a disclaimer stating that if for some reason [I]Google[/I] finds [I]Youtube, as a whole, no longer profitable or specific sub-sections like Youtube Music or Youtube Premium[/I] that it will discontinue the service. (Much as they have with Google+, much as Google Hangouts is soon to be killed off, much as Google Wave and Google Glass were killed off, and as many other services Google thought weren't profitable enough have ended up as footnotes in history.) Fortunately, Youtube is one of those services that very much IS profitable for Google (not just in terms of Google Adwords money, but from things like actual record labels using Youtube as the de facto means of music promotion nowadays and getting premium accounts, etc.)



for more information.
Videos opened in Vanced from different apps are stuck on loading!
Uninstall Vanced. Install MicroG first, then Vanced. Follow the guide

[SIZE=5][B][I]How do I disable battery optimization for Vanced and MicroG for Vanced?[/I][/B][/SIZE]

to disable battery optimization for both apps.
I'm getting an error while installing Vanced 15.x
Well, there are many reasons for various errors.
If instalation states that:
App is incompatible
: try different arch
If MicroG doesn't install, install MicroG.
App says "you already have an account" when trying to log in!
To fix, uninstall and reinstall.
Why isn't the Magisk module being updated anymore?
Since YouTube v14.41.52, Google has moved to the new APK Signature Scheme v3 and because of that, it's impossible to modify system apps without disabling Android's system-wide signature verification.
As we are disabling signature verification, root version is installed to /data/app and /system/app. So Magisk module is redundant now, as even with the module, you'd still have to disable signature verification and install the APK with SAI.
Therefore, Magisk version is discontinued. 14.21.54 is the last version of the Magisk module, it will not be updated any further.
Why is 15.x and above distributed as .apks, and require us to install it using SAI?
Since v14.54, Google distributes the YouTube APK in split APKs instead of the traditional APK format everyone knows and love. So therefore, the devs can only modify the split APKs and distribute it as such.
The devs did consider releasing a normal APK version of all versions past 14.54, but it greatly increased development time and was a pain in the ass, so the idea was scrapped.
How do I get Vanced on my iOS device?
Vanced does not have an iOS version.
If you're jailbroken, you can use the YT++, Cercube, YouTube Reborn, YouTube, Tools, etc. jailbreak tweaks.
If you're not jailbroken, YT++ or Cercube are available as IPAs to install via Cydia Impactor/AltStore/etc.
Both apps have no relation Vanced though (Vanced is just for Android), so don't ask about it in the subreddit.
Can SponsorBlock be implemented in Vanced?
It has been implemented as of Vanced version 15.33.34.
Why can I not pick a higher quality than 480p?
Because coronavirus, according to Google.
If you would like to bypass this restriction.
Alternatively, set your automatic resolution to be in a resolution higher than 480p. This will let you view the video in the resolution you set, but you can't switch to any other resolution higher than 480p.
Removed:
– Auto subtitles (has been replaced with live captions)
– minimised video player style (Google removed it)
– auto repeat (might be fixed later)
– accessibility seek buttons (might be fixed later)

Changed:
– Whatever Youtube fixed over 9 months
– some small bugs
Experimental Sponser Block Availabe ( to be ennabled in settings )
What bugs? Never heard of them.
Buying things within the nonroot version of the app causes crash. Likely due to MicroG but tbh, it's better this way for your security. Just use original youtube to buy the stuff you want.
Ok, not really a bug but since people don't read it's experimental, ExoPlayer V2 might be causing crashes when coming back from background playback on some devices.
Non-Root stuck on I Agree Use MicroG to stop it
Using voice search crash the app ( will be fixed asap )
Unzip the file
Steps:
1. Install microG Vanced
(If you don't install microG, YouTube will crash on starup)
2. Install YouTube Vanced according to your architecture
3. If app not installed you are wrong choose different architecture
4. Done! Enjoy!

You must be registered for see links
=> MicroG


You must be registered for see links

=> All in a single zip

NOTE all apks in a
single zip
including
latest microG
You must be registered for see links
Thank you

All Staff and Members

for Guidence

credits to app developer

xfileFIN


If there is any mistake please forgive & bare with me and teach me
Thank you for your support
Kind regards
@kddspraj