Administrator
Windows Modifier
Downloaded

56.1 GB
Uploaded

14.3 TB
Ratio

261.65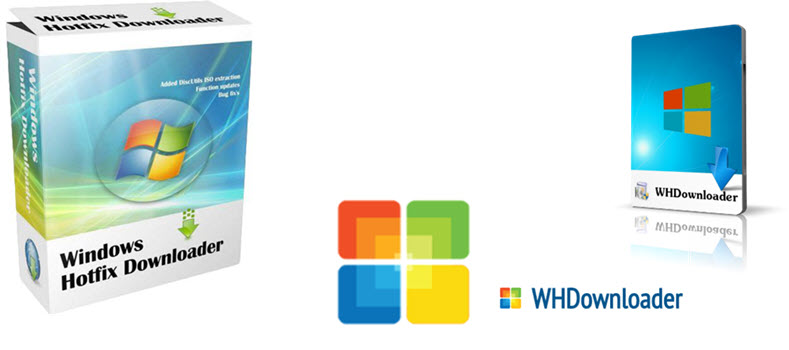 Review
WHDownloader formerly known as a Windows Hotfix Downloader is a lightweight and straightforward hotfix downloader app filed under computer utilities which allows a user to find and apply the latest Microsoft Windows and Microsoft Office updates.
WHDownloader is intended for Windows 10, Windows 8.1, Windows 7 Post-SP1, Office 2016, 2013 Post-SP1, Office 2010 Post-SP2 users.
Download Windows Updates (abbodi1406 - Windows 7, 8.1, 10);
Download Office Updates (abbodi1406 - 2010/burfadel - 2013);
Download Windows Language Packs;
Download SP2 for Office 2010;
Download Windows 7 ISO's;
Install/uninstall Updates;
Install Office Updates;
Integrate Updates, Language Packs, Drivers, Tweaks, Serials, Certificates, OEM Information, Setup images, Wallpapers, ThemePacks;
Integrate Office Updates/LanguagePacks/ServicePacks;
Enable/Disable Features;
Remove Component Packages;
Remove Languages;
Windows Update cleanup;
Check installed Updates;
Download and save Windows Updates;
Download and save installed Windows Updates;
Create bootable ISO image;
Create Office ISO image;
Enable NetFX3 (Windows 8, 8.1 offline);
Convert Language Pack 'EXE' to 'CAB';
Convert 'MSU' to 'CAB';
Convert Office 'EXE' to 'MSP';
Convert Windows 8/8.1 Professional to WMC;
Backup Drivers;
AIO Tool;
USB Tool;
ESD Tool.
What is new in version 0.0.2.3 (Released on March 19, 2018):
Added Update installer - Integrator (still in progress)
New GUI in progress
Update check updated
What is new in version 0.0.2.2 (Released on October 07, 2015):
Added Office 2016 support
What is new in version 0.0.2.1 (Released on August 08, 2015):
Fixed Windows 10 Update list check
Supported Operating Systems:
OS: Windows 10, Windows 8.1, Windows 8, Windows 7, Windows Vista (both 32 & 64-bit).
.NET4 Framework.
Screenshots: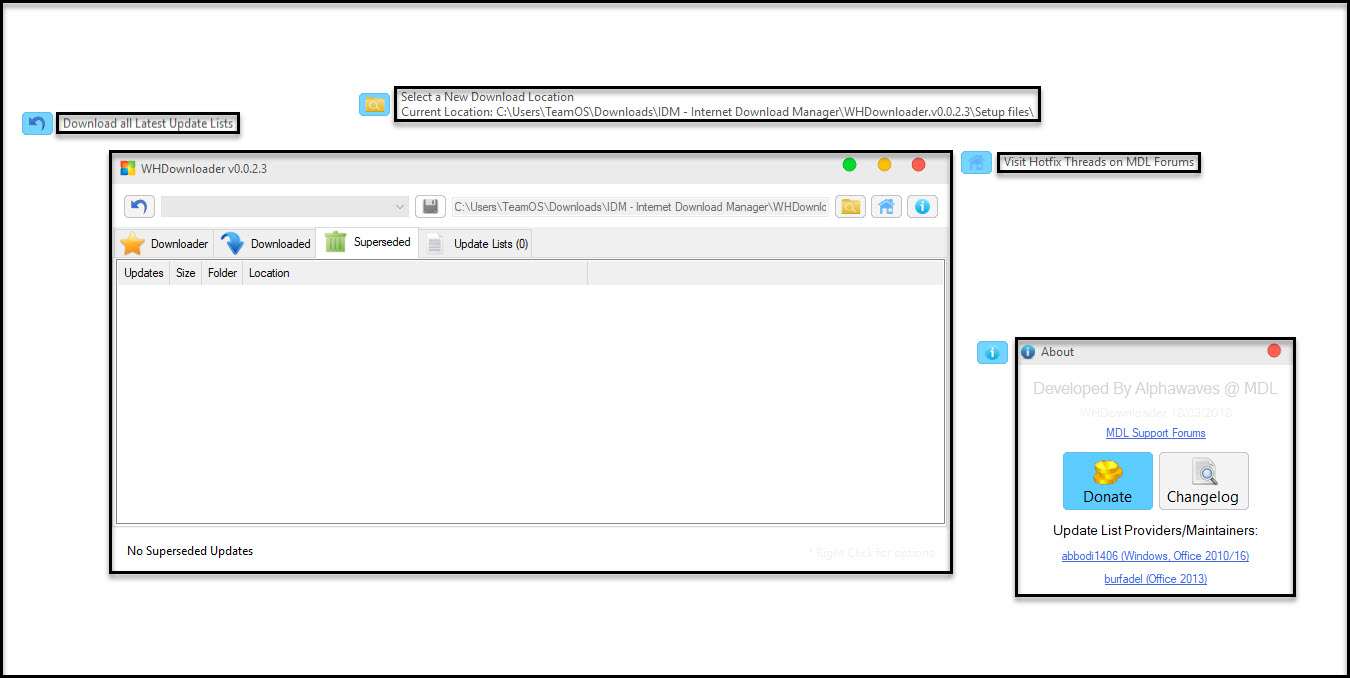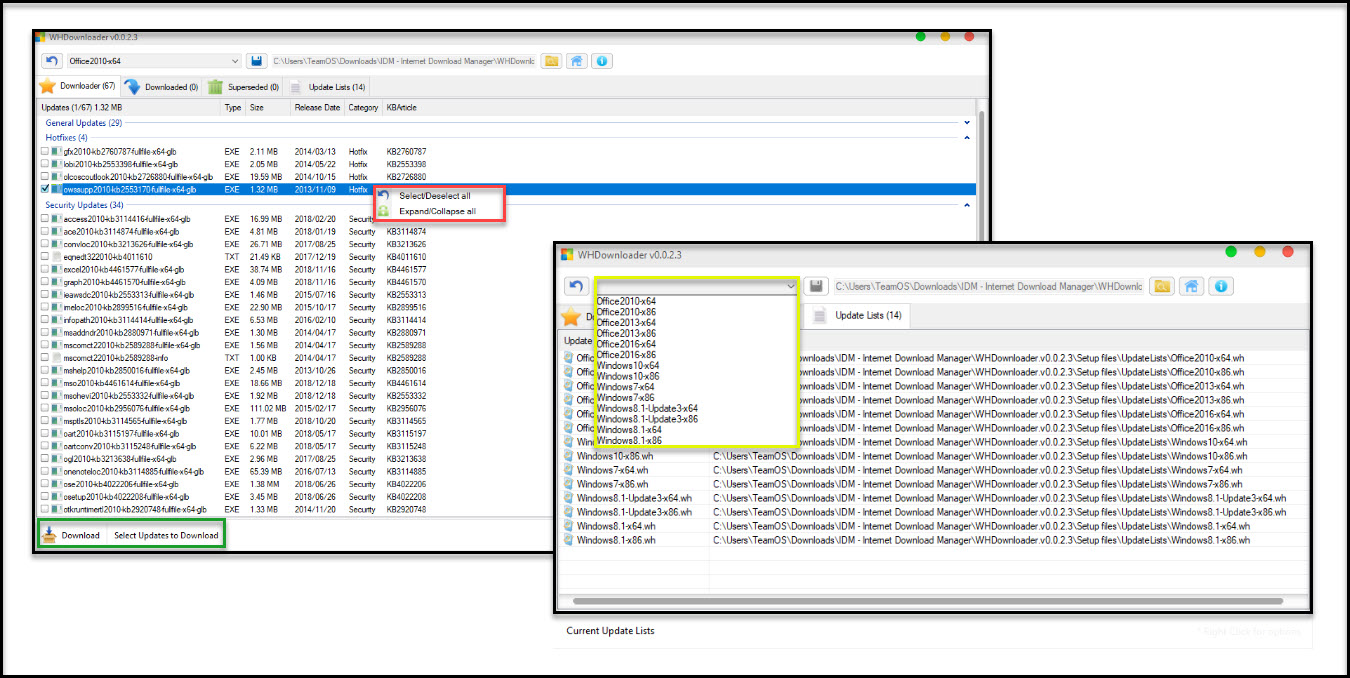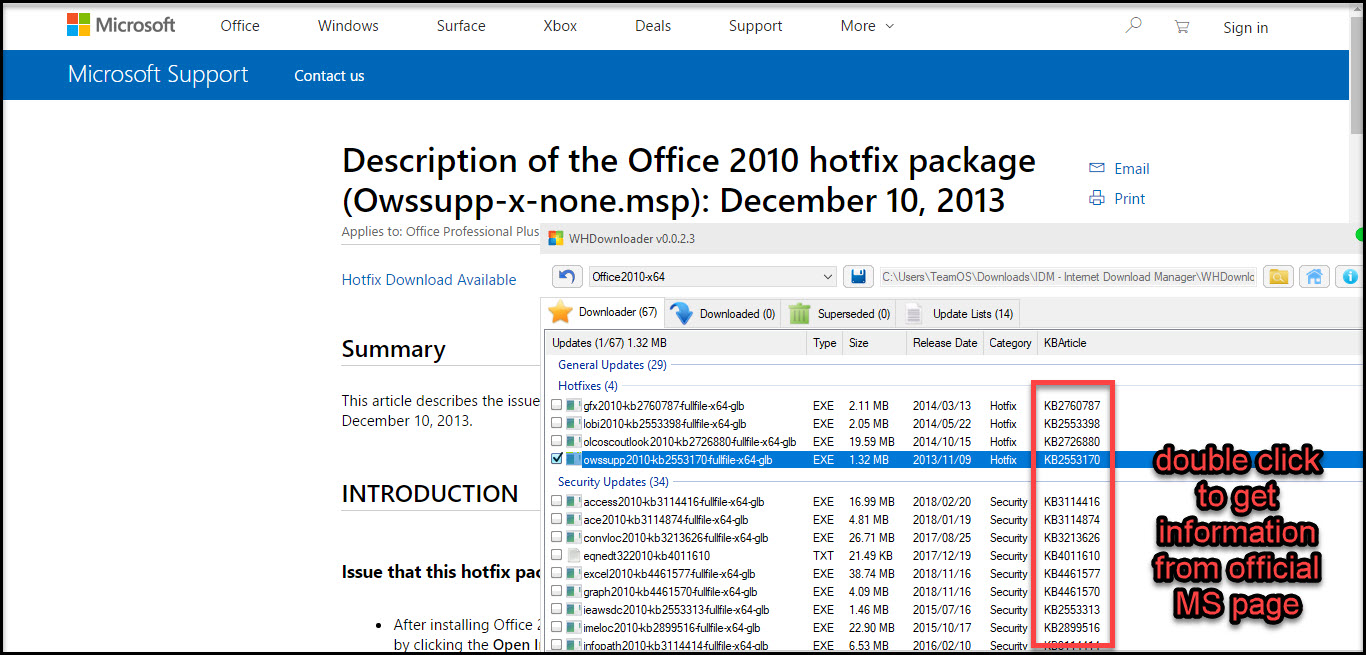 Virus free! 100% clean!
All credits go to Alphawaves who made and shared the application!
​
File: WHDownloader.exe
You must be registered for see links
2/69
MD5: 57A8D7A399E4A00FDCB4F89CD34929A9
SHA1: 2A485535943AF7FB949B55E6F6609BBFCA85DDDF
SHA256: 6354D37559069001471AEEAAD5E9B2723EDB46DBBA7936EC2E513F01FDFD1399
Kind regards,
@Mirkec
in collaboration with TeamOS ?
Download links (Size: 1.36 MB):
You must be registered for see links
You must be registered for see links
You must be registered for see links
You must be registered for see links
You must be registered for see links
You must be registered for see links
Last edited: