Administrator
Windows Modifier
Downloaded

56.1 GB
Uploaded

13.9 TB
Ratio

252.8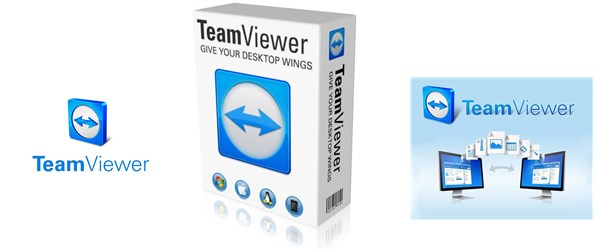 Review
TeamViewer is a handy solution for remote control, desktop sharing, and file transfer that works behind any firewall and NAT proxy. To connect to another computer just run TeamViewer on both machines without the need of an installation procedure. With the first start, automatic partner IDs are generated on both computers. Enter the partner's ID into TeamViewer, and the connection is established immediately.
TeamViewer is an intuitive utility that enables users to remotely connect to multiple workstations, view its desktop and operate it as if it was their own. Furthermore, these functions are not limited to professionals alone, as the user-friendly interface also allows beginners to work with it, even if they have not tested a remote utility before. Whether managing an IT department or just helping user neighbor down the street fix their computer, it is an application worth installing on its system. Occasionally, users might need to access their home computer when they are at work, even if it is only to obtain a few files. Rather than going home, copying the data on a USB flash stick then traveling back to work, one could leave the home PC on and access it using TeamViewer.
Another use for this program is set up a presentation that can be accessed by multiple users simultaneously while granting them "read-only" privileges, so they cannot control anything on the host desktop. Of course, these permissions can be adjusted to give them more control. Moreover, TeamViewer enables users to create a list of computers to automatically control remotely, manage them and even exchange instant messages or make a video or phone calls. Experts are free to dive into the full range of customization preferences to set hotkeys, activate Wake-on-LAN on computers to turn them on without help from the remote user.
It should be noted that the speed and performance of the connection depending on the characteristics of the host computer, i.e., the faster the PC, the more stable the remote connection. Also, it is best to stop all the unnecessary applications to allow TeamViewer to use as much RAM as it requires.
Remote device control without installation:
With TeamViewer user can remotely control any PC anywhere on the Internet. No installation is required, just run the application on both sides and connect - even through tight firewalls.
Remote presentation of products, solutions, and services:
The second TeamViewer mode allows a user to present a desktop to a partner. Show own demos, products and presentations over the Internet within seconds - live from own screen.
Flexible file sharing options:
TeamViewer comes with integrated file transfer that allows a user to copy files and folders from and to a remote partner - which also works behind firewalls. Transfer files of any size from user computer or cloud storage using one of TeamViewer's fast and secure file sharing methods.
Works behind Firewalls:
The significant difficulties in using remote control software are firewalls and blocked ports, as well as NAT routing for local IP addresses. With TeamViewer user do not have to worry about firewalls: TeamViewer will find a route to partner.
Highest Security Standard:
TeamViewer is a very secure solution. The commercial TeamViewer versions feature utterly safe data channels with key exchange and RC4 session encoding, the same security standard used by https/SSL.
No installation required:
To install TeamViewer no admin rights are needed. Just run the software and off user go.
High performance:
Optimized for connections over LANs AND the Internet, TeamViewer features automatic bandwidth-based quality selection for optimized use on any link.
Cross-Platform Access:
Connect across multiple platforms, from PC to PC, mobile to PC, PC to mobile device, and mobile to mobile.
VPN Alternative:
Enterprise-class security and scalability without the VPN complexity and expense.
Mobile Device Access
Use a mobile device to provide support or connect to own computer from anywhere.
iOS Screen Sharing:
Use a mobile device to provide support or connect to own computer from anywhere.
Secure Unattended Access
Access unattended computers, servers, Android devices, point-of-sale devices, or public displays.
Wake Up, Restart, and Install:
Remotely wake, restart and install applications on sleeping devices running TeamViewer Client.
Remote Printing:
Print documents locally, from the remote computer that user are accessing when connecting between Windows devices.
Time-Saving Shortcuts:
Access TeamViewer's Primary Functionalities Through These Time-Saving Shortcuts.
What is new in version 14.1.18533 (Released on February 26, 2019):
Solved some issues which caused crashes;
Minor improvements and fixes.
System requirements:
OS: Microsoft Windows XP/Windows Vista/Windows 7/Windows 8/Windows 8.1/Windows 10 (32 & 64-bit);
Although, a free personal license cannot be used on Windows Server OS's with this repack version user would be able to control Windows Server OS's again.
Repack feature:
1. Combined in one distribution a Full, Portable, Host versions of the program. The portable version is presented in two versions:
original from developers - a saving of settings is not provided (but it is possible to pick them up from tv.ini);
PortableApps format version - all settings, connection history, account login (system) will be saved after exiting.
2. Most of the built-in ads are disabled (patch based on previous DeltaFoX's developments);
3. During the installation, a user can choose between the standard or the modified version with the option to reset ClientID (patch vcart plus and AutoIt script is used to perform the reset);
4. The Russian, English and Ukrainian languages will be automatically installed (all three in the portable versions). If the system language is not Russian or Ukrainian, all languages will be installed;
5. Option to install TeamViewer Shell (program for storing the list of contacts and quick connection in the modes: Remote control, Presentation, File transfer, VPN connection), and TeamViewer Manager (an additional tool for working with databases, and preserving information about user partners - patch by KloneB @ DGuY).
6. The installer picks up (if they are in the same folder) and copies the following files to the installation folder:
* .dll - additional interface languages;
* .tvc - connection history (targetID);
tv.ini - configuration file of the classic portable version of TeamViewer, TeamViewer.reg - portable settings file in PortableApps format;
config.ini - configuration and a contact list of TV Shell;
tvmanager.db (TeamViewer Manager database).
7. When installing the full version, the settings.reg file can be integrated into the registry, containing the user settings of the program (if they are in the same folder). The same file will be renamed to TeamViewer.reg, and the custom settings folder will be copied to the repack folder of the portable version (.paf format).
Install notes:
1. Run the installation and select preferences;
2. Enjoy!
NOTE:
Download links contain all-in-one installer with the Full, Portable, and server (Host) version made by elchupacabra, another one portable version made in Turbo Studio (only one .exe file without deployment) and portable TeamViewer's QuickSupport.
General info about Corporate or Premium license:
Every license information is storing on the TeamViewer server and checked by the manufacturers every time before and during the remote session. So any patch that could be found on the web and which promises Corporate or Premium license remains entirely
Free
.
Any restrictions related to a user ID or working time are also stored on the server, so the crack/hack/slash is impossible! Maybe a warning window will not be displayed, but sooner or later it will just break the session or the inability to login to a remote machine. The only currently available treatment is to change the ID (seek for
ID Resetter
inside the local directory).
Screenshots: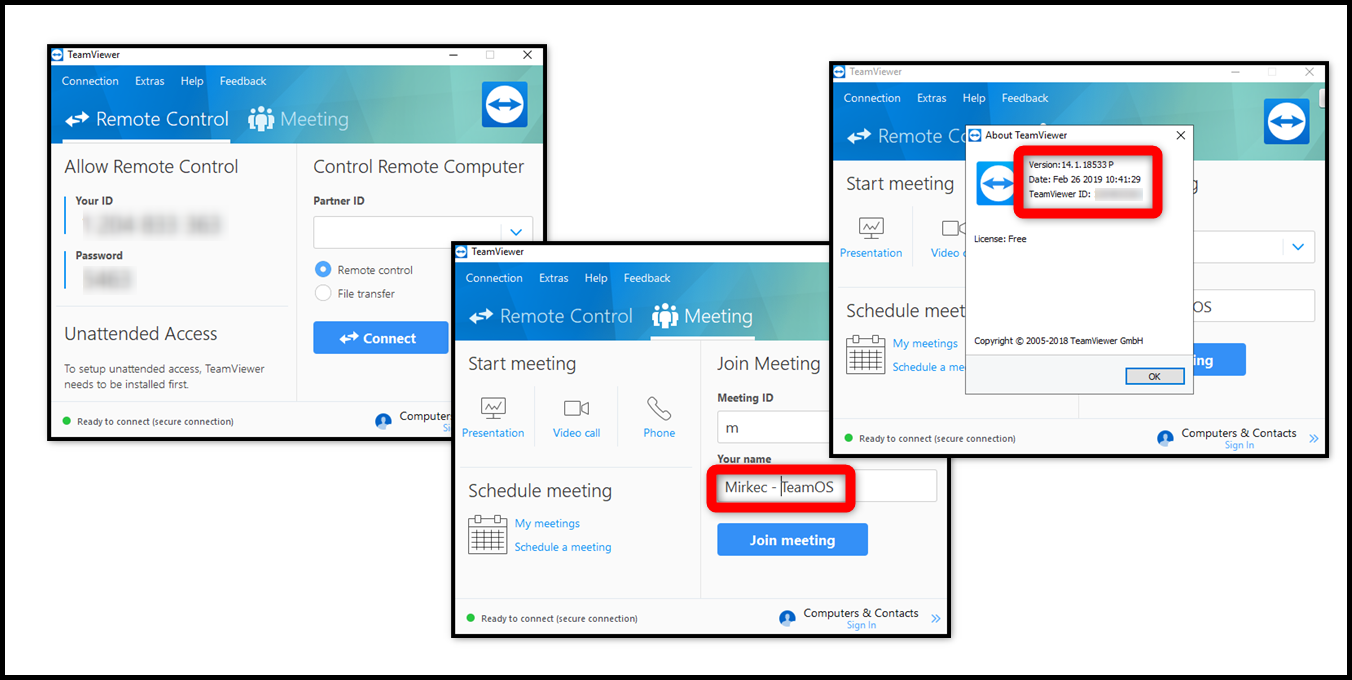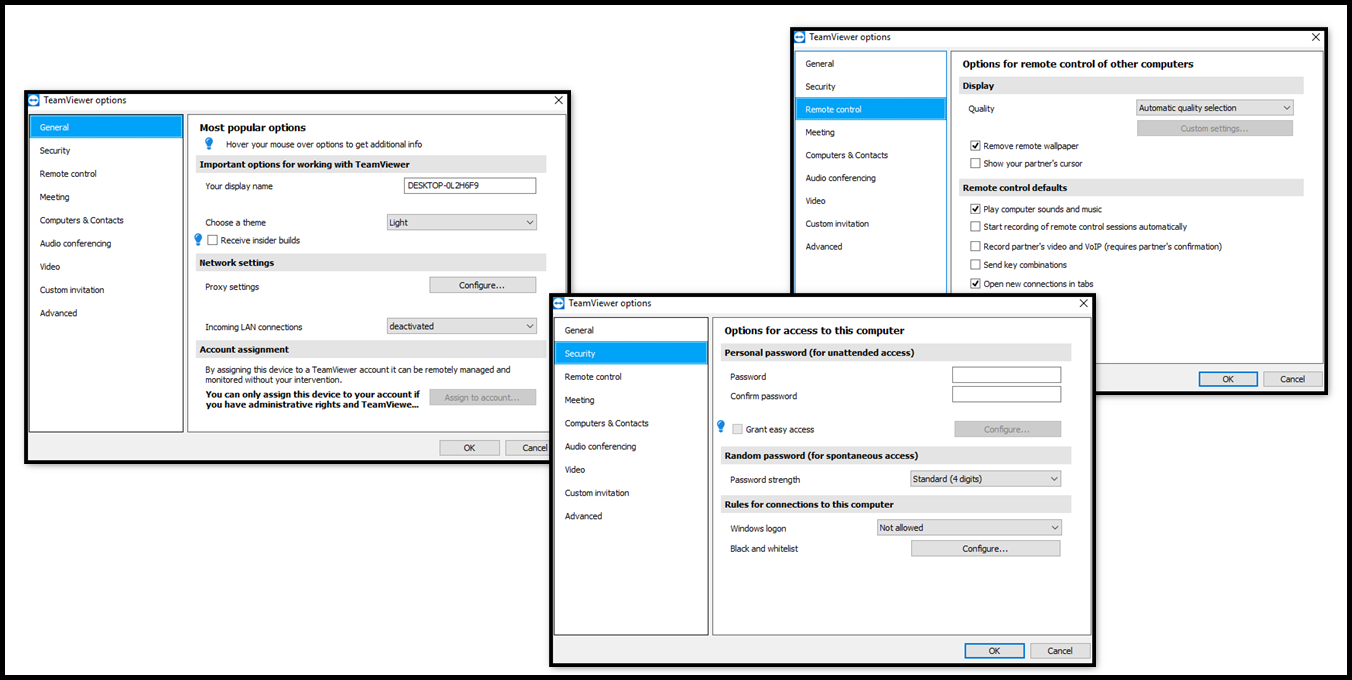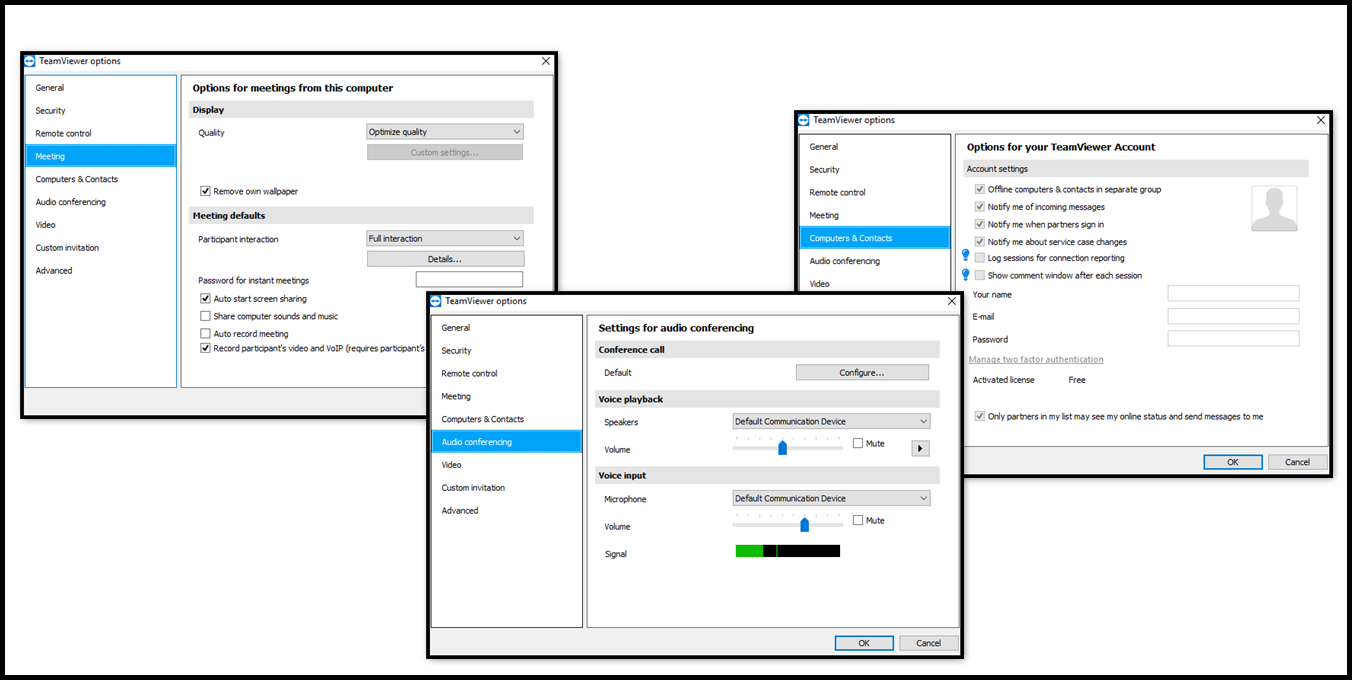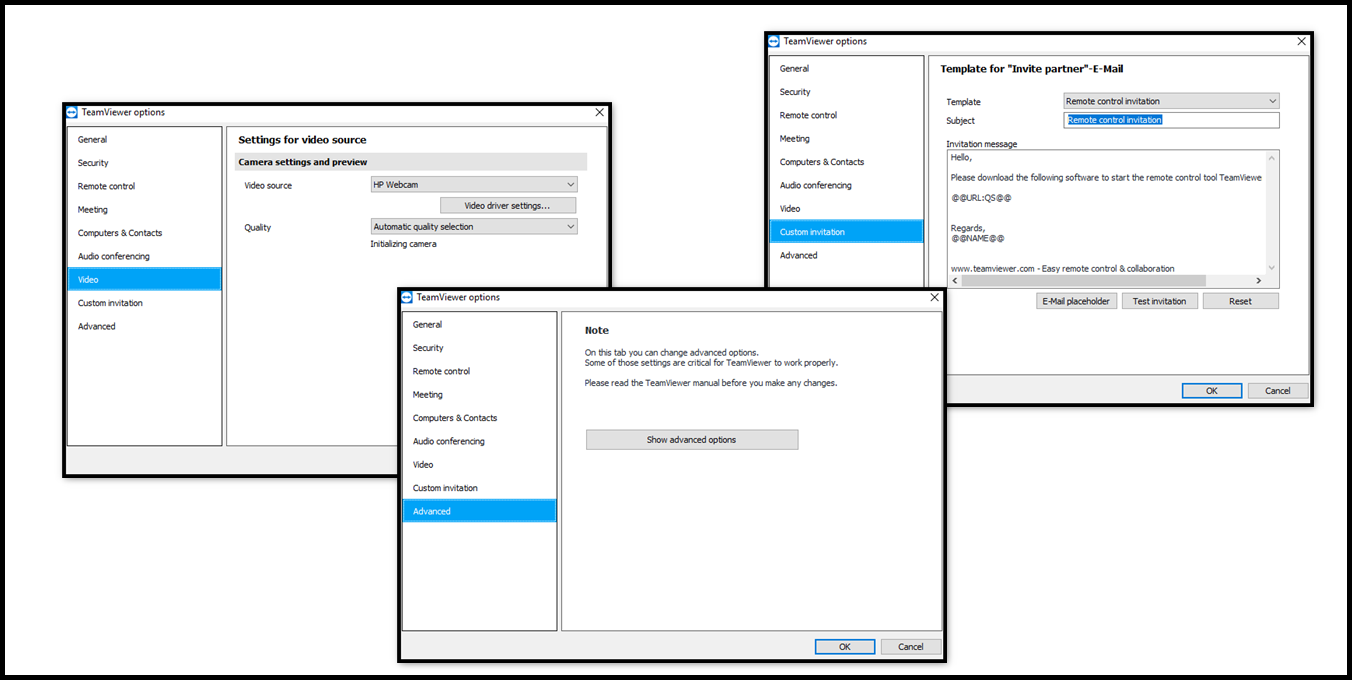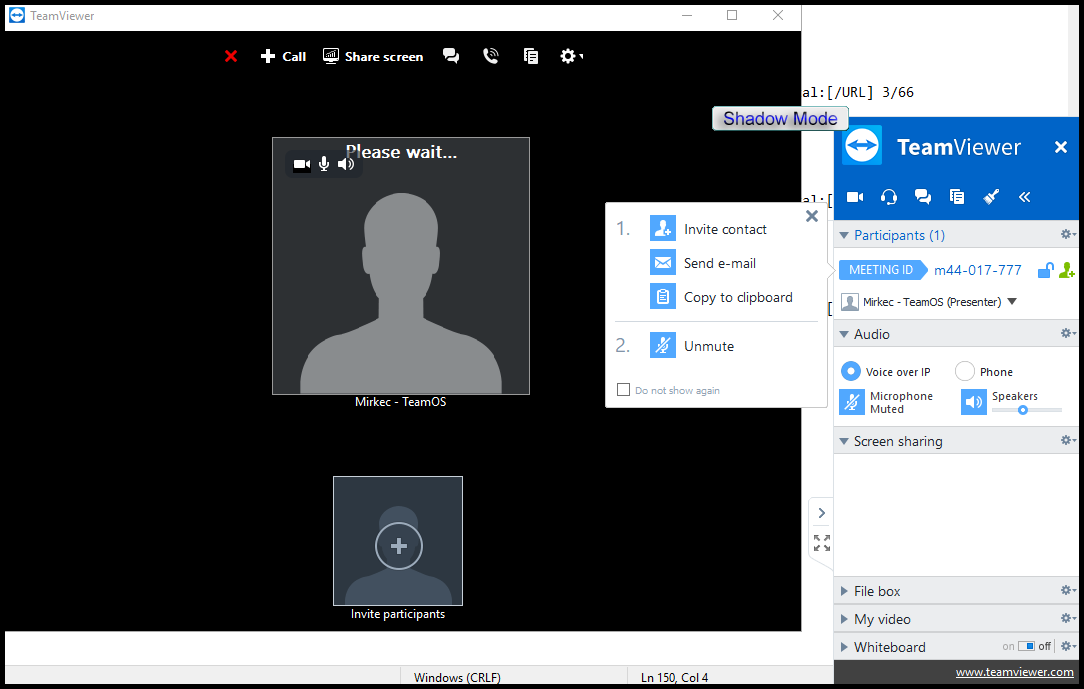 Virus free! 100% clean!
Credits go to elchupacabra who shared the repack version with us!​
AiO installer: TeamViewer 14.1.18533.exe
You must be registered for see links
3/66
MD5: C765E9125F9DBA7E8907D24F8F10CFD1
SHA1: AEC3B333CC7A4E450D7A0A5A9DC1D3C9B7F17723
SHA256: 09661BD62930226E5B0642A757897B5627400F6EAA7CD2E0BFB4935E1D0D3B28
Portable version (Turbo Studio): TeamViewer Portable 14.1.18533.exe
You must be registered for see links
1/65
md5,EBABC62B7C28F83B439DF6E8E4357F93
sha1,6B6FD7A8C6BCB8AC132F998126D181B7AEC618FB
sha256,6E40B9D489C191C3E19E9A8F0252C841CE8A21FA8FE46239ADE418597D22EEA7
Portable version (QuickSupport): TeamViewer QuickSupport 14.1.18533.exe
You must be registered for see links
1/71
MD5: BFC76AD8F3BC61F146F0010F04AD1E28
SHA1: 34AA785C153798779DD0F1F3E23EA5ABCF1CE8F7
SHA256: 5A873B9F1430DDD235F1702E73702653CA05D1435E2E466212145CCED73B7A5E
Kind regards,
@Mirkec
in collaboration with TeamOS
Download links (Size: 82.05 MB):
You must be registered for see links
You must be registered for see links
You must be registered for see links
You must be registered for see links
You must be registered for see links
Last edited: