Administrator
Windows Modifier
Downloaded

56.1 GB
Uploaded

14.3 TB
Ratio

261.65

Review
Soft Organizer is a straightforward application designed to help user uninstall of unwanted applications from a user computer, as well as monitor the changes made to the system while installing new utilities. Soft Organizer monitors all changes made to the system during the setup process of a specific application. A user can quickly learn which file or registry entries that were modified during the installation. Using those data, Soft Organizer completely removes an application when user order it too.
It sports a clean and intuitive interface that allows users to perform most operations with just a few clicks. Once the user runs the tool, he can view all applications that are currently installed on the PC. Thanks to its built-in search function, a user can quickly locate the utility that wants to remove from the computer. Another important feature worth mentioning is represented by the possibility to install applications and trace the changes that are made to the user system during the installation procedure. Following a step-by-step approach, user are guided to install the selected programs and browse the computer for the EXE file. Furthermore, Soft Organizer allows users to view details about the traces that are left in the Windows Registry and file system.
A soft Organizer is a handy tool that packs a user-friendly layout for helping user remove the unwanted applications from own computer. The tracking option is a big plus, as the user can view the changes made to the system while installing a new program.
Search for leftovers of the already uninstalled programs;
Search for traces (residues) of the program being uninstalled;
Tracked installation of programs;
Universal Windows Apps Removal;
Built-in program rating;
Automatic restore points;
Remove multiple programs at once;
"Silent" program installation;
Export the list of installed programs to HTML;
Sorting and grouping of the list;
Program quick search function;
Agent to detect installer launches;
Built-in automatic update mechanism;
Program description;
Check for new versions.
Added the ability to show those of applications that user use rarely. In the settings, it is easy to change the number of days after which an application should be considered seldom used in case it is not launched at least once (60 by default).
Supported Operating Systems:
OS: Windows 10, Windows 8.1, Windows 8, Windows Server 2008 R2, Windows 7, Windows Vista, Windows XP.
Install notes:
1. Kindly read 'Read me.txt' file given in download zip file;
2. Enjoy!
Screenshots: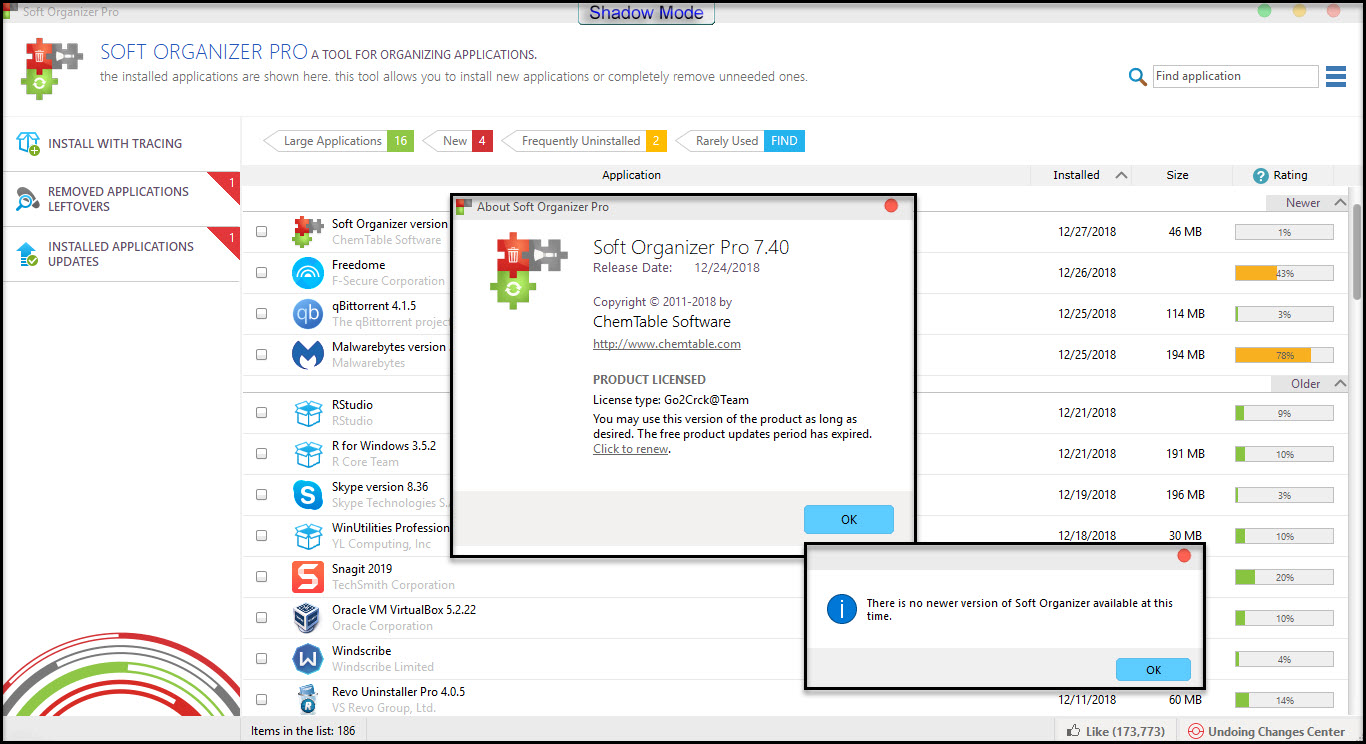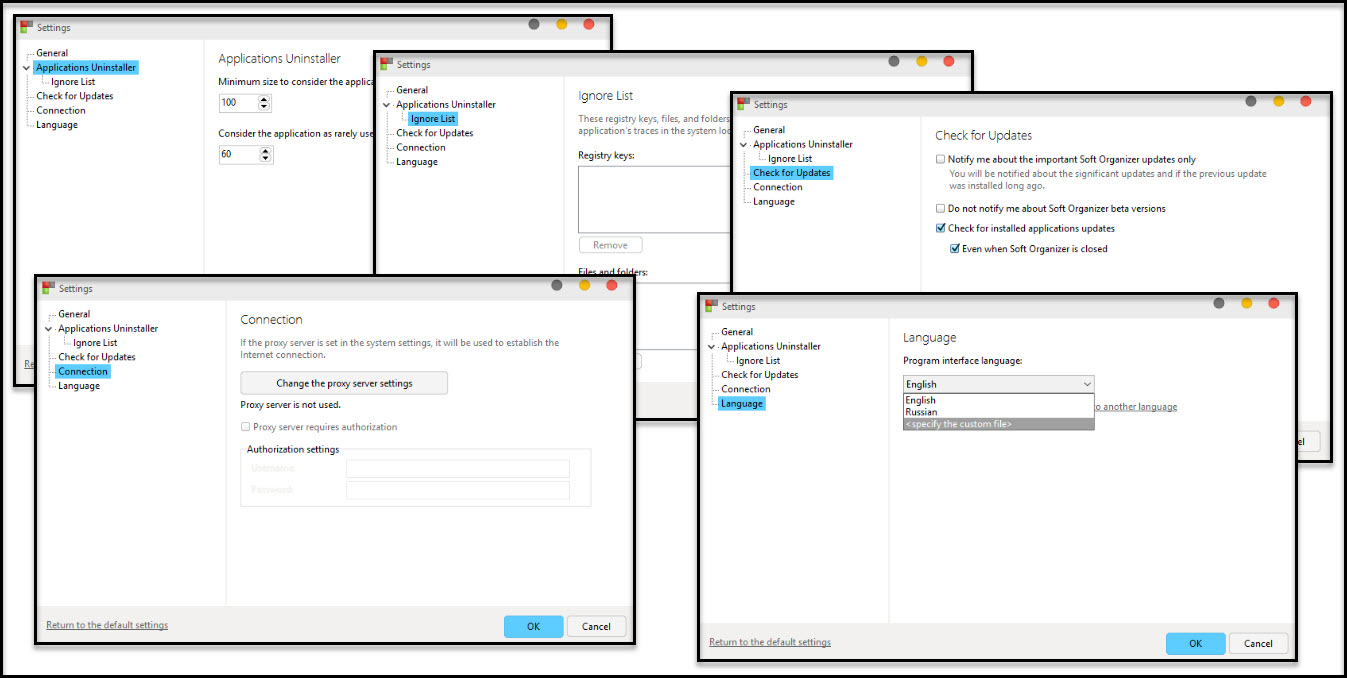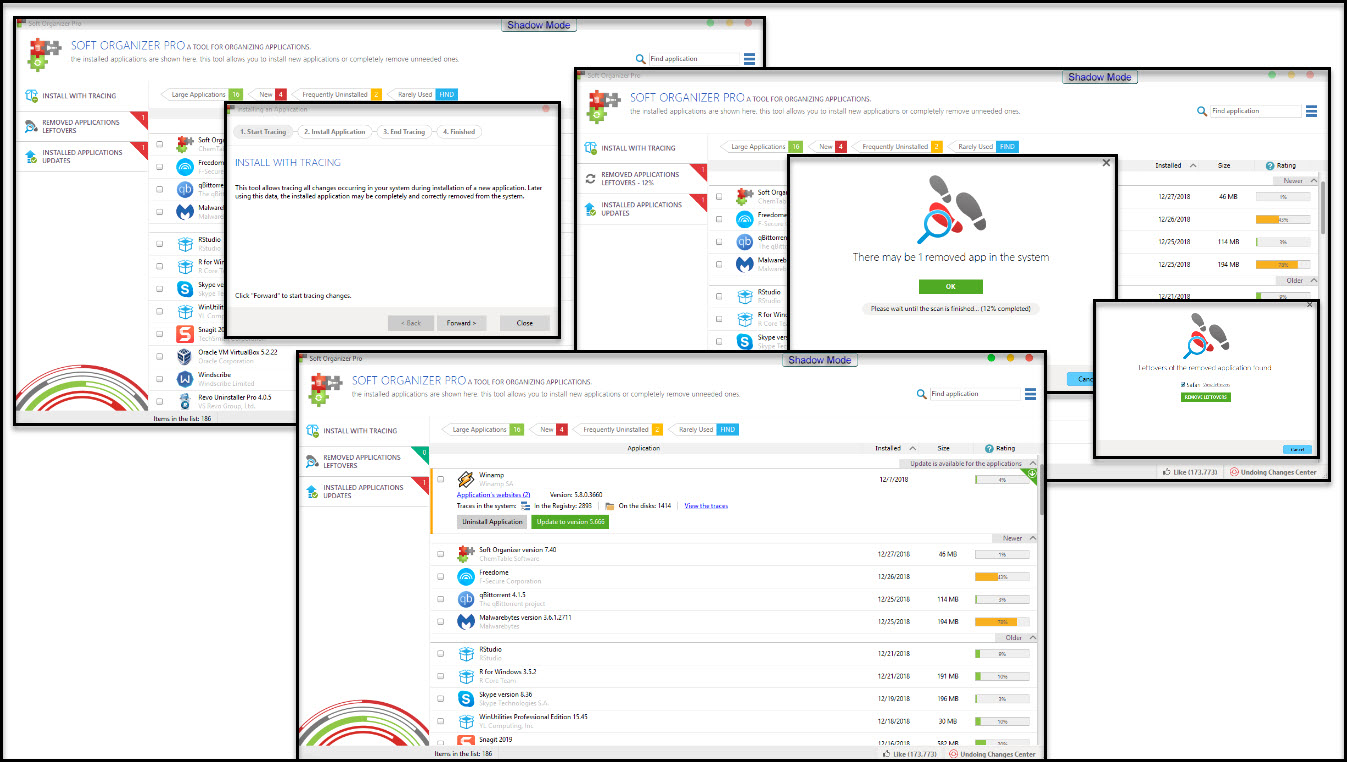 Virus free! 100% clean!
All credits go to Go2Crck and JooSeng who shared the crack and portable version with us!​
Crack 01/02 - SoftOrganizer.exe
Virus Total: 1/70
MD5: 1B21C3E339E49E86672A499E57BA07A4
SHA1: 154B5925F5022F7091B90F4D70D8E6FD438126C5
SHA256: F95AD43424F436F582DAE2477DF6C79E770664BB07167531C3249939CF0B5155
Crack 02/02 - Go2CrckTeam.dll
Virus Total: 1/71
MD5: 1FA13CF6CACEED500DD3615B72678347
SHA1: 22A1B9932B23ACB059230F9BAC7A5354DB27347B
SHA256: 8F930A87E7902825305FBDB9DF63312CB5DA48DA7A44416B0CF40F98D6E23622
Official installer: soft-organizer-setup.exe
Virus Total: 0/71
MD5: AF0E88A07D0772F7E465B68040945341
SHA1: 0CD310F6DF61475E7B95C76CB4329EFC3A7E42C4
SHA256: DF45E5C5A4906AFDB191F2A068F1E3AD04AFADB615C08738FC26D206C744467B
Portable installer - SoftOrganizerPortable.v7.40.paf.exe
Virus Total: 1/70
MD5: 3839342ECEC6B6B7E7E3F060BBD8CCD3
SHA1: ED7E9E165F5FD950144652917F275E9DD4217B2E
SHA256: 3D938C4DD521BE889E757B808045DBF1E7C1238FC734FFD7F5201C6FEE1A53EA
Kind regards,
@Mirkec
in collaboration with TeamOS ?
Download links (Size: 22.68 MB):
You must be registered for see links
You must be registered for see links
You must be registered for see links
You must be registered for see links
You must be registered for see links
You must be registered for see links
Last edited: