Windows updater and modifier
Super Admin
Downloaded

0 bytes
Uploaded

257.7 TB
Ratio

-
Snappy Driver Installer Origin R650-Driverpacks 17075 [Multi] (x86x64)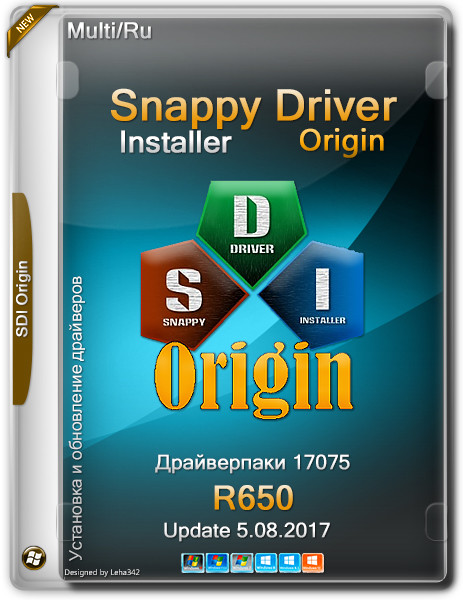 General Info:-
The program version: SDIO R650 from 08/08/2017 / DP 17075 dated August 5, 2017
Developers: SamLab (driverpacks), BadPointer (source code), Glenn Delahoy (development of the program).
Language: Russian, English and another 33 languages.
Treatment: not required
System requirements:
Windows 2000 | XP | Vista | 7 | 8 | 8.1 | 10
Description:
Snappy Driver Installer Origin (SDI Origin) - the main branch of the portable SDI program for installing and updating drivers that do not require an Internet connection. SDIO is the leader among the programs of this class for the accuracy of driver selection and speed. When ranking drivers, it gives priority to more suitable drivers (regardless of the availability of newer versions) in order to minimize the risks for ordinary users. Specialists can appreciate the large amount of information provided about the drivers and the ability to select an alternative driver.
The main features of SDIO:
Programming language: C / C ++.
The most perfect algorithm for selecting drivers among analogs.
The program "weighs" about 4 megabytes (both versions) and does not require any third-party programs / libraries.
High performance with indexing, driver search, installation.
Support for working with unpacked drivers.
Creation of system snapshots that allow emulating another's system on another PC.
Warnings about possible attempts of viruses to infect a flash drive with the program.
Possibility to update the program and driverpacks via the Internet (torrent technology).
Driverpacks that are part of the distribution
DP_Biometric | Touch Panels
DP_Bluetooth | Bluetooth devices
DP_CardReader | Card Readers
DP_Chipset | Chipsets
DP_LAN_Intel | Intel Network Cards
DP_LAN_Others | Other network cards
DP_LAN_Realtek-NT | Network cards Realtek (Win Vista-10)
DP_LAN_Realtek-XP | Network cards Realtek (Win XP)
DP_MassStorage | HDD / SSD controllers
DP_Misc | Peripherals
DP_Modem | Modems
DP_Monitor | Monitors & Projectors
DP_Printer | Printers
DP_Sound_ADI | Sound cards ADI and Sound Max
DP_Sound_CMedia | C-Media Sound Cards
DP_Sound_Conexant | Sound cards Conexant
DP_Sound_Creative | Creative Sound Cards
DP_Sound_IDT | IDT and SigmaTel sound cards
DP_Sound_Others | Sound cards, other
DP_Sound_VIA | VIA sound cards
DP_Sounds_HDMI | HDMI audio devices
DP_Sounds_Realtek | Realtek Sound Cards
DP_Telephone | Phones / Smartphones
DP_Touchpad_Alps | Touch pads Alps
DP_Touchpad_Cypress | Touch Pad Cypress
DP_Touchpad_Elan | Touch pads Elan
DP_Touchpad_Others | Touch-pads other
DP_Touchpad_Synaptics | Touch Pad Synaptics
DP_TV_Aver | Aver Tuners
DP_TV_Beholder | Tuners Beholder
DP_TV_DVB | Tuners and DVB devices
DP_TV_Others | Other tuners
DP_Vendor | Unique devices of specific vendors
DP_Video_Intel-NT | Intel graphics cards (Win Vista-10)
DP_Video_Intel-XP | Intel graphics cards (Win XP)
DP_Video_nVIDIA_Server | NVidia server video cards
DP_Video_nVIDIA-NT | Video Cards nVidia (Win Vista-10)
DP_Video_nVIDIA-XP | Video cards nVidia (Win XP)
DP_Videos_AMD_Server | Server video cards AMD / ATI
DP_Videos_AMD-NT | Graphics Cards AMD / ATI (Win Vista-10)
DP_Videos_AMD-XP | Video Card AMD / ATI (Win XP)
DP_Videos_Others | Other video cards
DP_WebCam | Web Cameras
DP_WLAN-WiFi | Wi-Fi and wireless devices
DP_WWAN-4G | Modems / 3G / 4G / LTE devices
DP_xUSB | USB Controllers
DP_zUSB3 | USB 3 Controllers
DP_zVirtual | Virtual devices
DP_zBad | Different devices, drivers for which it is better to install only through SDI
Check Sums:-
Name: Snappy Driver Installer Origin R650-Driverpacks 17075 [Multi] (x86x64).iso
Date: 8/13/2017
Size: 12.8 GB (872,105,984 bytes)
--------
SHA-1: 8da7eea40a6fea470fe3d3a098cd2ced8e94eedd
MD5: 2b6eb20f7a8528e619d192447abe3cb4
CRC32: 29fd9f30

Download links
SIngle link


You must be registered for see links



3.5gb links


You must be registered for see links




You must be registered for see links




You must be registered for see links




You must be registered for see links


or


You must be registered for see links




You must be registered for see links




You must be registered for see links




You must be registered for see links


or


You must be registered for see links




You must be registered for see links




You must be registered for see links




You must be registered for see links


or


You must be registered for see links




You must be registered for see links




You must be registered for see links




You must be registered for see links


or


You must be registered for see links




You must be registered for see links




You must be registered for see links




You must be registered for see links


or


You must be registered for see links




You must be registered for see links




You must be registered for see links




You must be registered for see links



Created With:

uTorrent/2210

Comment:

No Comment For This Torrent

Peers:

0 Seeders + 3 Leechers = 3 Peers

Loading…