Administrator
Windows Modifier
Downloaded

56.2 GB
Uploaded

15.6 TB
Ratio

284.84
Seedbonus

307,429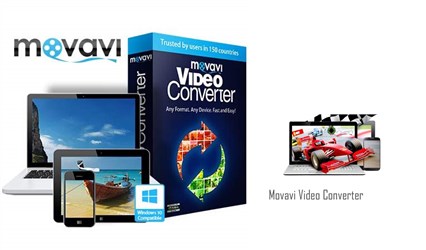 Review
Movavi Video Converter is an application that can encode and convert videos, audio files, and DVDs to multiple formats. The app supports several formats, including AVI, FLV, MKV, and MP4. It is an ad-supported software, so the user should be careful when installing it. It offers to download a third-party component that is not essential, as well as to make some changes to web browsers.
The interface of the tool is simple to navigate through. A user can import media by using the file browser while the batch method processing is supported. In the queue, a user can view the size, preset, quality, and state of each source file. Plus, the user can preview the videos in a built-in media player and select the output directory. However, a user can also configure settings when it comes to the video stream (e.g., width, height, resize method and quality, frame rate, aspect ratio) and audio stream (e.g., bit rate, sample frequency rate, channels).
Furthermore, a user can capture the current frame, view file information, jump to the beginning or end of the video, switch to full-screen mode, enable loop mode and disable sound, crop, rotate, and adjust the video, add a watermark, and others. In the "Preferences" menu, a user can change the interface language, disable multi-core support, and the acceleration of video processing with Movavi Turbo, enable multi-GPU encoding, change MPEG decoder settings, enable to overwrite existing files and more.
The program takes up a massive amount of system resources, includes a well-written help file with images and finishes a task in a reasonable time. The picture and sound quality in the output files are excellent.
Extensive Media Format Support:
Video Converter supports more than 170 video, audio, and image formats.
High Definition Video Support:
Converts to and from high definition video formats.
Rip Video from DVDs:
Our video file converter rips video from unencrypted DVDs and converts into any media format. It features quality loss transference of multichannel audio from DVD when user rips video and convert to AVI format.
Soundtrack Extraction:
Save soundtracks from video & DVD.
Frame Capture Feature:
Use our video format converter to save movie frames into image files.
Format Setting Adjustment:
Advanced users are sure to appreciate the manual adjustment of such parameters of the output media file as bitrate, aspect ratio, etc.
Customizable Target Quality & File Size:
Our video file converter lets you set the quality and size of the output file.
Movavi Video Player:
Play any video - including HD & online video - with the free Movavi Video Player included in the Video Converter software installation pack.
Support for Mobile Devices:
Movavi Video Converter software gives you support for the newest, most bleeding-edge portable devices.
Ready-made Presets for Mobile Devices:
Rip video or other media and convert it into the format supported by a particular mobile device. Just choose the right preset from the vast variety offered by this video converter software.
Easily Import Files to iTunes:
Not just great for video converting, the Movavi Video Converter software lets you import converted media to iTunes when user rip video or audio.
Import Files to PSP:
Import converted media to PSP right inside the video file converter.
System requirements:
OS: Microsoft Windows XP, Windows Vista, Windows 7, Windows 8 and Windows 10;
CPU: Intel or AMD or compatible processors, 1 GHz;
Display resolution of 1024x768, 32-bit color;
RAM: 256 MB for Windows XP, 512 MB for Windows Vista, 1 GB for Windows 7, Windows 8, and Windows 10;
HDD: 140 MB available space for installation, 750 MB for ongoing operations;
Administrator permissions are required for installation.
Install notes:
1. Run the executable file or command-line interpreter program for silent installation;
1. Kindly read "Readme.txt" file given in download zip file;
2. Enjoy!
Screenshots:
Virus free! No virus signature! 100% clean!
All credits go to elchupacabra, who made and shared the repack and portable version with us!
​
File: Movavi Video Converter Premium 20.2.1.exe
You must be registered for see links
00/61
MD5: AD9633E1604597F7B1985F26BE348C18
SHA1: 53B99CA30AF4FADBEE7769974A48634B3DEBC8CF
SHA256: 9337301077984D5BDCE595B1C96C8035F808F8D123CF3BF1D8E88F88C730CCE3
Kind regards,
@Mirkec
in collaboration with TeamOS
Download links - version 20.2.1 (Size: 89.78 MB):
You must be registered for see links
You must be registered for see links
You must be registered for see links
You must be registered for see links