The Protagonist !
Uploader
Downloaded

36.7 GB
Uploaded

5.6 TB
Ratio

154.94
​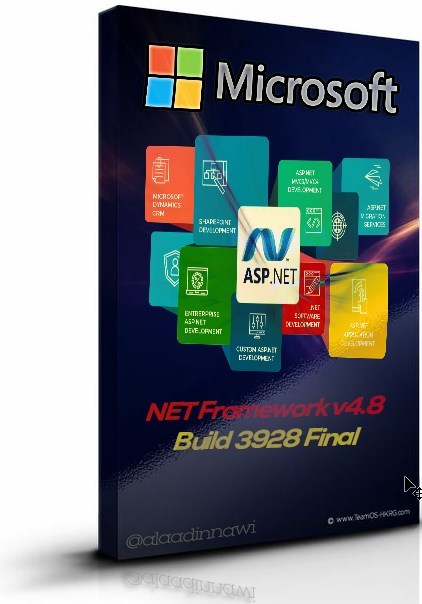 ​
Microsoft .NET Framework v4.8
-=
Build 3928 Final
=-
64/86 bit
​
Description & Features



.NET is a free, cross-platform, open source developer platform for building many different types of applications. With .NET, you can use multiple languages, editors, and libraries to build for web, mobile, desktop, gaming, and IoT.Because .NET is open source, you can join the 60,000 developers and 3,700 companies already contributing to the .NET platform.


Languages


You can write .NET apps in C#, F#, or Visual Basic.
C# is a simple, modern, object-oriented, and type-safe programming language.
F# is a cross-platform, open-source, functional programming language for .NET. It also includes object-oriented and imperative programming.
Visual Basic is an approachable language with a simple syntax for building type-safe, object-oriented apps.


Support for code page encodings


.NET Core primarily supports Unicode encodings, and by default it provides limited support for code page encodings. You can add support for code page encodings that are available in the .NET Framework but unsupported in .NET Core by registering code page encodings with the Encoding.RegisterProvider method.


Improvements to event tracing


An EventSource object can now be constructed directly, and you can call one of the Write() methods to emit a self-describing event.
Resizing in Windows Forms controls
This feature has been expanded to include the System.Windows.Forms.DomainUpDown, System.Windows.Forms.NumericUpDown, System.Windows.Forms.DataGridViewComboBoxColumn, System.Windows.Forms.DataGridViewColumn and System.Windows.Forms.ToolStripSplitButton types.
This is an opt-in feature. To enable it, set the EnableWindowsFormsHighDpiAutoResizing element to true in the application configuration (app.config) file.
64-bit JIT compiler for managed code
This release includes a new version of the 64-bit JIT Compiler, which provides significant performance improvements over the legacy 64bit JIT Compiler. While we have tried to make the transition to the new Compiler as transparent as possible, you may see changes in behavior.
Support for converting DateTime to or from Unix time
New methods have been added to support converting DateTime to or from Unix time. The following APIs have been added to DateTimeOffset:
static DateTimeOffset FromUnixTimeSeconds(long seconds)

static DateTimeOffset FromUnixTimeMilliseconds(long milliseconds)

long ToUnixTimeSeconds()

long ToUnixTimeMilliseconds()
ASP.NET Model Binding supports Task returning methods


ASP.NET Model Binding methods that were previously Task returning were not supported and threw an exception at runtime if configured. If applications are deployed with such methods, these methods will now be executed correctly. This change applies only to applications specifically targeting Microsoft .NET Framework


Cross Platform


Whether you're working in C#, F#, or Visual Basic, your code will run natively on any compatible OS. Different .NET implementations handle the heavy lifting for you:
.NET Core is a cross-platform .NET implementation for websites, servers, and console apps on Windows, Linux, and macOS.

.NET Framework supports websites, services, desktop apps, and more on Windows.

Xamarin/Mono is a .NET implementation for running apps on all the major mobile operating systems.
One consistent API


.NET Standard is a base set of APIs that are common to all .NET implementations.
Each implementation can also expose additional APIs that are specific to the operating systems it runs on. For example, .NET Framework is a Windows-only .NET implementation that includes APIs for accessing the Windows Registry.
.NET supports multiple programming languages. The .NET implementations implement the Common Language Infrastructure (CLI), which among other things specifies a language-independent run-time and language interoperability. This means that you choose any .NET language to build apps and services on .NET.



System requirments



Windows 7 Service Pack 1,
Windows 8,
Windows 8.1,
Windows 10,
Windows Server 2008 R2 SP1,
Windows Server 2008 Service Pack 2,
Windows Server 2012, Windows Server 2012 R2,
Windows Vista Service Pack 2



Instal notes



Just install from Setup.exe.and ready-to-use.

Screen shot
​
Virus full report 1000000 % Clean
You must be registered for see links
MD592fde80aecef216f356af936b1eab86a
SHA-1e7bf5998435ebda799175fa4cbf2ea3bd88e6d10
SHA-2565ba1f69349cf01cd91ac70da22d651adc15090f2ca71db396e4fda0971cb6b18
SSDEEP3145728:nEBzALsngvseR4tCwI42AsoGRlDzrAwMBW+eHuoTZX:EtAD0e6tCmdsoGD8wYW+K9X
File typeRAR
MagicRAR archive data, vb7, flags: Commented, Authenticated,
File size 112.28 MB (117737280 bytes)
Download
You must be registered for see links
​
​



Best regards

,
@alaadinnawi