Administrator
Windows Modifier
Downloaded

56.2 GB
Uploaded

15.6 TB
Ratio

284.1
Seedbonus

305,751

Review
Advanced SystemCare comes with a suite of software applications specialized in boosting the overall performance of user computer, optimizing registry entries, uninstalling unwanted utilities and leftover files, and deleting malicious browser plugins/toolbars. It is a comprehensive suite of tools that help the user perform a series of system-related tasks for keeping user computers clean, fast, and secure.
Advanced SystemCare gives the user the freedom to look for various system issues (e.g., spyware removal, Internet boost, security defense, registry fix, shortcut fix, disk scan, privacy sweep), and activates the automatic repairing mode. Tests have shown that the utility scans and repairs system errors very quickly and generates a report, including information about the number of solved issues.
Users can activate or disable several browsing modes to protect the web browser from being hijacked. It can defend the user homepage and default search engine from malicious modification, block unwanted toolbars and plugins, and strengthen user system security. A new feature is FaceID, which uses the facial recognition feature and webcam to monitor user computers and find out unauthorized users controlling it. It can take screenshots, save images, and send notifications.
Advanced SystemCare embeds a set of software programs that can be downloaded and installed on the user system in no time. User can uninstall utilities and remove leftover entries using IObit Uninstaller, update all drivers and game components with the aid of an automatic scan mode (Driver Booster), schedule defrags with Smart Defrag, detect and remove infections and hidden threats with IObit malware fighter, as well as bring back the Start Menu to Windows 8 users with Start Menu 8.
New smart tools help user back up files, delete files permanently from the system, set default applications, manage startup items, compact Windows registry, find and delete empty folders, and fix invalid shortcuts. Users can choose between three optimization profiles, namely Work (it kills some additional services and applications), Game (it boosts user game experience by terminating system and non-Windows services), or Economy (it uses minimal power consumption to extend the laptop's battery life).
The Action Center lets the user install and update IObit software products and update programs, while quick settings are used to turn on or off several features, such as Surfing Protection (it protects against various online threats to ensure a safe browsing experience), Homepage Protection (it prevents homepage modification), Performance Monitor (it monitors and enhances user PC performance), Secure File Deletion, and AutoClean (automatically sweep surfing history, cookies, and browser cache at bootup).
Taken into consideration the multitude of dedicated tools and natural working environments, users can rely on Advanced SystemCare for keeping the system clean, fast, and secure. The latest edition of the application improved the system tuner and deep cleaner, with a focus on eliminating more junk files and better-optimizing processes that automatically run at system startup, to speed up Windows boot. Further, its Privacy Shield and Digital Fingerprint Protection components have been redesigned to keep sensitive user data safe against unauthorized processes and malicious tracking.
General features:
Scan and remove spyware and adware with the latest definition;
Prevent spyware, hijackers, and bad websites from being installed;
Erase the history of all activities in your computer;
Scan and fix invalid and improper registry entries;
Detect and remove invalid startup items;
Search and Clean up unused Windows garbage;
Repair system configurations, Eliminate System Bottlenecks and Prevent Crashes;
Tune up Windows to improve both system and Internet performance, unleash the power of your Windows;
Analyze and Show detailed information of hardware and Windows;
Finish all Work with one click, Super Easy to Use.
Advanced features:
Ultimate System Tuneup for Top Performance;
Up to 300% Internet Speedup with Internet Booster;
Auto RAM Clean with real-time optimization;
Deep Windows registry clean;
Maximum Hard drive performance;
Full detection against Security threats;
Auto online privacy trace clean with Browser anti-tracking;
Up to 200% quicker PC startup;
Auto update to the latest version;
Runs in the background - Install and forget it;
Free 24/7 Technical Support on Demand.
What is new in version 14.0 RC (Released in September 27, 2020):
Fine-tuned UI and added Readable skin;
Software Updater adds the support for Edge 85, Opera 71, Chrome 85, Firefox 81, Mp3tag 3.0.2, Dropbox 106.4.368, and TeamViewer 15.10.5;
Optimized the algorithm of AI Mode to clean PC more intelligently;
Enhanced Junk File Clean to clean more hidden junk files thoroughly for a cleaner PC;
Strengthened system optimization for a faster PC;
Expanded Startup Optimizer database to further speed up PC boot time;
Enhanced malware removal and privacy traces cleanup to better protect your system and privacy;
Updated the database of Surfing Protection and Ads Removal for a more secure and ad-free online browsing experience;
Improved Sensitive Data Protection to better protect your personal data against secret accesses;
Enhanced Disk Cleaner to release more disk space;
Cloned File Scanner adds the feature of file preview;
Supported 37 languages;
Fixed all known bugs.
What is new in version 14.0 Beta (Released in August 2020):
New AI Mode cleans and optimizes your PC intelligently based on how Advanced SystemCare cared your PC before;
New UI brings a more intuitive interaction experience;
New Software Health updates more outdated programs with just 1-click;
New Startup Optimizer enlarges startup database and adds detection for shortcuts and links, for the overall management of startup items and faster PC bootup;
Newly support detecting antivirus and firewall status, and enabling them directly for a secure PC;
New Disk Check detects and repairs disk errors with only 1-click;
Optimized Advanced SystemCare's launching and scanning algorithms for faster launch and response;
Enhanced Junk File Clean and Privacy Sweep to clean up junk files and privacy traces more thoroughly for more disk space and higher privacy security;
Added support for Microsoft Edge (Chromium) in Browser Protection, Spyware Removal, Privacy Sweep, Internet Boost, and Security Reinforce;
Strengthened Registry Clean to clean more for faster system response;
Optimized the Surfing Protection extension and expanded its database for more secure and smoother browsing.
What is new in version 13.7 (Released in July 2020):
The functionality of the Software update has been expanded, support for 7-Zip 19.0, Notepad ++ 7.8.9, Chrome 84.0, and Firefox 79.0 has been improved Internet surfing;
Improved Privacy Cleaner to add cleanup for the latest versions of Chrome 84.0 and Firefox 79.0;
Expanded Spyware Removal and Real-Time Protection database to remove more threats such as the widespread Better-Search.net, Trojan.Vundo and Trojan.OnlineGames;
The Launch Manager database has been expanded, which helps to speed up PC boot significantly;
Improved Registry cleaning to remove more redundant registry entries to improve system performance;
Improved many languages for better localization;
Fixed all known bugs.
What is new in version 13.5 (Released in May 2020):
Improved privacy check to add cleanup for the latest versions of Chrome 81.0, Chromium Edge 81.0, and Firefox 75.0;
Enhanced Software Updater to update Chrome to the latest version v81.0 to fix a critical security flaw and update Firefox to the latest version v75. 0;
Improved registry cleaning to remove redundant registry entries to improve system performance;
Enhanced Startup Optimization database and Startup Manager to further speed up PC loading;
Enhanced Spyware Removal database to better protect your computer;
Enhanced surfing protection and ad removal for safer and ad-free browsing on the Internet;
Improved several languages for better localization;
Fixed all known errors.
What is new in version 13.4 (Released in March 2020):
Now Internet Boost is free for a limited time
The Startup Optimization database and Startup Manager are expanded to speed up PC loading further
Improved registry cleaning to remove redundant registry entries to improve system performance
The Spyware Removal database is expanded to remove more the number of threats, including the widespread Malicious.Remcos and Ransomware.Dharma
Improved homepage advisor to better protect the home pages and search engines of your browsers
Enhanced surf protection ha and ad removal for safer and ad-free browsing on the Internet
Minor bug fixes
System requirements:
OS: Microsoft Windows® 10/Windows® 8/Windows® 7/Windows® Vista/Windows® XP;
CPU: 1 GHz processor or faster;
RAM: 512 MB;
HDD: 100 MB.
Install notes:
1. Kindly read the "Readme.txt" file given in the download zip file;
2. Enjoy!
Screenshots: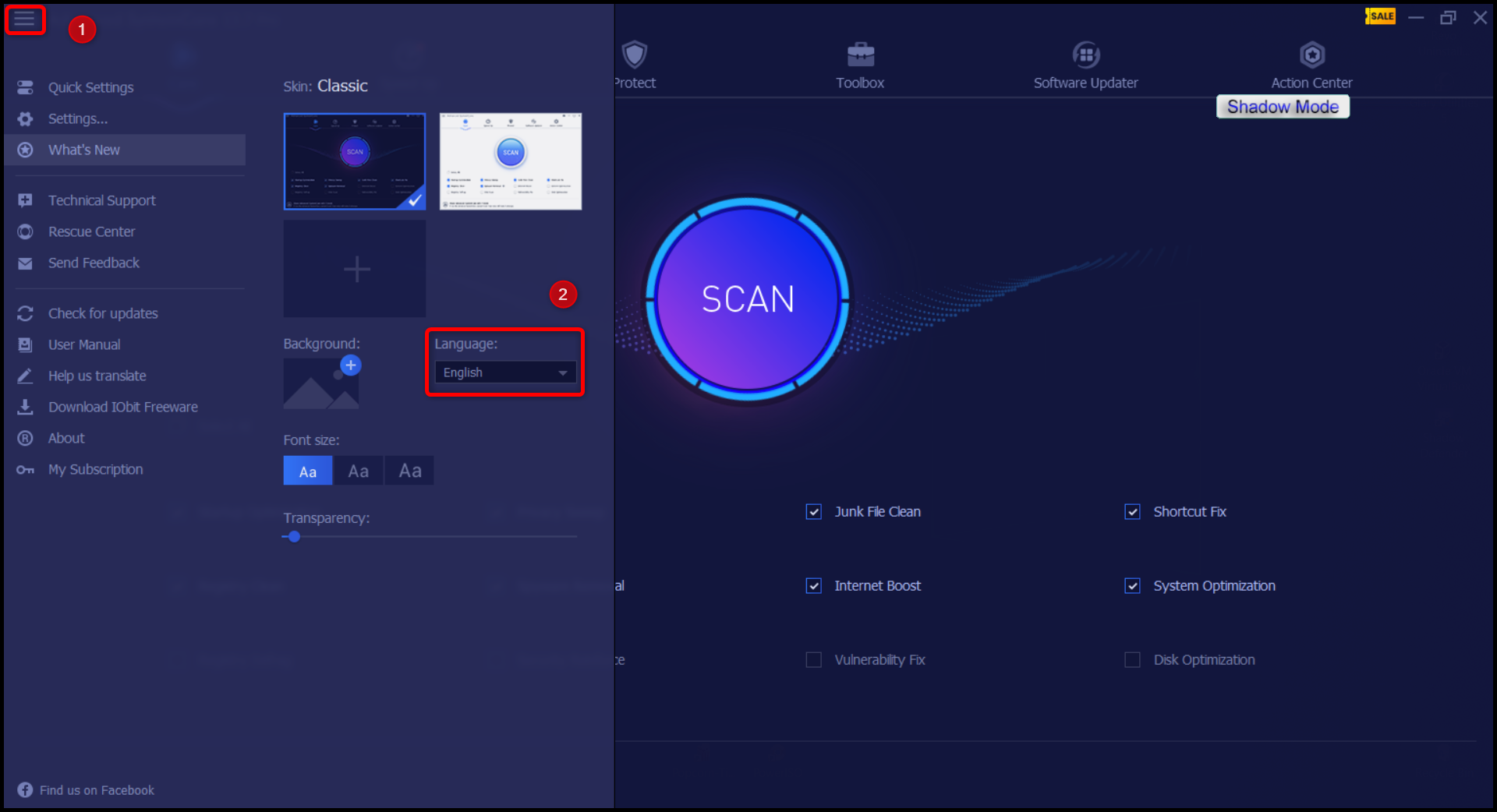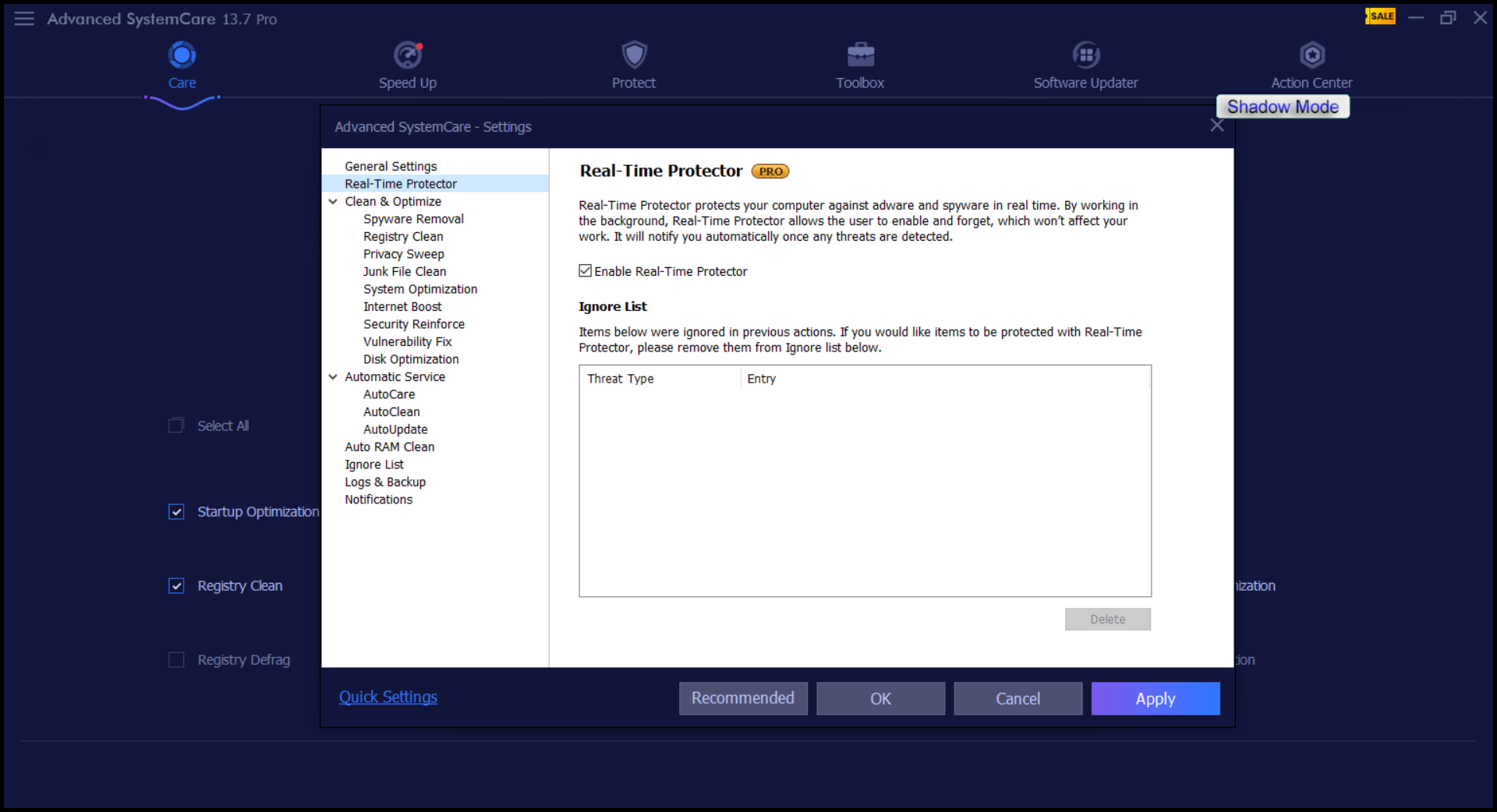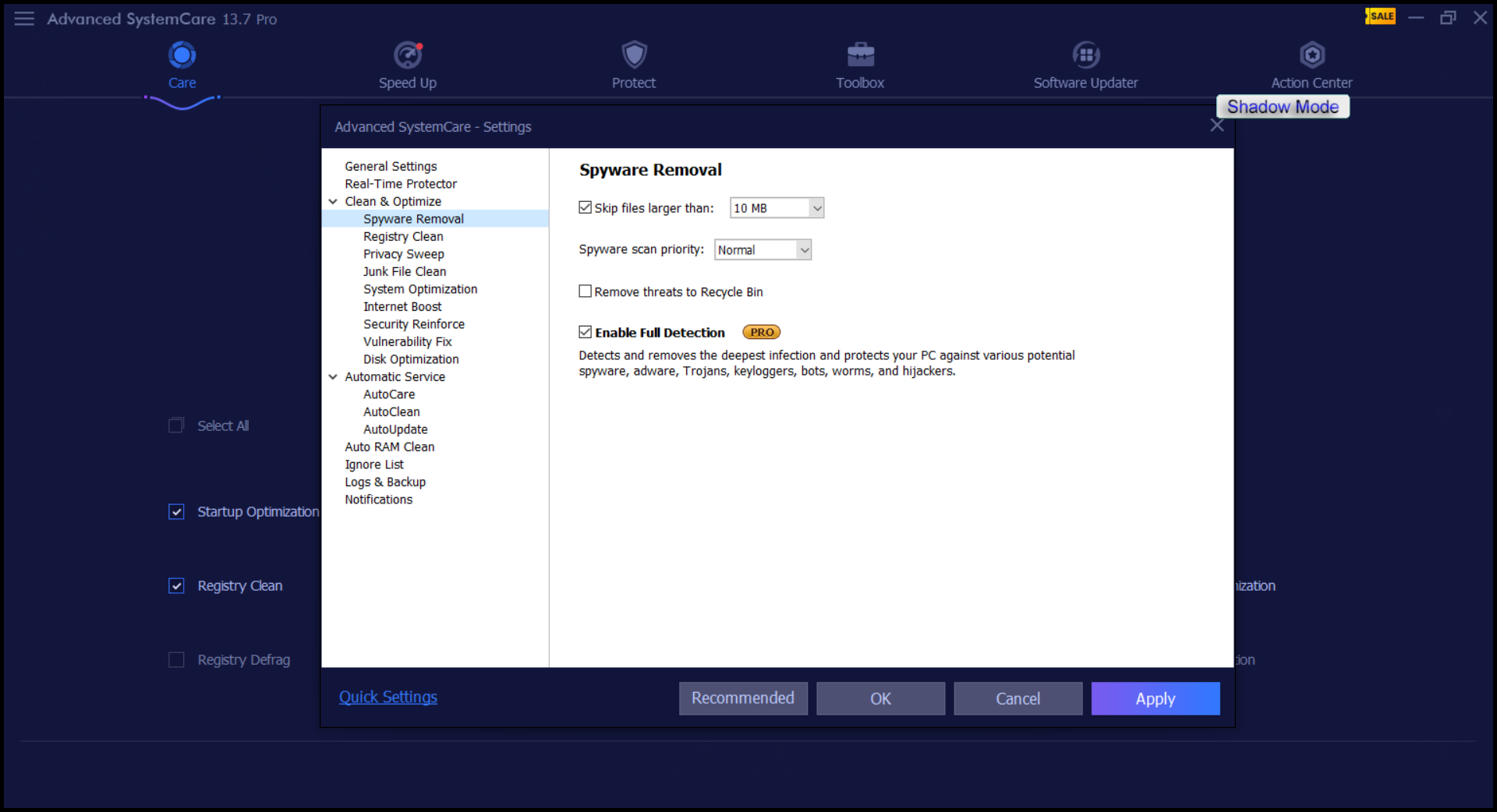 Virus free! No virus signature! 100% clean!
​
File: ASC.exe
You must be registered for see links
05/70
MD5: F34C9431EAC1701412C1CA522C1BD654
SHA1: 81532B7D99A2C8A41380B857FC8FDED6DA8813EB
SHA256: BA81F906392348599871A6D20EE992A252BD74FC960DC4431C41F04947364935
File: madexcept_.bpl
You must be registered for see links
03/66
MD5: CD6DBD1A710F2E7EDBA10B674E799CF0
SHA1: B95FE4EF78ECA0366AE49BD6E15E988821F5A9EF
SHA256: A013ABFBBF206CD1C40307DE14FA8C2C9501CCCA0FFE75132BA5F7E30E347168
File: OFCommon.dll
You must be registered for see links
36/69
MD5: 5AB42F7239713D297E3E99F2B8C7F011
SHA1: 47439D0486D52C757EBEC574E671417B67260BE2
SHA256: 87A586E8605D0958A9365E354AE419037B59600F849CF85C75B5ED220F912541
File: Scan.dll
You must be registered for see links
03/65
MD5: 88D914B1751F2A424190F8ABE3683B29
SHA1: B1A135A15019F5194D1B5A72DF37DD09001FECA6
SHA256: BFD65E77542C3FCF8F75B7593895A4ED941D41BBBA3535A0C80E45F0E93FD8D6
File: Advanced.SystemCare.Pro-13.7.0.308.exe
You must be registered for see links
01/63
MD5: 21EB75E04D0CABD2A78698F14E1BD95A
SHA1: 9B43FBB6ABEFCC740776A990C34337DB6ED06D57
SHA256: 2C6F25DF163C1AB5096F69CEB20F8EE639418F32B74C9B40A02A61D0197FC890
Kind regards,
@Mirkec
in collaboration with TeamOS
Download links - version 13.7.0.308 (Size: 51.88 MB):
You must be registered for see links
You must be registered for see links
You must be registered for see links
Download links - repack version 13.7.0.308 (Size: 56.20 MB):
You must be registered for see links
You must be registered for see links
You must be registered for see links
Last edited: