The Protagonist !
Uploader
Downloaded

36.7 GB
Uploaded

5.6 TB
Ratio

154.94
IObit
, the world's leading system utilities and driver updater provider, today announces the release of Driver Booster 7. The new version is now ready to update more device drivers and game components, aiming for a great improvement in computer performance.
As the key point of a driver updater, the database of Driver Booster 7 has been expanded to over 3,500,000 device drivers. It can update more drivers such as Intel graphics drivers, NVIDIA game ready drivers and AMD Radeon™ Software Adrenalin Edition. Besides,
Driver Booster 7 optimized the scanning engine
, which makes the scanning speed 100% faster than the previous version. For more convenience, this latest version 7 enables a simple setting for users to update drivers automatically, and helps to fix some Blue Screen of Death caused by driver errors like nvlddmkm.sys, igdkmd64.sys, and DPC watchdog violation error.
All downloaded drivers come from the official manufacturers' websites and have passed both WHQL and IObit test for ensuring security and authority.
Besides the enlarged database, Driver Booster 7 can
fix various Windows issues
. The new toolbox offers more solutions to detect and fix common Windows issues such as no sound problems, network failure and bad resolution. Furthermore, Driver Booster 7 provides a silent mode for the users. Once the silent mode has been activated, users will receive no notifications from Driver Booster 7 when they are in a full-screen task, like full-screen games.
Some new game components such as Microsoft Visual C++ 2019 redistributor, Microsoft .NET Framework 4.8 and Java Run time Environment 10 have been added in Driver Booster 7 to improve the gaming performance.
"Driver Booster 7
is surely the best driver updater to help improving our users' PC performance and gaming experience," said Bing Wang, Product Director at IObit," more than 3,500,000 drivers are fully supported now and there is no need to worry about the compatibility.
Driver Booster 7 will match the most suitable drivers for the computer hardware devices
. It will also fix more Windows issues for better user experience".
Features of IObit™ Driver Booster PRO:
Automatically Identify Outdated Drivers

One-click Update for Maximum Hardware Performance

Specialized Driver Tweaking for Top Gaming Experience

Fast, Secure and Easy to Use

Boosts your PC performance

Driver Error Resolver & repair windows drivers problems

Best Driver Manager and Driver Backup Tool

Driver Updates Improve Hardware Performance

Repair Common Driver Issues

Clean up Useless Files

Best Driver Updater

Handy Backup and Restore Tool

Driver Error Resolver and Optimizer

Game Drivers and Components Updater

Fix Frequently Encountered Problems

Game Ready Driver Updater
Change log (Released on September 17, 2019)
+ Real-time updating driver database (3,500,000+) helps provide precisely matched updates for all outdated drivers
+ Added support for updating game components Microsoft Visual C++ 2019 redistributor, Microsoft .NET Framework 4.8, and Java Run-time Environment 10
+ New scan engine and online database query structure accelerate the scanning by more than 100%
+ New Auto Silent Mode automatically silences all notifications of Driver Booster when a full-screen task or specified program is running
+ Newly upgraded tool "Fix No Sound" doubles its ability to fix sound problems
+ Greatly enhanced tool "Fix Network Failure" supports repairing much more network issues
+ Optimized scan logic to adapt to new Windows 10 May 2019 Update (19H1) for more accurate driver matching
+ Optimized tool "Clean Unplugged Device Data" for easier cleaning
+ Optimized Game Boost to increase the boost speed by 15%
+ Added desktop icon and right-click context menu for Game Boost for more convenient operation
+ Improved the program's self-inspection for better stability
+ New UI and better interaction experience
+ Supported 48 languages

​
- Copy the file "Loader-IDB.exe" to the installation directory;
- Run the application always from the loader;
- Create a shortcut from it to make it easier
​

​

​
​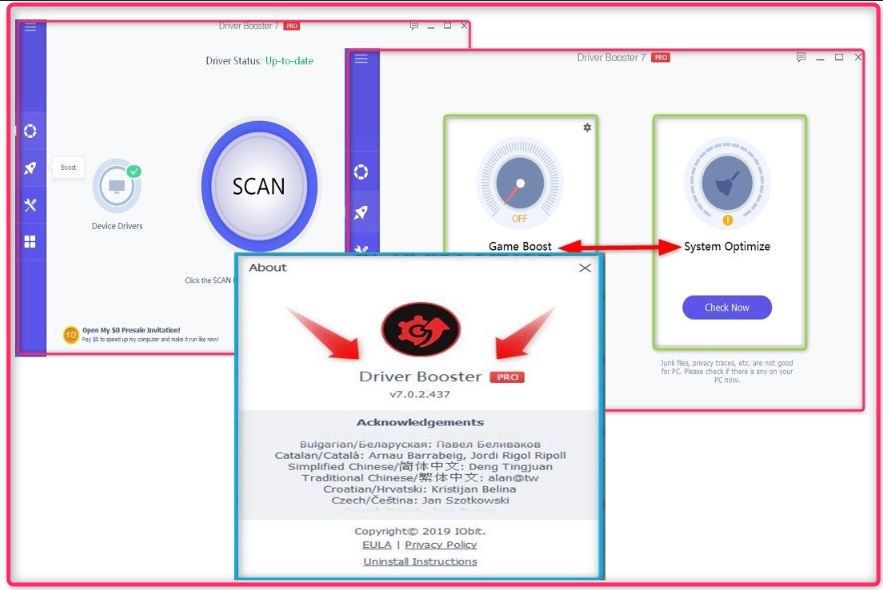 ​

​
You must be registered for see links

​
You must be registered for see links
You must be registered for see links
For Whom demand (Repack&Portable Version, Follow the URL Below done by the Magnificent Moderator
@Mirkec
Upload )
iobit-driver-booster-pro-version-7-0-2-437-repack-portable-teamos
Best Regards,
@alaadinnawi
Verified Member-TeamOS