Administrator
Windows Modifier
Downloaded

56.1 GB
Uploaded

13.7 TB
Ratio

249.43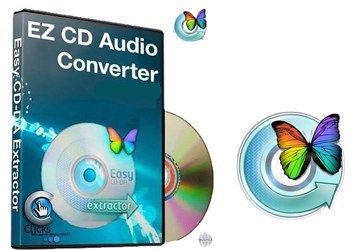 Review
EZ CD Audio Converter formerly known as Easy CD-DA Extractor is the most stable, easy-to-use, and comprehensive multi format audio file converter optimized for best sound quality. The software can rip audio CDs, make copies of discs, convert MP3, convert audio files, and burn audio CDs, MP3 CDs, and data discs.
The application convert and supports all popular audio file formats such as 3G2, 3GP, MP1, MP2, MP3, Windows Media Audio (WMA), Ogg Vorbis (OGG), MP4, M4A (AAC and Apple Lossless), AAC, aacPlus (HE-AAC, AAC+, HE-AAC+PS, eAAC+), and many more audio formats. Also supports FLAC, Musepack (MPC), WavPack (WV), WAV, AIFF, Monkey's Audio (APE), CUE and M3U.
A user can rip audio CDs in perfect digital quality and do batch convert between all audio file formats with the high accuracy 64-bit precision audio converter. Audio file converter can convert up to 64 audio files in parallel for the maximum performance on multi-core processors. In addition, a user can preserve, edit or download high-quality metadata and cover art from GD3, WMP, MusicBrainz, Discogs, Amazon, and Freedb metadata services.
Furthermore, the Nero Digital (Nero AAC) is supported if the user has the Nero Burning ROM installed on its computer. State-of-the-art audio encoding technology. EZ CD Audio Converter includes the most advanced audio codec available, the aacPlus from the Coding Technologies. In addition, EZ CD Audio Converter also supports command line (.exe) encoders.
EZ CD Audio Converter contains three separate programs:
Audio CD Ripper - Copies audio CDs to a selected audio format;
Audio File Format Converter - Converts audio files from one format to another;
CD/DVD Creator - Burns Audio CD, MP3 CD/DVD, Data CD/DVD, and DVD Video.
Audio CD Ripper:
Converts audio CD to MP3, and cda to MP3. Rips audio CDs with accurate error detection. Automatically downloads metadata with high-resolution cover art. Detects CD-Text, Pre-Gaps, Pre-Emphasis, Catalog, and ISRC properties of an audio CD. On-the-fly conversion to the selected audio format. Can create an exact image of the original audio CD with its Disc Image feature. The application supports single-file and multi-file Cue Sheets (.cue).
Audio Converter:
Converts audio files between different formats (e.g., CD to mp3, FLAC to mp3, wav to mp3) with best sound quality. Maximum performance with parallel multicore conversions. Metadata can be downloaded automatically or entered manually. Moreover, it includes cover art downloader. Metadata is preserved during the audio file conversion. Full ReplayGain support. Also converts audio from video files.
Metadata Editor:
Integrated to the Audio Converter. Allows editing the metadata of existing audio files. Download metadata and cover art from multiple services. Moreover, a user can rename files based on metadata. Also, a user can calculate and save ReplayGain values of existing files.
Disc Burner:
Burns audio CDs, MP3 discs, and data discs. Burns Cue Sheets (.cue). All Cue Sheet variants are supported. Supports ReplayGain normalization. Also supports CD-Text burning. Furthermore, it burns disc images (ISO, BIN, CUE).
General features:
Easy to use;
Reliable;
Best audio quality;
Secure audio CD ripping with error detection;
Converts between all audio formats with metadata preservation;
Burn audio CDs, mp3 discs, and data discs;
Best audio codecs are included;
Automatic updates (free lifetime updates also included);
Automatic high-quality cover art downloads;
Features ReplayGain, normalization, silence removal;
Convert audio from video files;
Makes 1:1 copies of CDs and DVDs.
Power features:
Fast audio converter, can convert up to 8 files in parallel;
Automatically download metadata with high quality cover art from multiple services (GD3, MusicBrainz, Freedb);
Utilizes multi-core processors and special processor multimedia instructions (SSE, MMX) for best performance;
Gapless audio conversion, gapless sample rate conversion;
Supports Cue Sheets (.cue), all types;
Full ReplayGain support;
Rips hidden audio tracks (HTOA);
CD-Text, ISRC, pre-gap, and pre-emphasis detection.
What is new in version 8.2.2 (Released on March 22, 2019):
Amazon Cover Art Search now works again (change in Amazon Search URL);
Higher resolution cover art from Amazon now available;
Added BARCODE (UPC/EAN) and LABEL predefined metadata fields;
Added context-sensitive Help buttons to Settings and Options.
What is new in version 8.2.1:
Replaced CD Ripper error detection compatibility mode with two error detection reading methods.
System requirements:
OS: Microsoft Windows 10/Windows 8/Windows 7 (both 32 & 64-bit);
High DPI aware, 4k compatible, Unicode.
Install notes:
1. Kindly read "Readme.txt" file given in download zip file;
2. Enjoy!
Screenshots: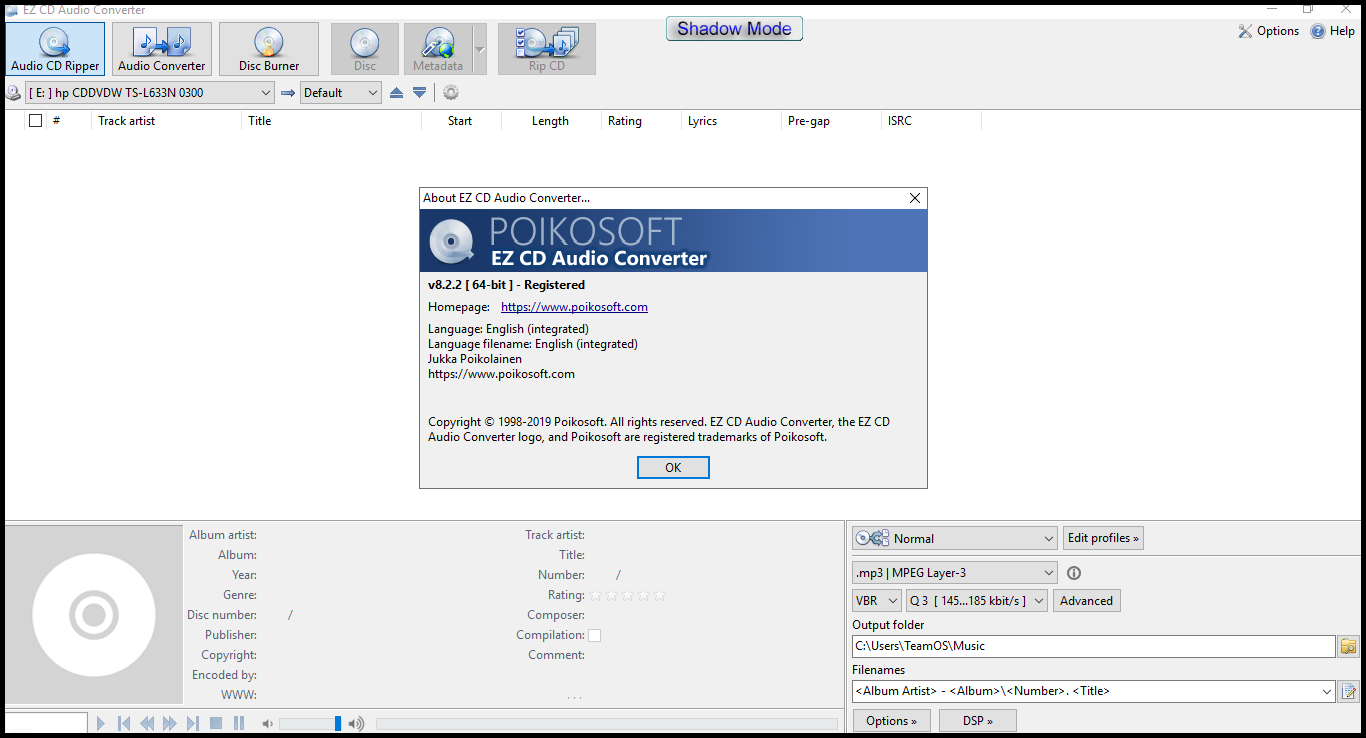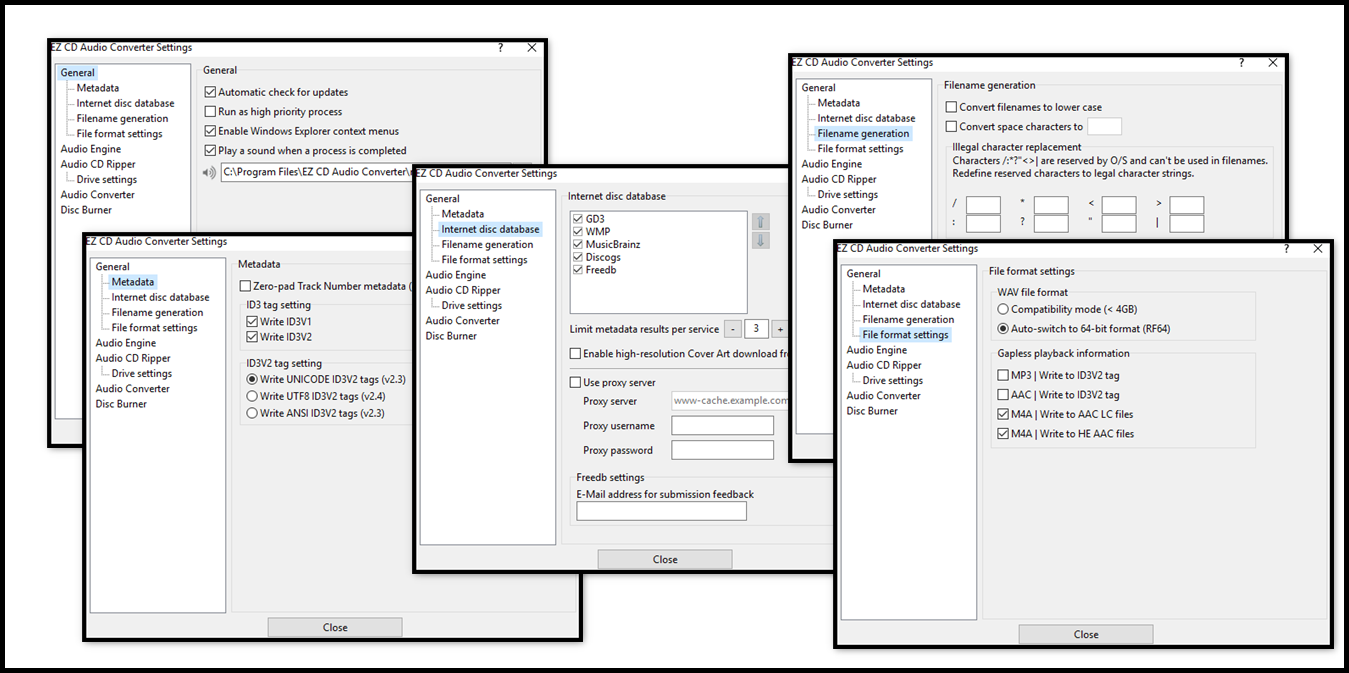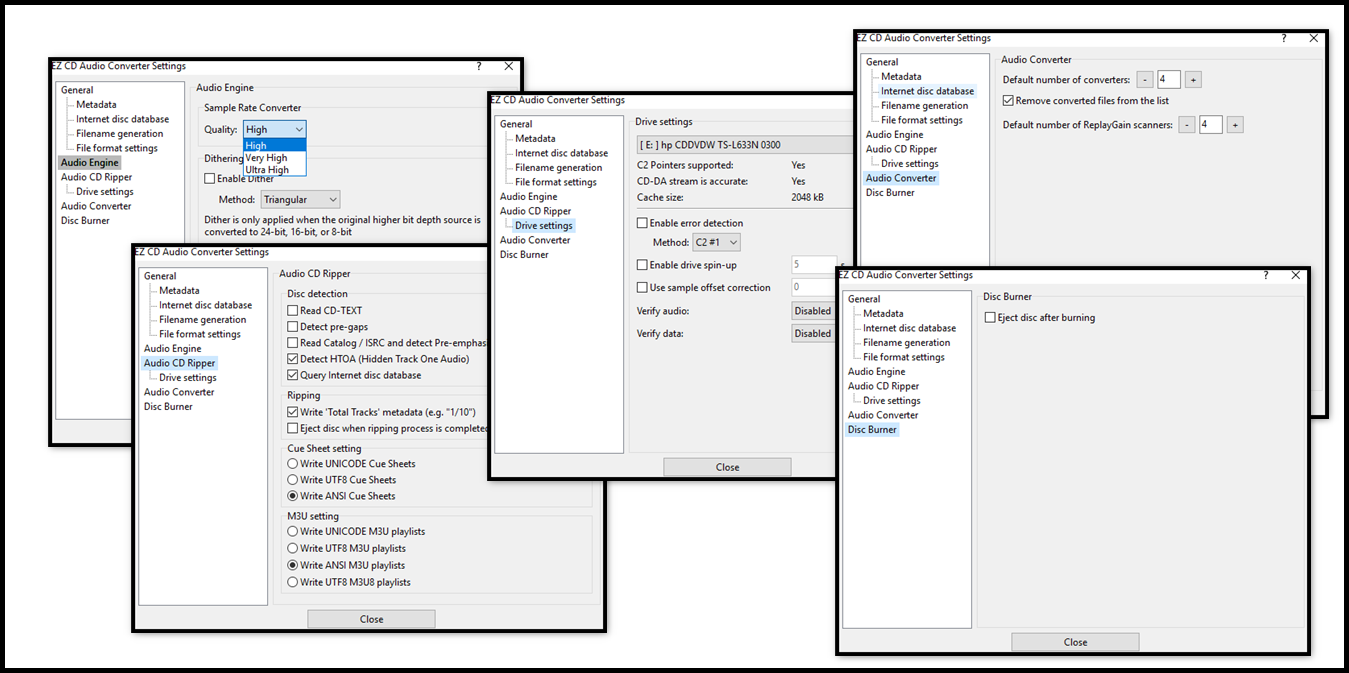 Virus free! No virus signature! 100% clean!
All credits go to Nemo/SND who made and shared the crack with us!
​
Official installer: ez_cd_audio_converter_setup_x64.exe
You must be registered for see links
0/68
MD5: 9E2435B3DA62804CA913FDABC3B28534
SHA1: EBBDAFE580237A2916B25880C1724EB1DA1B7410
SHA256: A86861994C18BE24382A900045C52E30255C7E26FD2CE142CC9D44CD09969CDF
Crack file: ezcd.exe
You must be registered for see links
0/58
MD5: 44F3D27EC827B2F7A784754F88A60FA4
SHA1: B907B20586521066B57F4ED60A9D27AE30959CF5
SHA256: F527D4152B7455EB0397EEF7BFD37F38C86DE46D57E547A34E3301EBC8CFF684
Kind regards,
@Mirkec
in collaboration with TeamOS
Download links (Size: 32.25 MB):
You must be registered for see links
You must be registered for see links
You must be registered for see links
You must be registered for see links
Last edited: