Downloaded

0 bytes
Uploaded

0 bytes
Ratio

-
DriverPack DrvCeo 1.9.4.0 (XP,Win 7,Win 10) x86x64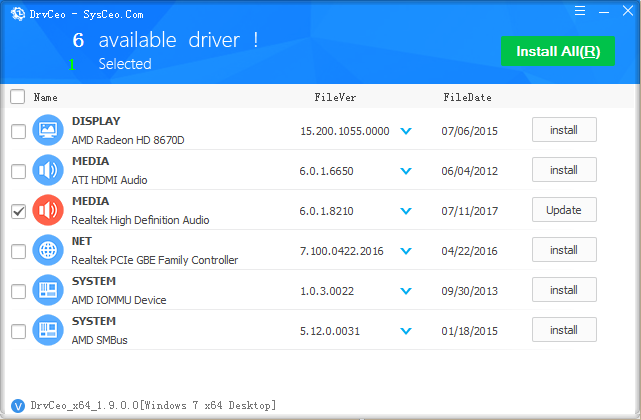 General Info:-
Year / Release Date: 2018-02-14
Version: 1.9.4.0
Developer: sysceo
Bit depth: 32bit, 64bit
Language: English
Tabletka: not required
System requirements:
Windows XP / 7/8/10
Description
:-
DrvCeo DriverPack - the best portable program for installing and updating drivers, not requiring an Internet connection, separately for each version and bit depth of Windows.

Chinese version of driver packs and installer, which is able to automatically install and update the driver on your computer. It is characterized by stability of work, small size, accuracy of detection of unknown devices.
The interface is friendly, easy to use, multifunctional, customizable, with a number of exclusive technologies, easily solves many problems associated with hardware.
What News?
Update log: DrvCeo-1.9.4.0-2018.2.141, program update:

1.1, [update] UI details code to improve experience;

1.2, [Update] PE pre-installed mode Added DISM pre-installed optional settings;

1.3, [fix] missing part of the language file field;

1.4. [Repair] Part of the environmental detection update error problem;

1.5, [Repair] PE preloaded mode read empty card reader error problem.

2, offline driver update:

2.1, [Graphic Card] Win7, Win10 Update Nvidia Graphics Card Driver 390.77 (driver file version: 23.21.13.9077);

2.2, [video card] Win7, Win10 update AMD graphics driver (driver file version: 23.20.15017.3010);

2.3, [NIC] Win7 fixed Realtek wireless network card driver;

2.4, [Chipset] Win 7 Fixed AMDA00 14.47.2.348 version streamlined over the issue.

Download links
Single links
DC Win7x64


You must be registered for see links


or


You must be registered for see links


or


You must be registered for see links


or


You must be registered for see links



DC Win7x86


You must be registered for see links


or


You must be registered for see links


or


You must be registered for see links


or


You must be registered for see links



DC Win10x64


You must be registered for see links


or


You must be registered for see links


or


You must be registered for see links


or


You must be registered for see links



DC Win10x86


You must be registered for see links


or


You must be registered for see links


or


You must be registered for see links


or


You must be registered for see links



DC WinXPx86


You must be registered for see links


or


You must be registered for see links


or


You must be registered for see links


or


You must be registered for see links



1gb links


You must be registered for see links




You must be registered for see links




You must be registered for see links




You must be registered for see links




You must be registered for see links




You must be registered for see links




You must be registered for see links




You must be registered for see links




You must be registered for see links




You must be registered for see links


or


You must be registered for see links




You must be registered for see links




You must be registered for see links




You must be registered for see links




You must be registered for see links




You must be registered for see links




You must be registered for see links




You must be registered for see links




You must be registered for see links




You must be registered for see links


or


You must be registered for see links




You must be registered for see links




You must be registered for see links




You must be registered for see links




You must be registered for see links




You must be registered for see links




You must be registered for see links




You must be registered for see links




You must be registered for see links




You must be registered for see links


or


You must be registered for see links




You must be registered for see links




You must be registered for see links




You must be registered for see links




You must be registered for see links




You must be registered for see links




You must be registered for see links




You must be registered for see links




You must be registered for see links




You must be registered for see links



Created With:

uTorrent/2210

Comment:

No Comment For This Torrent

Peers:

1 Seeders + 0 Leechers = 1 Peers

Loading…