Downloaded

46.2 GB
Uploaded

169 GB
Ratio

3.66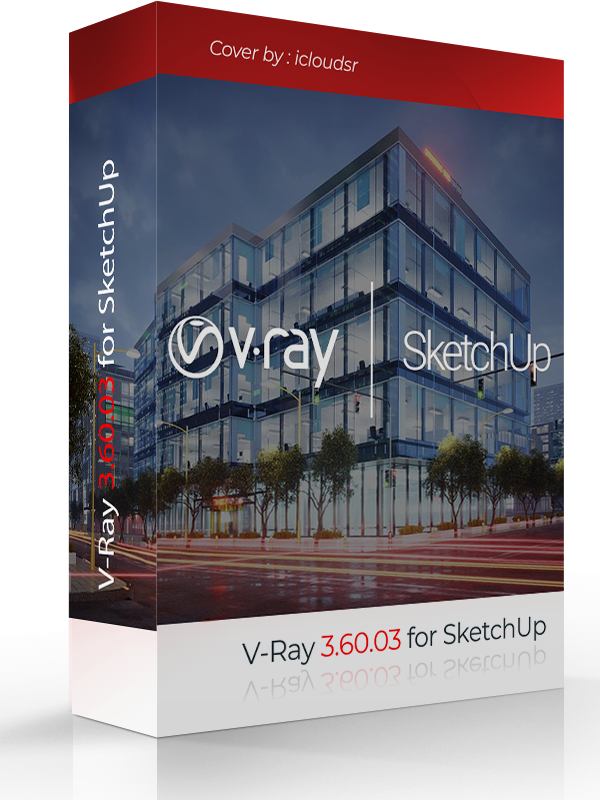 As one of the most popular 3D modeling software solutions, SketchUp is fit for various drawing projects, including interior design, 3D printing, or architecture. Aiming to equip SketchUp with advanced rendering capabilities, the V-Ray extension enables SketchUp users to obtain photo-realistic models.​
Control lighting to render realistic scenes
The V-Ray extension is easily deployed and integrated into SketchUp, allowing users to access its features either via the 'Extensions' menu or the floating VfS toolbars. All the controls are within reach, but it is advisable to take the time and go through the extensive documentation to get the most out of this Sketchup plugin.

As every experienced graphics designer knows, there are various factors that affect the outcome when rendering an image. V-Ray tries to take into consideration the most important ones, namely lighting, used materials and mapping.

Dedicated to this purpose, it comes with powerful lighting tools to help you generate natural light in your scenes, making shadows and reflections look realistic. Thanks to these tools, V-Ray for Sketchup saves designers the time and effort needed to manually adjust lighting parameters.​
Edit and create realistic materials
Aside from lighting features, V-Ray for Sketchup includes a material editor with built-in preview that opens the doors to tampering with colors, transparency, texture, refraction depth, and various other settings that affect the appearance of the final result. It's possible to create new materials using transparency and texture mapping, as well as manage two-sided materials using V-Ray for Sketchup.

Relying on the V-Ray RT CPU & GPU engine, V-Ray for Sketchup can retrieve almost instant feedback. Additionally, camera and rendering presets are available.
Visualize your Sketchup scenes with no compromise on quality.

V-Ray enables Sketchup users to visualize the result of their work, providing high-quality and fast rendering that can improve their workflow and productivity.

And thanks to its lighting features, Sketchup users can benefit from natural light in their scenes while preserving reflections and details, all without too much effort.​
Optimizations & Workflow Improvements
Right-click menu has been implemented for sub-materials (child materials) in a shading network - Cut, Copy, and Paste as Instance any child material to another material input slot. Drag-and-drop option can also be utilized
The naming style of the Multi Matte render elements has been changed to be consistent with the saved image file names. Underscores are now used to separate the base name and the ID numbers - MM_r_g_b
Imported VRScene geometry can now be clipped
VRScene animation playback controls have been exposed. The Offset, Playback Type, Speed, Start, and Length can now be changed if necessary
The Multi Matte render element can now be correctly exported to .vrscene file
Object IDs in a multi-level scene hierarchy now get inherited the same way materials get inherited. Easily set ID to a top level Group or Component and see it applied to all child objects (which don't have their own custom IDs specified)
Rendering animations without an output image file path specified is now possible
The way animation is internally handled has been changed. The Use Camera Path option can now be easily utilized for pre-calculating Irradiance Map for the entire camera path. Animated VRScenes exported from Maya or 3ds Max will now move with a predictable rate. This change also resolves a number of Motion Blur related issues
The V-Ray for Sketchup Windows Start Menu folder content has been revisited and reorganized (C:\ProgramData\Microsoft\Windows\Start Menu\Programs\Chaos Group\V-Ray for SketchUp)
Improvements & Bug Fixes
V-Ray AppSDK updated to version 1.24.02
Chaos License Server (previously known as V-Ray License Server) updated to version 5.1.1
A number of V-Ray for SketchUp startup issues have been resolved
V-Ray Fur and Mesh Clipper helper objects located in empty component definitions no longer raise Ruby errors
Reverting back to the default render settings no longer brings up the Animation options rollout in projects without a set animation
Toon and Two-Sided materials are now automatically bound to the SketchUp material and their textures get displayed in the viewport
VRScenes can now be scattered with 'Skatter' for SketchUp
'Skatter' V-Ray object instances render correctly when the Render Only mode is enabled
The Proxy Export UI now shows a progress bar to indicate the ongoing process
The Texture Preview for maps using Environment placement has been improved
Copy and pasting colors from one Gradient map slot to another now works correctly
Unsaved SketchUp projects no longer cause a relative path to be displayed in the Proxy Export window. The full path is used instead
Fur and Clippers in empty component definitions no longer cause Ruby errors
Applying a Library material directly to the selection no longer causes errors
Changing the axes of a SketchUp component no longer leads to incorrect object transformation at render time
The Background Environment texture/color multiplier now updates correctly during Interactive Rendering
The camera FOV (field of view) is now correctly calculated in scenes where the camera has been modified using the Advanced Camera Tools
Infinite Plane material changes now get properly updated during Interactive Rendering
A number of issues related to loading/importing .vrmat materials have been resolved
Replacing the source object upon Proxy creation now properly names the newly created Multi Material
The Apply to Selection material function now works in a more reliable way
MacOS: The Proxy Import window issues have been resolved. The browser window now appears and functions as expected
MacOS: Purge unused materials no longer causes a crash
Changing a Multi Material viewport texture (SketchUp side) no longer prevents it from being purged after its Proxy object has been removed from the project
Download and install V-Ray. No need to install the License Server.
Copy cgauth.dll to the V-Ray bin dir ( C:\Program Files\Chaos Group\V-Ray\V-Ray for SketchUp\extension\vrayappsdk\bin )
Copy vray_BRDFScanned.dll to the V-Ray plugins dir ( C:\Program Files\Chaos Group\V-Ray\V-Ray for SketchUp\extension\vrayappsdk\bin\plugins )
Enjoy!
File: Chaos Group V-Ray 3.60.03 for SketchUp.rar
Size: 378 MB (39,73,85,166 bytes)
CRC-32: bdcc2c35
MD5: 80ff94c4b837cf8c41e8f862331e5e7c
SHA-1: 074ab5d23172be438ef78957668b3b543fe8e139
SHA-256: 33e8778a956f8b4931c29510b9a137e49b128c5b601475b0a403518558ce7646
Operating System:
Windows® 7, Windows 8.1, Windows 10. (64-bit only)
SketchUp:
Version 2015, 2016, 2017 and 2018 (64-bit only)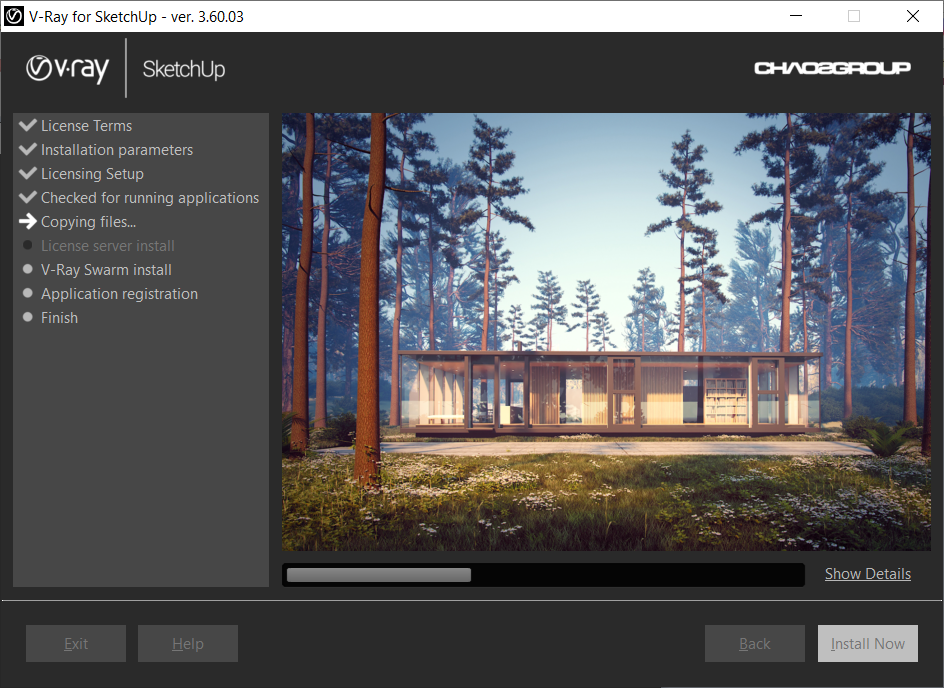 ======================================================================​
You must be registered for see links
======================================================================​
Last edited: