Moderator
Uploader
Windows Modifier
Downloaded

49.6 GB
Uploaded

1 TB
Ratio

21.57
Review
XRecode3 is audio converter is a program designed to help a user with file conversion, but also comes with additional functions. The application providing a user-friendly working environment and supports various input formats, such as M4A, APE, FLAC, MP3, NERO AAC, WAV, MP2, DSD, SND, TTA, OFF, RAW, WMA, AC3, etc. It also supports extracting audio file from most video files as well as Audio-CD grabbing. Command Line parameters are supported.
The software has a clean interface, with an intuitive layout. The UI is easy to figure out, and first-time users should be able to find out all the app's features quickly. User can get started by importing media via the file browser or by using the "drag and drop" method (batch processing is supported), or choose to move the original file to the Recycle Bin once the process is complete, rename it or normalise the sound levels.
The queue consists of various information about the tracks, including their source format, codec, duration, track gain, output file name, and more. User can specify the output (e.g. set file name tags for CDs, CUEs and playlists) and configure input file settings, enable normalisation and format options like compression, enable to create CUEs and playlists, bitrate, sample frequency rate and channels.
Furthermore, user can edit file metadata and ID3 tags for each file, preview files in a built-in media player, save and load own profiles. Among the details user can add are the track number, song title, album's cover art, artist and album name, year of release, comments and music genre. The tags can be downloaded automatically from online sources. XRecode3 can grab the songs from audio CDs. Also, the program can be set to do this by default immediately after inserting CD in the drive. Information about disc can be gathered easily from one of the four available online databases.
Also, user can change the interface language, use keyboard shortcuts, set the tool to highlight files on success, cancel or error, process CUE files only, disable CD autoplay, automatically check for updates, set CPU priority, enable shell integration, and more. The program uses a moderate amount of system resources and quickly finishes a task.
General features:
Parallel conversion by utilising the power of multi-core CPUs;
Support of embedded CUE sheets (for FLAC, WavPack, APE and TAK files);
Support of mp4, mka chapters (can split mp4, mka by chapters to any supported format);
Built-in Metadata editor with Cover Art support;
Has support for LossyWav;
Supports portable mode;
Merge input files to one large audio file and create CUE sheet;
Converting to many formats at once using "Multiple" output modes;
Grabbing of multi-channel Audio CDs to the desired format at once;
Informative and resizable UI suited even for netbooks;
Extracting audio from flv, avi, mov etc. video files (multiple audio streams are supported);
Can export/import Metadata to/from external file;
Support for 24/32bit audio files;
Multilanguage support. Currently, the program is available in Dutch, English, French, Japanese, Korean, Polish, Russian, Hungarian, Italian, Spanish, Spanish Traditional, Swedish, Brazilian Portuguese, German, Finnish, Bulgarian, Czech, Danish and Chinese (simplified) languages;
And more.
What is new in version 1.91 (Released on April 26, 2019):
NEW: Added function to arrange profiles (under profiles list right-click menu);
NEW: From now on console and GUI program will have the same version number;
NEW (console): Added/scandts command line parameter (works the same as "Scan WAV files for DTS stream option");
FIX: Fixed decoding of some DVDA iso files;
FIX: Fixed issue when program required to have a write access for some APE files in order to open them;
FIX: Fixed issue TagsReplace was not working with values containing [] chars;
FIX: Improved performance of encoding to mp3, ogg for PCs with many cores.
What is new in version 1.90 (Released on March 03, 2019):
NEW: When some (not all) of the added files were discarded (e.g. no audio stream was found), errors will be reported at the end of the process;
NEW: Added option to encode per folder for multi-channel action (under Action/Encode to multichannel file);
NEW: Added new pattern element %channels%. It will be replaced with the number of channels of the output file;
NEW: Added option to specify file name pattern for "Encode to multi-channel file" operation;
FIX: Fixed issue with transcoding some of DSD files form DSD128 to DSD64.
What is new in version 1.89 (Released on March 02, 2019):
NEW: Added support for decoding of DVDA audio from ISO files;
NEW: Added option "Always transcode" for WavPack library encoder. When enabled, SACD audio will always be decoded to PCM and then encoded to WavPack;
NEW: All JPEGs will now be saved as a baseline to be more compatible with devices not supporting the progressive ones;
NEW: Added option to add silence (in seconds) to the beginning and end of the track (under Output Settings);
FIX: Fixed issue when setting "The default sample rate when converting to PCM" to 44100 caused corruption in extracted ISO files;
FIX: Fixed issue when the program was unable to move the SACD ISO file to the Recycle Bin;
FIX: Fixed handling of some dff files.
What is new in version 1.88 (Released on January 20, 2019):
NEW: Added support for decoding of DVD audio. Currently, the user needs to add .IFO file (from AUDIO_TS folder) to the program (no ISO support);
NEW: Added option "Never delete CUE files" (under Program Settings/CUE). When enabled, CUE files will not be deleted/sent to Recycle Bin;
NEW: SACD ISOs and DFF/DSF files will now be decoded with the same decoder;
NEW: When merging both areas of SACD ISOs at once, %area% element will be added to the output file name pattern (if it is missing) to have a unique output file name per area;
FIX: Fixed issue when CUE file was not moved to Recycle Bin when converting to the source folder;
FIX: Do not auto resize the "Total" column;
FIX: Fixed issue when grabbing CD to an external USB drive;
FIX: Fixed issue while decoding some mp2 files;
FIX: Fixed character detection in Windows-1250 encoded CUE files;
FIX: Program would not auto close when just some action from Utilities was run, e.g. Analyze gain.
What is new in version 1.87 (Released on December 14, 2018):
NEW: Updated to opus 1.3.
NEW: Added Chinese Simplified translation.
NEW: Added new pattern element %disc3%. The same as %disc%, only if a value is 1/1, it will be discarded.
NEW: Added way to access value for tags with multiple values, e.g. %genre(1)% will return the 1st value of the multiple genres.
NEW: Added option to merge SACD using the source compression (DSD/DST), i.e. if it is compressed as DST, the resulting merge file will be as created as DST as well (see under Program Settings/SACD).
NEW: Added option to automatically close Metadata window when retrieving Metadata from the internet for the inserted CD (will pick the 1st available option and close).
NEW: Fade in/out can now be specified also as 0.2 till 0.9 seconds;
FIX: Fixed issue when "Reuse original CUE if possible" was used together with "Create files in source folder";
FIX: Show dialogue box when extract method is not applicable for the input format;
FIX: Fixed issue when track no in Metadata editor was automatically set to several albums at once;
FIX: Fixed issue while opening some dff files;
FIX: Fixed issue when incorrect CUE file was created when merging files directly to the removable device;
FIX: Fixed issue when "Remove Silence" was not removing silence from the end of the file;
FIX: Fixed issue when all (not only checked) tracks were analysed from Utilities/ReplayGain;
FIX: Fixed issue when silence was detected incorrectly for some files;
FIX: Fixed issue when the program got stuck while merging SACD file per folder.
What is new in version 1.86 (Released on October 14, 2018):
NEW: Added support for id3v2 tag TDRC (treat as year);
NEW: Added function to export files list with audio info (under Utilities/Export List To/txt (with audio info);
NEW: Added support for ISO/WavPack files;
NEW: Added option to exclude file names from processing (under Program Settings/Misc);
NEW: Added function to convert cover files (under Utilities/Convert cover files);
NEW: Added option to replace dots/dashes with dashes/dots (under Settings/Patterns/Additional Settings);
NEW: Added option to choose WMA codec (under WMA Settings);
NEW: "Skip bad frames" by default on for decoding dts streams;
FIX: Fixed issue when converting read only files to the same folder;
FIX: Fixed issue when converting files located on a removable drive (and also having temp folder set to removable drive) to the same folder;
FIX: Improved encoding detection for come CUE files;
FIX: Fixed issue with resampling/encoding to file-per-channel audio files with more than 8 channels.
System requirements:
OS: Microsoft Windows® 7, Windows® Vista, Windows® 7, Windows® 8 and Windows® 10 (both 32 & 64-bit);
CPU: 750 MHz Intel Pentium/AMD Athlon (or better);
RAM: 512 MB or even more;
HDD: 1 GB of free hard disk drive space;
Repack features:
PortableApps Format - PAF developed by Alexander FoXX;
Multilingual;
Endless Trial - On each start click on the "Try" button.
Install notes:
1. Run the executable file;
2. Enjoy!
Screenshots: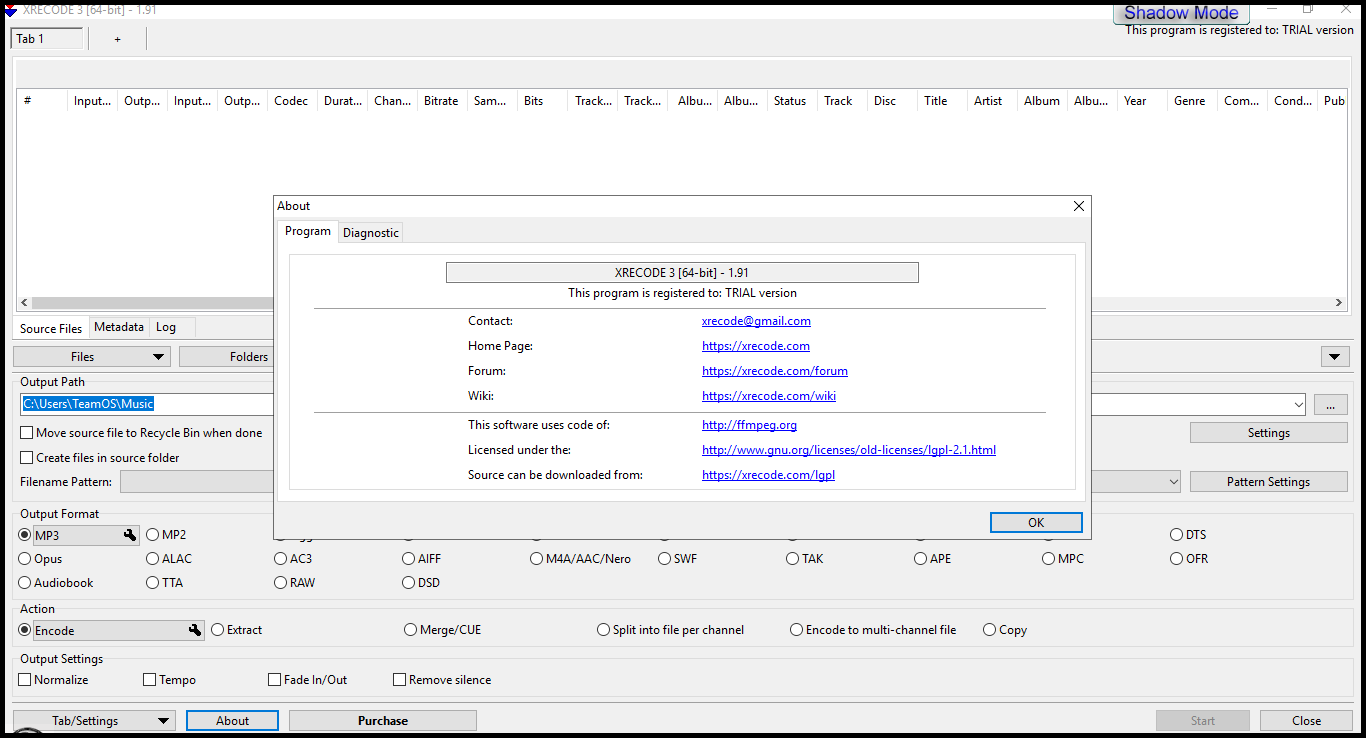 Virus free! 100% clean!
All credits go to FoxxApp who made and shared the portable version with us!
​
Portable file: XRECODEPortable_1.91_32-64bit.paf.exe
You must be registered for see links
4/68
MD5: A56BF3EA48BBB811E3E1FAE064D061DE
SHA1: 3712DDB3C24C4D36661230A4AE9E81CB8F7D75CE
SHA256: 15E30D8D389AB4C0E63225A04DD6B27A0A6F41BFBB954F9498B0CA879A8C3A6C
Kind regards,
@Mirkec
in collaboration with TeamOS
Download links - version 1.91 (Size: 41.82 MB):
You must be registered for see links
You must be registered for see links
You must be registered for see links
You must be registered for see links
Last edited: