Super Moderator
VIP
Windows Modifier
Downloaded

427.7 GB
Uploaded

2.7 TB
Ratio

6.38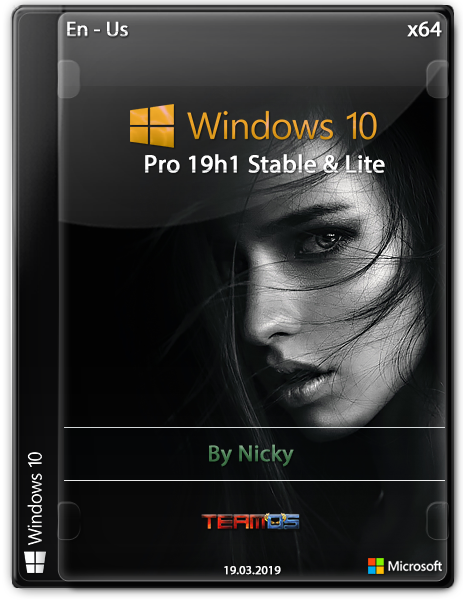 General Info:
Program version:-10.0.18358.1
Architect:- 64bit
size:- 2.54gb
Author builds:
Iso original Rain - amended Nicky - Support TheMacGyver
Language: English
Treatment: In-completed
**************************************************************
System requirements:
* Processor: 1 gigahertz (GHz) or faster.
* RAM: 1 gigabyte (GB).
* Free space on hard disk: 16 gigabytes (GB).
* Graphics card: DirectX 9 graphics device or a newer version.
* Additional requirements to use certain features.
* To use touch you need a tablet or monitor that supports multitouch.
* To access the Windows store to download and run apps, you need an active Internet connection and a screen resolution of at least 1024 x 768 pixels.
Description:
Assembling made on the basis of original images from MSDN. Included in the distribution Net Framework 3.5 is enabled. The system is completely on the original installer.
install both from under the BIOS
Check Sums:
Name: Windows 10 Nicky Perso.iso (
why nicky perso because I use it on my pc
)
Date: 18-03-2019
Size: 2.54 GB
--------
font_arialblack 'Arial Black
font_bahnschrift 'Bahnschrift
font_calibri 'Calibri
font_cambria 'Cambria
font_cambria_regular 'Cambria & Cambria Math
font_candara 'Candara
font_comicsansms 'ComicSansMS
font_constantia 'Constantia
font_corbel 'Corbel
font_courier 'Courier
font_ebrima 'Ebrima
font_ebrimabold 'Ebrima Bold
font_fixed 'Fixed
font_franklingothic 'FranklinGothic
font_gabriola 'Gabriola
font_georgia 'Georgia
font_holomd2 'Holo MDL2 Assets
font_impact 'Impact
font_inkfree 'Ink Free
font_javanesetext 'Javanese Text
font_lucidasans 'Lucida Sans Unicode
font_malgungothicbold 'Malgun Gothic Bold
font_malgungothicsemilight 'Malgun Gothic SemiLight
font_microsofthimalaya 'Microsoft Himalaya
font_microsoftjhengheibold 'Microsoft JhengHei Bold & Microsoft JhengHei UI Bold
font_microsoftjhengheilight 'Microsoft JhengHei Light & Microsoft JhengHei UI Light
font_microsoftyaheibold 'Microsoft YaHei Bold & Microsoft YaHei UI Bold
font_microsoftyaheilight 'Microsoft YaHei Light & Microsoft YaHei UI Light
font_mingliub 'MingLiU-ExtB & PMingLiU-ExtB & MingLiU_HKSCS-ExtB
font_mongolianbaiti 'Mongolian Baiti
font_msgothic 'MS Gothic & MS UI Gothic & MS PGothic
font_mvboli 'MV Boli
font_myanmartext 'Myanmar Text
font_myanmartextbold 'Myanmar Text Bold
font_newtailue 'Microsoft New Tai Lue
font_newtailuebold 'Microsoft New Tai Lue Bold
font_oem 'OEM
font_palatinolinotype 'PalatinoLinotype
font_phagspa 'Microsoft PhagsPa
font_phagspabold 'Microsoft PhagsPa Bold
font_segoeprint 'Segoe Print
font_segoeprintbold 'Segoe Print Bold
font_segoescript 'SegoeScript
font_segoeui_italicssupplement 'SegoeUI ItalicsSupplement
font_simsun 'SimSun & NSimSun
font_simsunb 'SimSun-ExtB
font_sitka 'Sitka
font_small 'Small
font_sylfaen 'Sylfaen
font_system 'System
font_taile 'Microsoft Tai Le
font_tailebold 'Microsoft Tai Le Bold
font_trebuchetms 'TrebuchetMS
font_vector 'Vector
font_verdana 'Verdana
font_webdings 'Webdings
font_yibaiti 'Microsoft Yi Baiti
font_yugothic 'Yu Gothic Regular & Yu Gothic UI Semilight
font_yugothicbold 'Yu Gothic Bold & Yu Gothic UI Semibold & Yu Gothic UI Bold
font_yugothiclight 'Yu Gothic Light & Yu Gothic UI Light
font_yugothicmedium 'Yu Gothic Medium & Yu Gothic UI Regular


indeo Codecs Intel Indeo
isoburn
kernel debug
location
Advertising.Xaml
BingWeather
BioEnrollment
DesktopApp Installer
GetHelp
Get started
HEIF Image Extension
Messaging
3DViewer
Edge
Edge Dev Tools Client
OfficeHub
Solitaire Collection
StickyNotes
Mixed Reality Portal
Paint 3D
Office.OneNote
One Connect
People
Print3D
ScreenSketch
Skype App
UI.Xaml.2.0
VP9VideoExtensions
Wallet Service
Web Media Extensions
Web Image Extension
SmartScreen
Cortana
Parental Controls
People Experience Host
Photos
Defender
Alarms
Calculator
Camera
****
FeedbackHub
Maps
Sound Recorder
Xbox.TCUI
App Xbox
Xbox Game Callable UI
Xbox Game Overlay
Xbox Gaming Overlay
Xbox Identity Provider
Xbox Speech To Text Overlay
Your Phone
Zune Music
Zune Video
mixed reality
onedrive
Windows Reader (PDF)
Skype ORTC
speech common
Langage TTS
static font cache
vcmcodecs
Télémétrie Unifiée (Asimov)
biometric service
error reporting
face recognition
Startup_delay
Disable_UAC
Disable Hibernate
Fix scaling for apps
Bsod blocked
Desktop - Workstation icon visible on the desktop
Desktop - Panel Control visible on the desktop
Desktop - trash can visible on the desktop
Desktop - your folder visible on the desktop
Explorer - Open the File Explorer on (This PC)
Explorer - Recent Document History (delete at closing)
Explorer - Recent Document History (Do not Save)
Explorer - Removing Recent Folders from the Navigation Panel
Explorer - Deleting Recent Files from the Navigation Panel
Disable crach bosd
Disable newspaper BSOD
Autorun disable
Show extension
Show hidden files
Edge on Desktop Disable
task bar see all icons
Update Driver and icon locked
Update Defender locked
Other Update ok
Shutdown
Choose Power Plan
Edit HOSTS
Kill all not responding tasks
Open command window here as administrator
Open PowerShell window here as administrator
Restart Explorer
Screen Shots:
You must be registered for see links
You must be registered for see links
You must be registered for see links
You must be registered for see links
You must be registered for see links
Last edited by a moderator:
Created With:

qBittorrent v4.1.5

Comment:

No Comment For This Torrent

Peers:

21 Seeders + 0 Leechers = 21 Peers

Loading…