Administrator
Windows Modifier
Downloaded

51.6 GB
Uploaded

11.8 TB
Ratio

235.3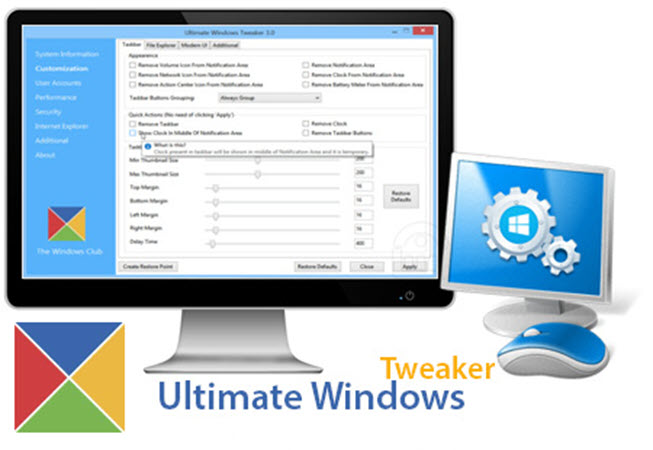 Review
Ultimate Windows Tweaker is a Tweak UI Utility for tweaking and optimizing Windows 10, both 32-bit & 64-bit. Ultimate Windows Tweaker is a portable application and does not require an installation.
With judicious tweaking, it can make the user system faster, more stable, personal and more secure with just a few mouse clicks. Ultimate Windows Tweaker is like a TweakUI for Windows 10. While a user may be able to access all these via the Windows 10 Settings app, the Registry Editor or the Group Policy Editor, Ultimate Windows Tweaker makes things easier for a user by offering all useful tweaks from its single UI.
The tweaker is just over 1 MB in size and includes over 200 tweaks. Like its predecessors, UWT sports a clean, minimalistic UI, offering links in the left panel, and tabs on the top, in some categories. Hover over any tweak, and helpful tooltips will tell the user what the tweak does.
How to use it:
1. Place the downloaded UWT4 folder in the desired location and pin its executable 'UWT4.5.exe' file to Start Menu;
2. Do not separate the contents of the Program folder;
3. Simply run its 'UWT4.5.exe' file;
4. To uninstall it, delete the program folder;
5. Enjoy!
NOTE:
It is always recommended to create a system restore point before the tweaking system, and hence an easily accessible button for creating the same has been provided in the tweaker.
Easy to use user interface;
Tool tips offer user guidance as to what the tweak does;
Offers accessible buttons to create a system restore point and restore default values;
Tiny tool, super lightweight at just around 1 MB;
Power-packed with 200+ meaningful tweaks;
Portable tweaker. It does not require to be installed. To uninstall it delete its program folder;
Does not contain any adware, nor does it push crapware;
Report Bugs by simply using the button in the About tab. Else visit this page;
Support available at TWC Forum;
Checks for an available updates. Click the button in the About tab to do so. If any are found, download the latest version from this homepage;
Export and own import Tweaks;
Easy to use the Search feature.
What is new in version 4.7 (Released on February 02, 2018):
Seeing the concerns being raised about privacy issues, several tweaks have been added under a new Privacy section;
Many new tweaks in the context menu for Store apps to support Windows 10;
The empty.ico file is not required now for "Remove Shortcut Arrows From Icons" to function properly;
It calculates Windows Experience Index from the main page. Click on Run assessment to recalculate the WEI;
Run DISM command to fix corrupted system image;
Pin drives to desktop context menu;
Many new tweaks to customize Windows 10;
Newly designed interface with command link buttons;
Hover over a tweak, and get the description at the bottom of the tweaker;
Many other tweaks.
What is new in version 4.6 (Released on July 06, 2018):
Windows 10 v1903 Support;
Disable Login Screen Blur Effect in Customization -> Universal UI;
Improvements in disabling Windows Updates in Newer Versions of Windows;
Disable Edge Preloading in Performance section;
Disable Edge Tab Preloading in Performance section;
Option to pin Cortana, Search and Apps in Settings (Context Menu -> Desktop Context Menu 2);
Customize "New Menu" in Context Menu -> Other Context Menus;
Now change Registered Owner and Organization information in Additional -> Edit OEM Information;
Pin "Screen Snip" to Desktop Context Menu;
Reset Live Tile Cache in Customization -> Universal UI;
Waiting time to kill applications/services/non-responding applications needs to be a minimum of 1 second in Performance section;
Tweak description line now doesn't cut off the UI when description is long. When description is long, use Extended Info Bar to read it.
What is new in version 4.54 (Released on November 13, 2018):
Added "CMD (Admin)" in Customization > File Explorer > Context Menu > Desktop Context Menu;
Show Libraries Before This PC In Navigation Pane;
Show OneDrive In Navigation Pane;
Remove Double Blue Arrows From Compressed Files/Folders;
Added Troubleshooting UWT tab in Additional section;
Disable Timeline Feature Security & Privacy -> Security Settings;
Code improvements to improve UWT's performance;
Supports Windows 10 October 2018 Update.
What is new in version 4.4.1 (February 7, 2018):
Includes a bug fix that causes UWT to crash on some systems.
What is new in version 4.4 (February 3, 2018):
New favorites feature lets you access many sections easily;
This PC -> Remove 3D Objects;
Include In Library, Restore Previous Versions;
Give Access To, Share;
File Explorer Startup;
Remove Duplicate Drive Letter Entry;
Phone, Gaming in Settings;
Better support for Fall Creators Update and bug fixes.
System requirements:
OS: Microsoft Windows® 10 (both 32 & 64-bit).
Install notes:
1. Run the executable file;
2. Enjoy!
Screenshots: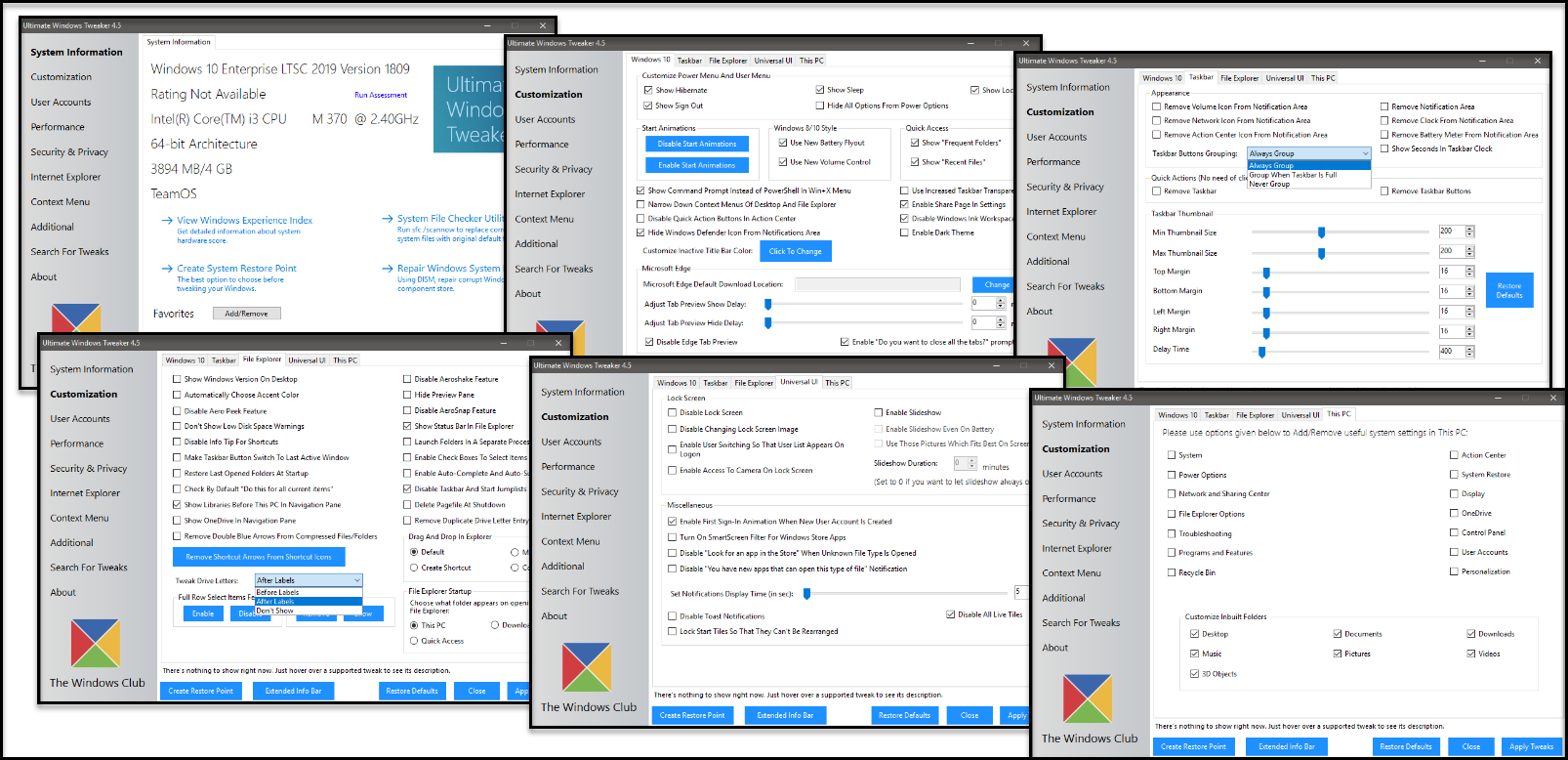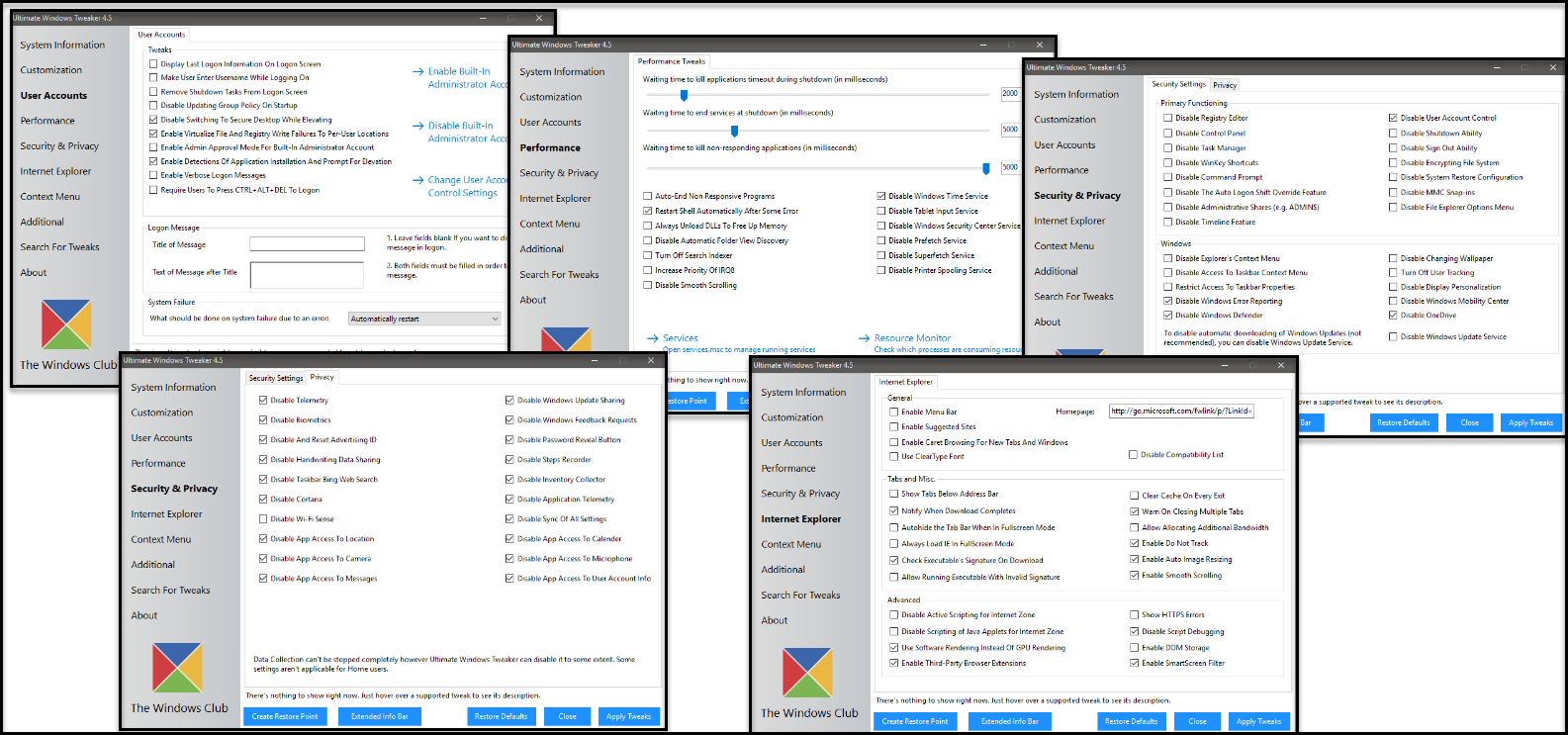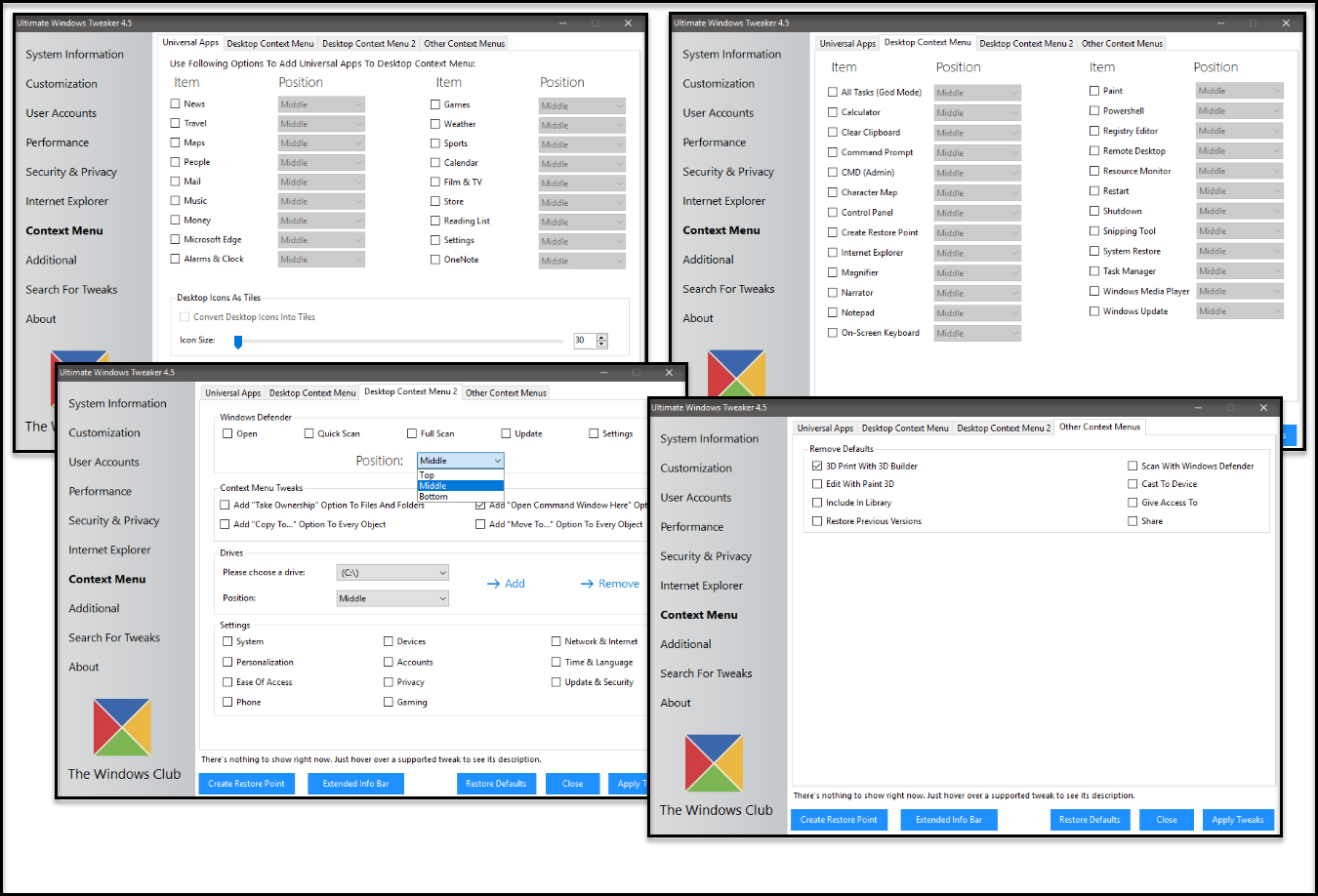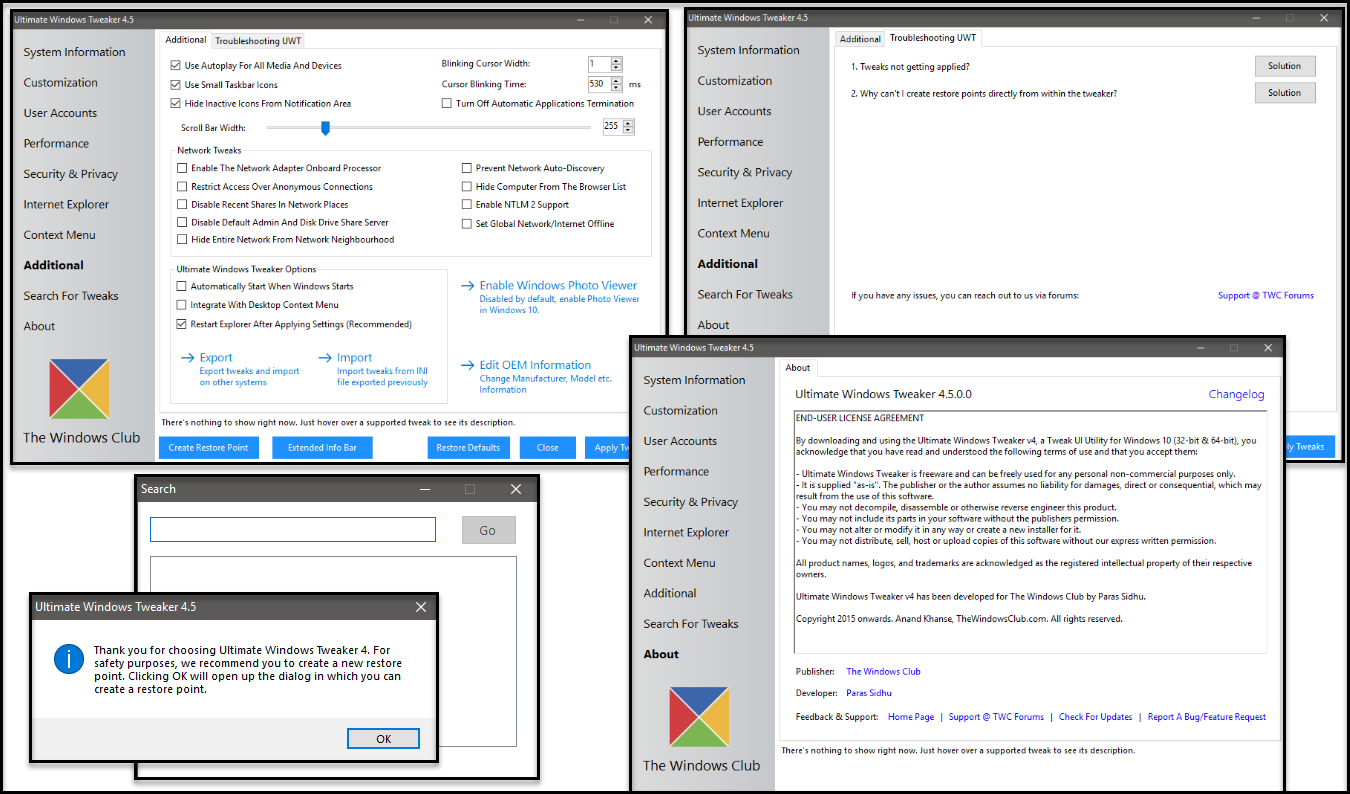 Virus free! No virus signature! 100% clean!
All credits go to the Paras Sidhu who made and share the portable application with us!
​
File: ButtonExtended.dll
You must be registered for see links
00/71
MD5: D45CAB94CFB2D3DD1B7BBAD86090E896
SHA1: A8EB8C70141E916EE085EE79DBEBD811B820BC17
SHA256: 11692A5C5001628E294AE9E1146ABD4B4470E81F21883F80A7AF7FE6D197D44B
File: Ultimate Windows Tweaker 4.7.exe
You must be registered for see links
05/68
MD5: md5,9AF9FC26A40C89A5F4C0EED7C4939D6A
sha1,C97D7AE5497C4844F608697034BB6B6C87304FA2
sha256,4A6EE1D022FC879FDC017C2650950925DC2E528C6AD68A6DD9AF7F013E35008E
Kind regards,
@Mirkec
in collaboration with TeamOS
Download links - version 4.7 (Size: 1,04 MB):
You must be registered for see links
You must be registered for see links
You must be registered for see links
You must be registered for see links
Last edited by a moderator: