Administrator
Windows Modifier
Downloaded

51.7 GB
Uploaded

13.1 TB
Ratio

259.3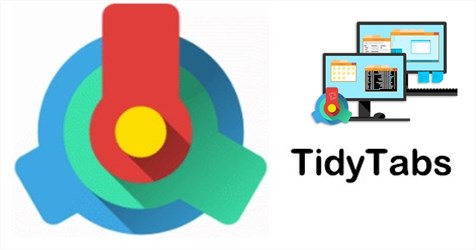 Review
TidyTabs is a nifty piece of software that allows a user to free up its desktop or organize user applications into a single tabbed group for more comfortable and quicker access. It is a tool that brings Chrome-style tabbed browsing to all of the user programs such as Windows Explorer, Microsoft Office or PuTTY. It integrates nicely with the OS and users will feel like the multi-tab functionality is a core part of Windows. With this application, a user can effortlessly organize all the programs under a single tab so that the user can access them faster and more efficiently using this intuitive software solution.
Following a quick and uneventful setup, the user can access the application by hovering mouse over the top left corner of any active window. The idea behind the tool is to integrate seamlessly with Windows as if it were a core feature. While the utility does not come with an interface per se, the user can access its Settings window from the System Tray. Consequentially, the user can alter the visibility of active and inactive windows as well as that of the mouse hover. A user can configure the app to display a tooltip when the name is too long, hide tabs that are in full screen or single tabs, just to name a few options.
The tool can be used to boost user productivity or maintain desktop uncluttered.
Key features:
Tabbify everything;
Tab arranging;
Only there when a user needs it;
Discreet and smart;
Fully customizable;
Tiny and clean.
What is new in version 1.13.0 (Released on October 07, 2018):
Full support of per-monitor DPI scaling.
What is new in version 1.12.1 (Released on September 04, 2018):
Fixed: application crash when a malformed regex in entered in the rule editor;
Improved stability.
What is new in version 1.12.0 (Released on August 22, 2018):
Possibility to easily move groups back to their default positions;
New keyboard shortcuts;
Fixed: blacklist not working in some circumstances;
Improved stability.
What is new in version 1.3.5 (Released on October 18, 2018):
What is new in version 1.3.4 (Released on October 11, 2018):
Performance improvements;
Better handling of applications that change their window icon at runtime;
Fixed a problem causing a tabbed group sometimes to lose focus when a tab is closed with a middle-click;
Fixed a stability issue affecting some users.
System requirements:
OS: Microsoft Windows 7, Windows 8, Windows 8.1, and Windows 10 (both 32 & 64-bit);
Install notes:
1. Kindly read "Readme.txt" file given in download zip file;
2. Enjoy!
Screenshots: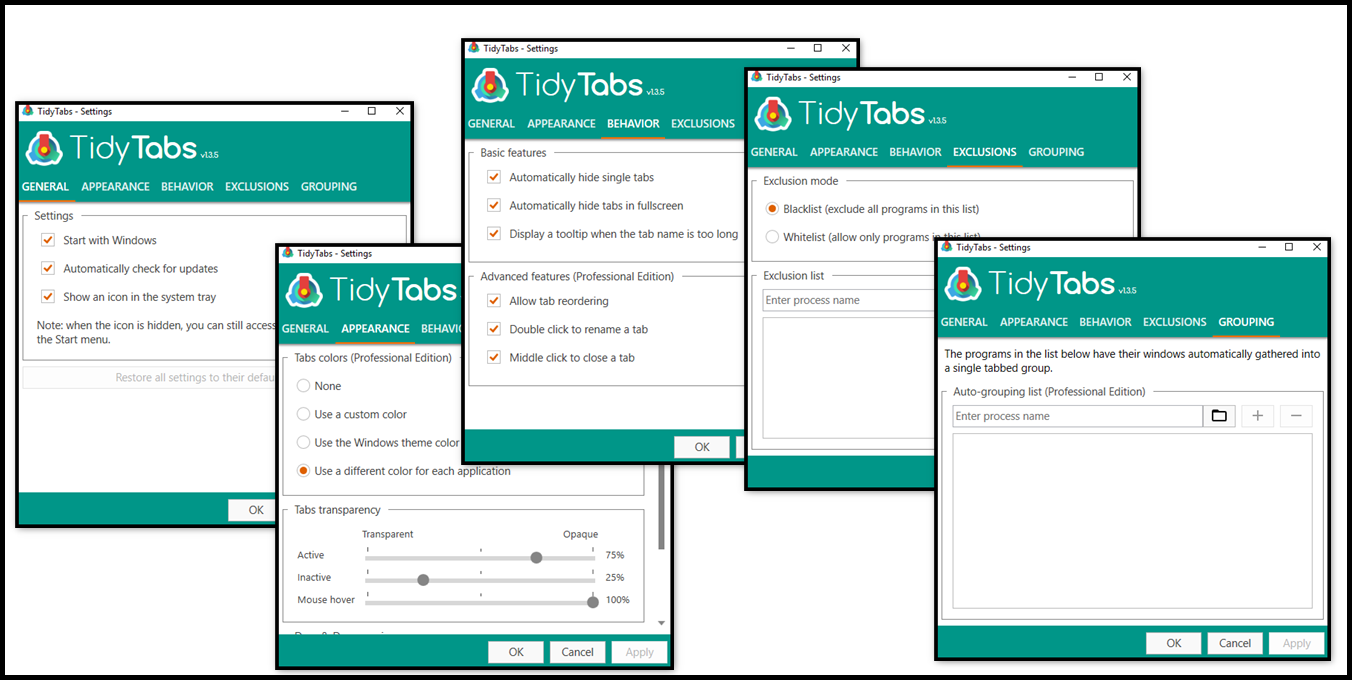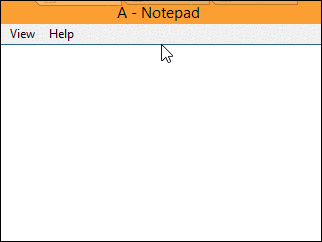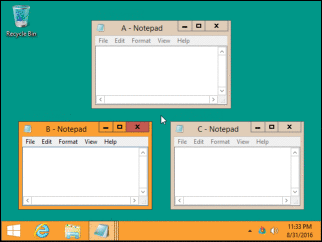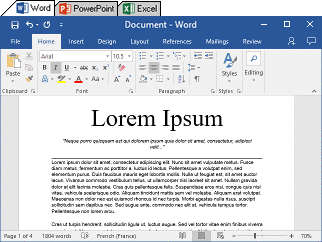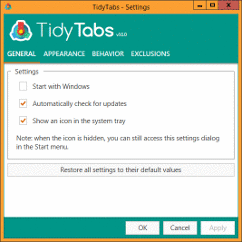 Virus free! No virus siganture! 100% clean!
​
File: TidyTabs.Daemon.exe
You must be registered for see links
00/70
MD5: 9CB4076FD9AA5C2A6CE09BA531FDB0F2
SHA1: 36F68859292DF3E4DA4E224ED8446520655F9553
SHA256: DF16C4F8424519FDFBFDE24C4FC83FE84399EA47A66173A64BFB5227336F78BD
File: TidyTabs.Gui.exe
You must be registered for see links
01/70
MD5: 941774A34E72805881E634EFCD56FEA0
SHA1: 3572E7D559B4A06074CCA11687AD86C0BB3916BA
SHA256: F9CC5CB4813FB60B8BFCC63DB6DC0017B1C73FDB8AE6871DB5C01C6185698E7D
Kind regards,
@Mirkec
in collaboration with TeamOS
Download links - version 1.13.0 (Size: 8.87 MB):
You must be registered for see links
You must be registered for see links
You must be registered for see links
You must be registered for see links
Last edited: