Administrator
Windows Modifier
Downloaded

51.6 GB
Uploaded

11.8 TB
Ratio

234.91

Review
Shardana Antivirus Rescue Disk Utility (SARDU) is a useful application designed to help a user create a bootable emergency removable media that features various rescue CDs, Linux distributions, recovery utilities, and antivirus support for PC and MAC (supports EFI). The application allows a user to create customizable USB or ISO boot disks with multiple versions of Windows OS, Linux distributions or other software by using the Extra options with minimum effort.
The program intends to help a user create a recovery disk with the tools required to diagnose and to repair the issues that prevent user computer from starting correctly. The drive can be customized by creating multiple boot options and by adding the utilities that user need for system configuration. A user might need to include antivirus, a partition manager and a network diagnosis tool. The program allows the user to fetch the bootable images from the internet and to include them on disk. The recovery tool can be customized by adding any bootable image from an ISO file. The boot menu can be personalized with folders, data and other items that are useful for the diagnostics.
The recovery disk can be saved as an ISO file for burning it to a DVD or by creating a bootable disk from a removable USB device. The app automatically detects the connected USB device and turns it into a bootable recovery toolbox. The included download manager can handle multiple processes at once and does not requires significant resources while downloading the images or creating the bootable ISO.
SARDU is a real informatics Swiss army Knife – carry an IT toolbox with a user. Professional versions are designed to meet the diverse needs of the user who takes care of maintenance and security, and of the passionate computer expert, and fully customizable to fit the needs of each user category.
Support MultiBoot created with SARDU Multiboot Creator PRO can contain programs and utilities to perform countless operations on the PC or Mac, such as:
Install Windows 10 and all Windows from USB with legacy or UEFI boot * without DVD;
Repair a corrupted or damaged Windows installation;
Disinfect an infected system and remove viruses, malware ... with more AntiVirus Rescue Disks;
Create multi-bootable Microsoft Windows PE images;
Recover deleted or corrupt data;
Change or recover a forgotten password;
Test user hardware and software and possibly solve the problems;
Test the security of user networks to likely discover the leaks, vulnerabilities, and protect them from potential exploits;
Navigate in an entirely anonymous environment, preserving user privacy;
Save or erase data user want to protect or delete;
Perform a forensic analysis;
Transform user PC into a complete media player or gaming console;
Try multiple Linux Live distributions;
Bringing children from two years old on the use of PC systems specifically designed for their age;
Choose from a list of Utilities such as antivirus, cloning, partition, boot recovery, data recovery, and system rescue disks;
Create Windows or Linux boot disks with multiple OS versions;
Directly download supported Utilities and Windows/Linux distributions from trusted sources;
Verify the integrity of your downloads with built-in MD5 and SHA256 hash functions.
Important: Sardu does not support directories with spaces.​
What is new in version 3.2.3 (Released on June 18, 2018):
Added FreeDos 1.2;
Updated wget;
Added uninstall ISO Windows (only pro versions);
Fixed Windows XP Installer with direct extraction;
Added support to Kaspersky Rescue Disk 2018;
Updated Super Grub2 disk to 2.02s9;
Updated MemTest86 EFI to 7.5.0;
Updated Refind to 0.11.2;
Improved registration;
Improved GUI;
Improved User experience;
And ... more.
What is new in version 3.2.1 (Released on June 21, 2016):
Improved the Graphical User Interface of software;
Changed the graphic of a boot from media;
Added the support of dozens of ISO;
Improved hardware compatibility;
Improved security, now all communications and updates are encrypted;
Improved Derivate use;
Improved software registration;
Fixed error with removal of Derivates;
Fixed error 267;
Fixed ISO problem with Windows 10;
Updated support to EFI (experimental);
Updated MemTest86 EFI (6.3);
Updated Refind 0.10.3;
Updated Super Grub2 disk to 2.02s4;
Improved events logs;
Updated barrosu. **
Fixed error with NUR_BAR corrupted;
And much more.
Silent command line options:
Install Sardu Multiboot: /verysilent /installerpro
Unpacking Sardu Multiboot: /verysilent /portapro
To indicate other path user must use: /DIR
Example: /verysilent /installerpro /DIR="C:\MyDir"
Install notes:
1. Kindly read 'Read me.txt' file given in download zip file;
2. Enjoy!
Screenshots: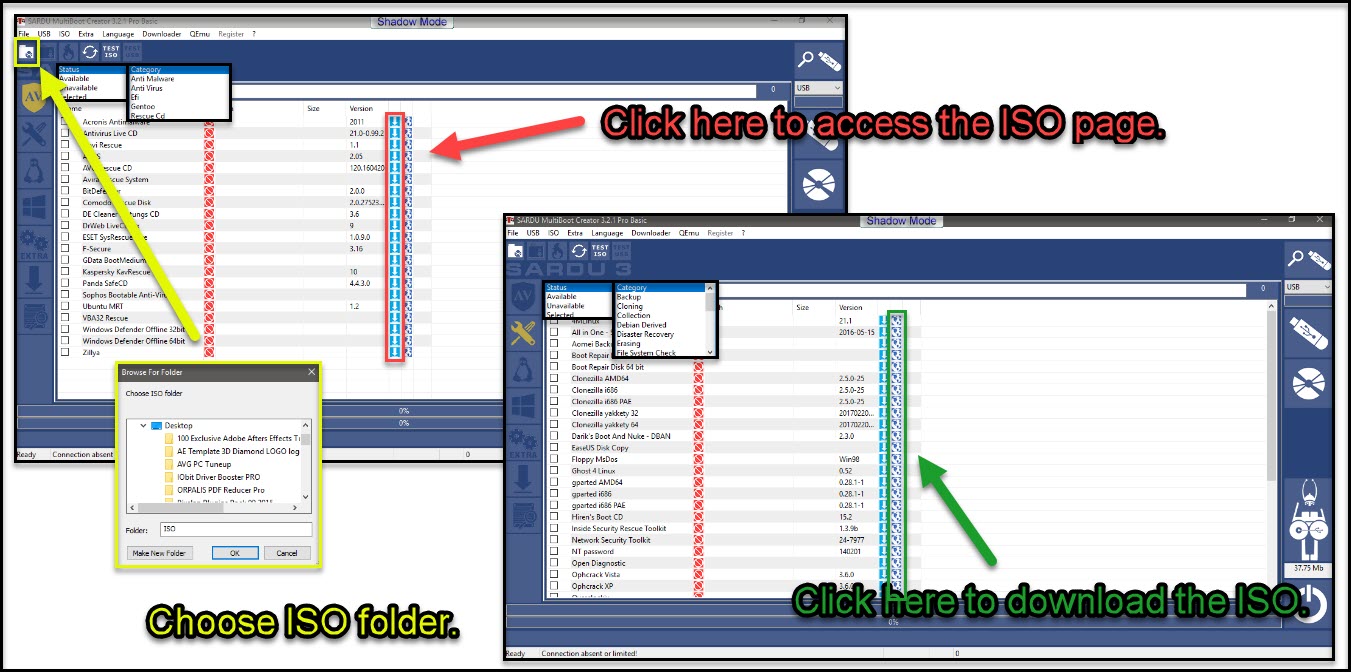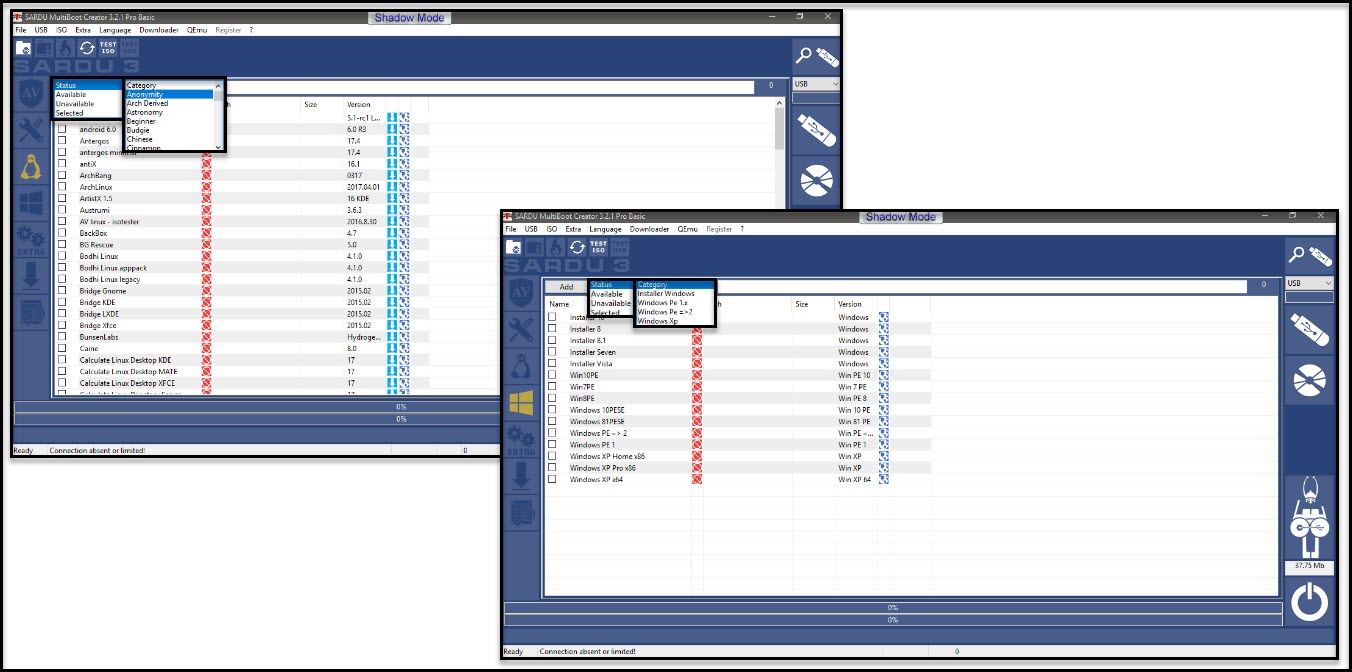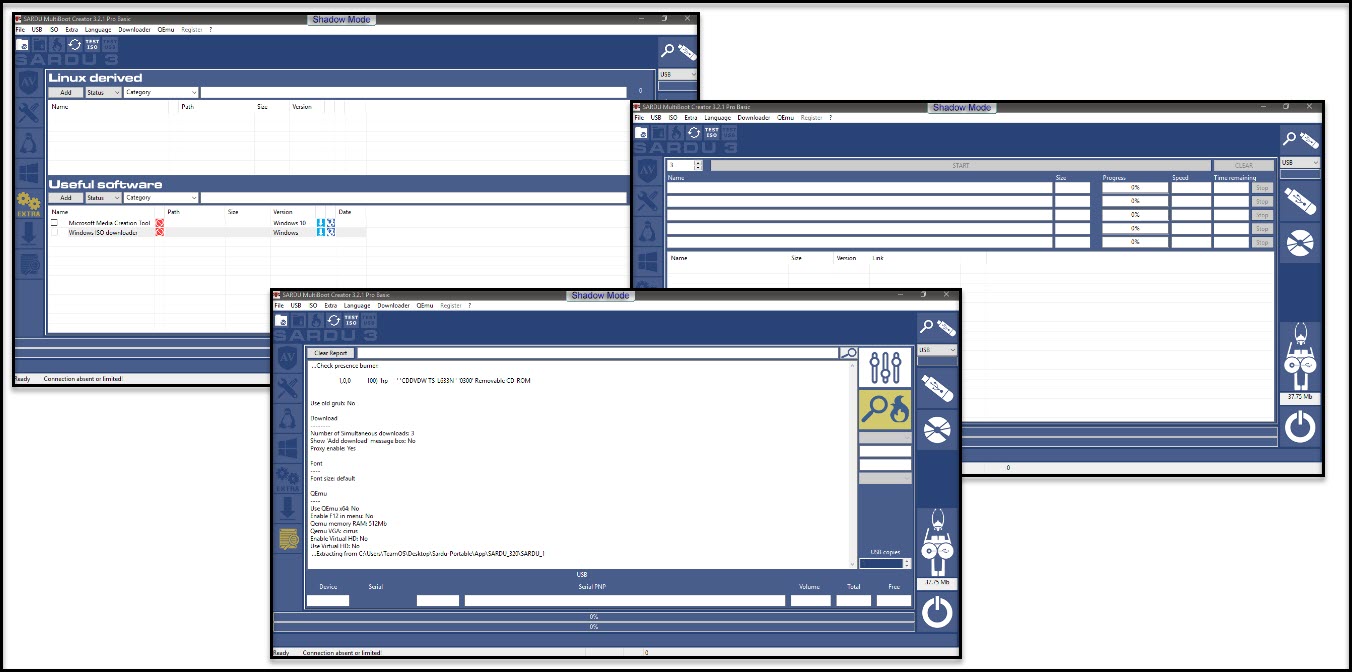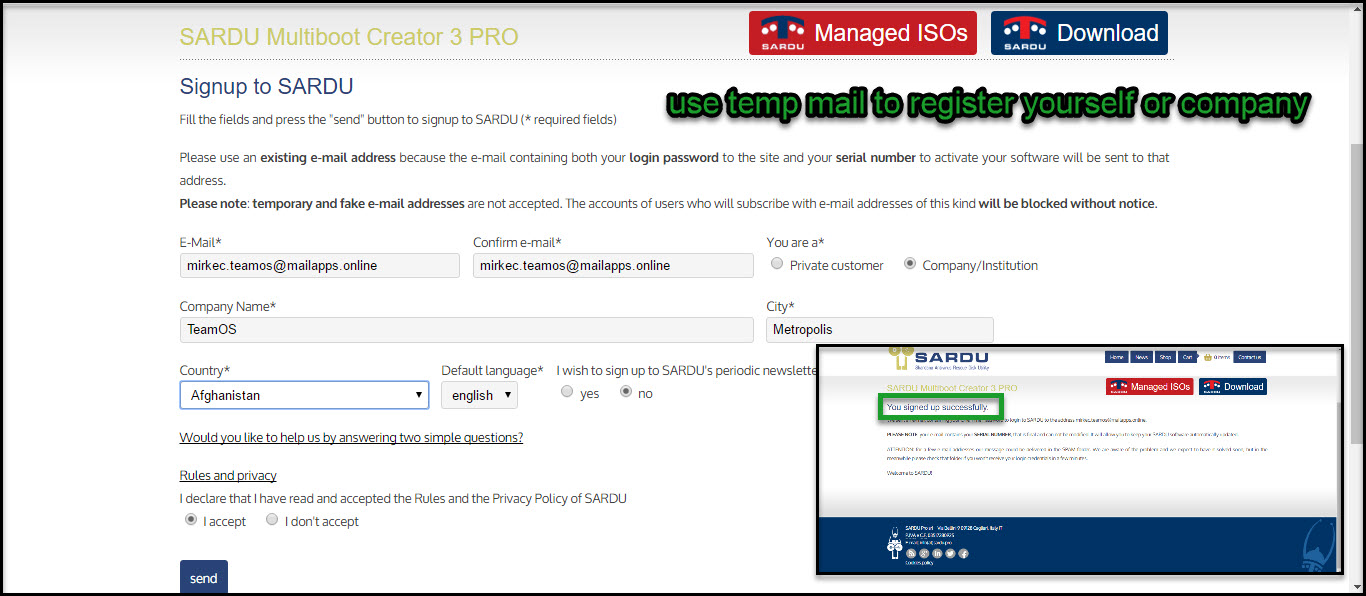 Virus free! No virus signature! 100% clean!
All credits go to vissha who shared the portable version with us!
​
Kind regards,
@Mirkec
in collaboration with TeamOS
Download links - portable version 3.2.3 (Size: 30.58 MB):
You must be registered for see links
You must be registered for see links
You must be registered for see links
You must be registered for see links
Last edited: