Moderator
Uploader
Windows Modifier
Downloaded

51.5 GB
Uploaded

1.8 TB
Ratio

34.98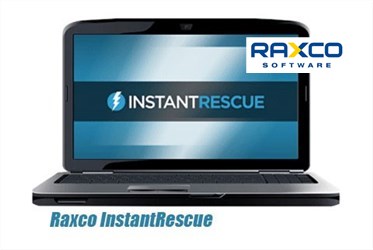 Review
InstantRescue provides a reliable and efficient system recovery solution that can salvage user files and folders in case the computer fails to boot. What it does is create a so-called "Rescue Area" to include an exact copy of user system, that can be then used to fast restore the entire system in case of a virus infection or a system boot failure.
What sets this particular application apart from other recovery tools is the automatic data anchoring technology. This feature enables users to anchor important files and folders to the Rescue Area. In other words, any change made to the anchored data is automatically included in the Rescue Area as well, so they will be available at any time, in their latest state.
By default, the application preserves (anchors) selected files found in the "My Documents," "My Music," "My Pictures" and "My Videos" folder for immediate accessibility upon reboot, but a user can add as many files as want to the list. Anchoring is done using the integrated wizard, which guides the user through the entire procedure.
At first launch, InstantRescue starts creating the "Rescue Area," in the same location where Windows is installed. Please note that a necessary amount of disk space is required for this operation to complete, so user first has to make sure hard disk will not run out of free storage space.
The boot time and size of the original and the rescue area are displayed in the main window of the application, alongside the booting state. Thanks to the Auto-Recovery mode InstantRescue will try to retrieve a functioning state of user system after three consecutive reboot attempts.
Windows comes with its recovery system by using restore points created by the user. However, going back to a previous state means user lose file modifications that occurred after that specific restore point was established. InstantRescue aims to solve this matter, providing a way for a user to restore the most recent versions of personal files and folders in case of an event that makes user PC unusable. On the downside, a large amount of storage space is required for the rescue area to be created.
Key features:
NEW! MBR and GPT Disk Support;
Instant system recovery of failed PC operating systems
Instant Data recovery with Automatic data anchoring;
Data anchoring mode;
Automatically creates a recovery area;
An alternative to restore points in Windows;
Auto-Recovery;
Rescue Area Copy/Update.
System requirements:
OS: Microsoft Windows 10/8/7/Vista
RAM: 128MB minimum (256MB recommended)
HDD: Approx 6MB for application and additional space required for Rescue Area will vary;
NTFS Only file system.
Install notes:
1. Kindly read "Readme.txt" file given in download zip file;
2. Enjoy!
Screenshots: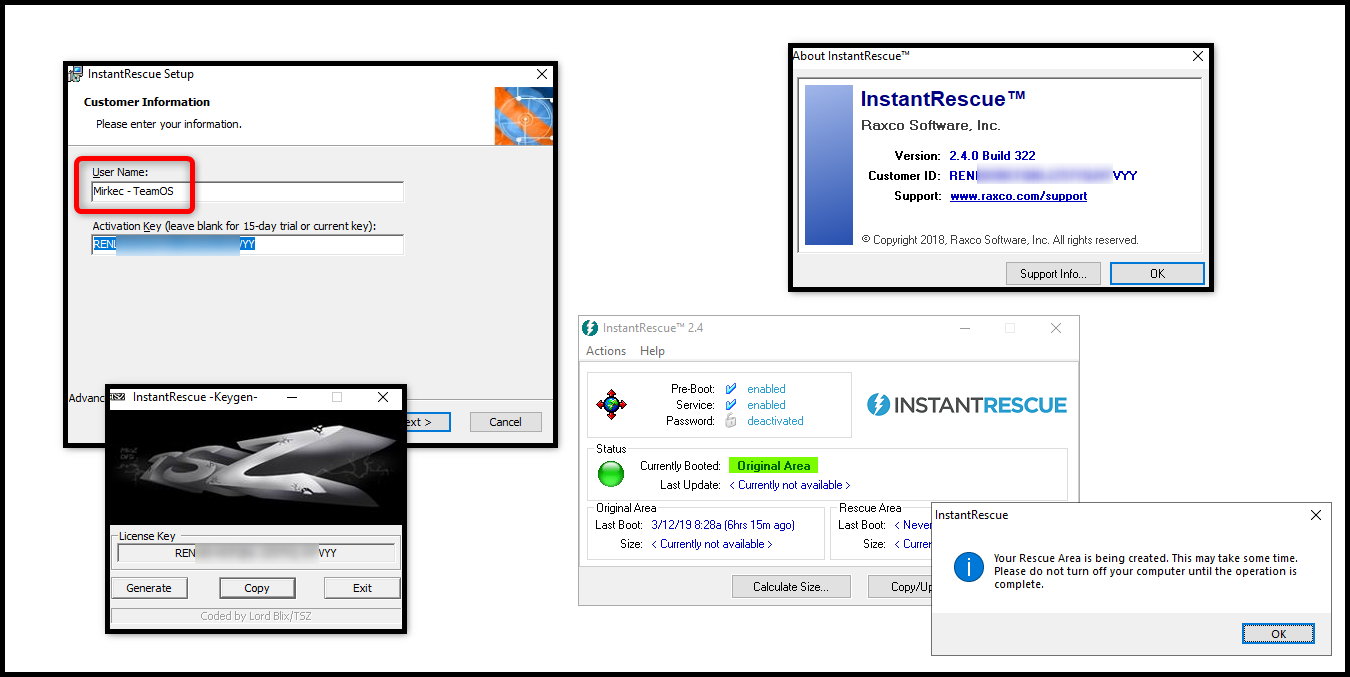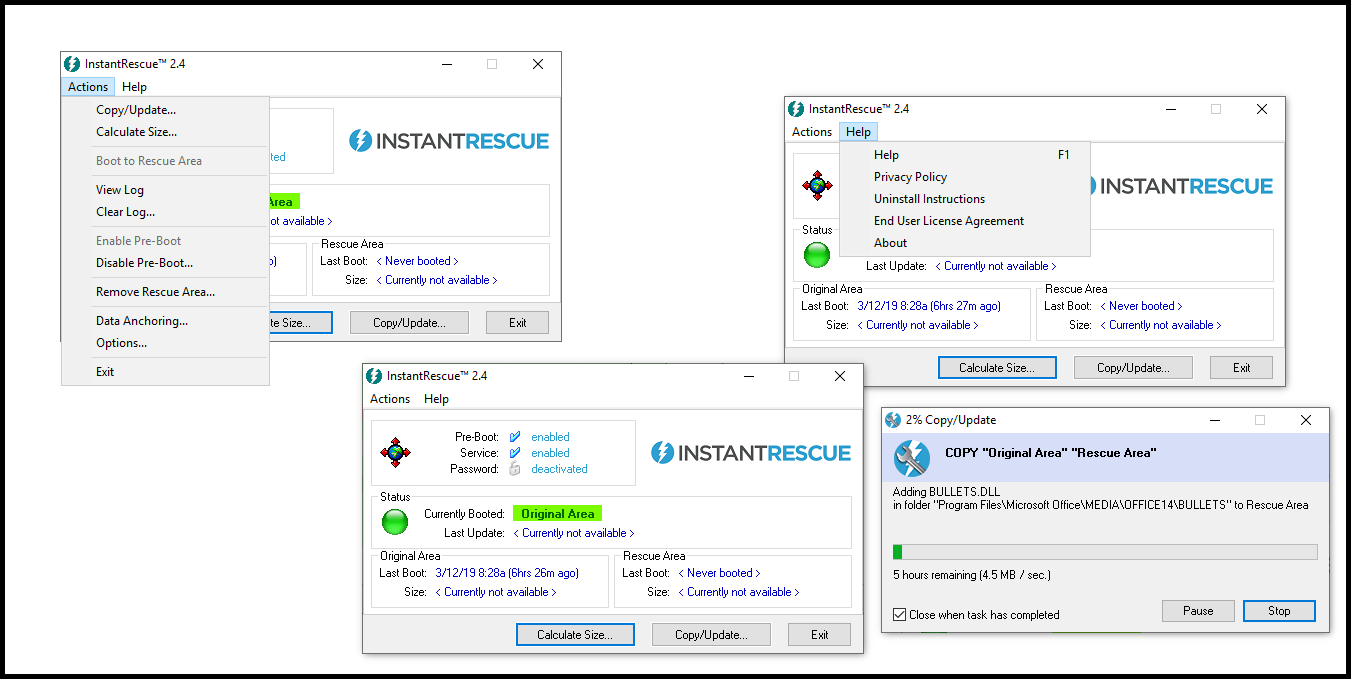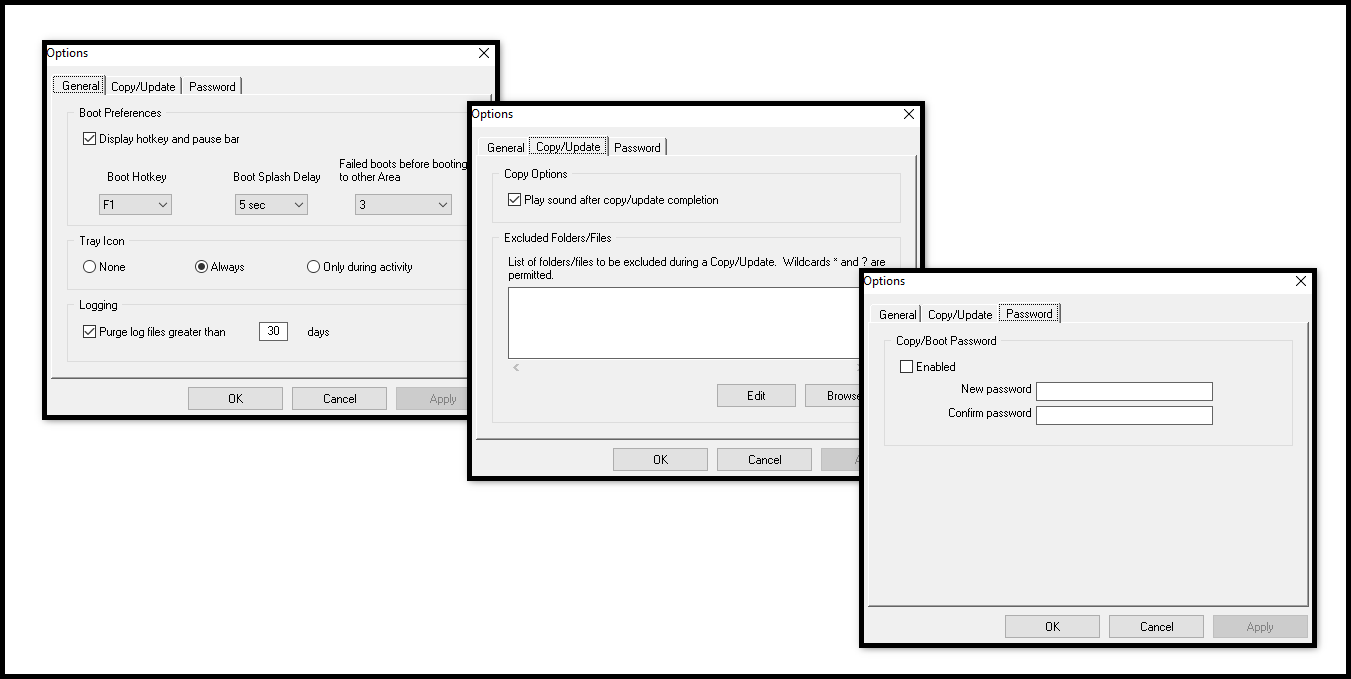 Virus free! 100% clean!
All credits go to Lord Blix/TSZ who made and shared the key generator with us!
​
Official installer: instantrescue.exe
You must be registered for see links
1/64
MD5: 2CF74AA9BA564FD08EF25B2E051B6AB3
SHA1: A83047249170F732FFFA14ECD544EE1968D1D555
SHA256: ED907F70F68EB8FFC7D3292BC7A0845CC131C229FE775AC0D7EE55F5A81D11E0
File: Keygen.exe
You must be registered for see links
25/64
MD5: 0AE882D214141122E6C26600B1E8ADB7
SHA1: 02A7B9153966B183FF968011862DFF45470A9AFE
SHA256: D9608C0A19B8B4CA0691E23A14756CDCF1C3B8728E03DFDA10BA222C8E9AAE4B
Kind regards,
@Mirkec
in collaboration with TeamOS
Download links (Size: 8.47 MB):
You must be registered for see links
You must be registered for see links
You must be registered for see links
You must be registered for see links
You must be registered for see links
You must be registered for see links
Last edited: