Administrator
Windows Modifier
Downloaded

51.6 GB
Uploaded

11.8 TB
Ratio

235.3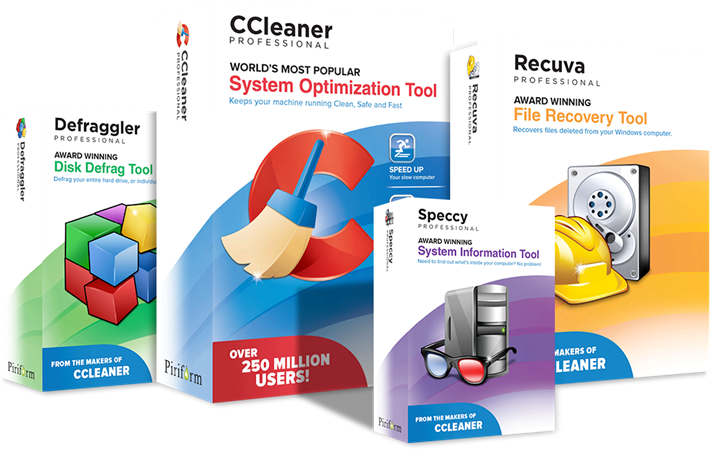 Review
The application provides four utility software from the Piriform Ltd. company, widely known for its CCleaner program.
1. CCleaner Professional version 5.50.6911
CCleaner (Crap Cleaner) is a system optimization privacy and cleaning tool. It removes unused files from user system allowing Windows to run faster and freeing up valuable hard disk space. It also cleans traces of online user activities such as Internet history. Additionally, it contains a fully featured registry cleaner. However, the best part is that it is fast (usually taking less than a second to run) and contains NO Spyware or Adware!
Cleans the following Windows components
Internet Explorer:
Temporary File Cache;
URL History;
Cookies;
Hidden Index.dat files;
Last download file location.
Firefox:
Temporary File Cache;
URL History;
Cookies;
Download manager;
Recycle Bin;
Clipboard;
Windows Temporary files;
Windows Log files;
Recent Documents (on the Start Menu);
Run history (on the Start Menu);
Windows XP Search Assistant history;
Windows XP old Prefetch data;
Windows memory dumps after crashes;
Chkdsk file fragments.
Advanced Options allow cleaning of:
Menu Order cache;
Tray Notifications Cache;
Window Size and Location Cache;
User Assist history;
IIS Log Files;
Custom Folders.
Application Cleaning:
As well as cleaning up old files and settings left by standard Windows components, CCleaner also cleans temporary files and recent file lists for many applications. Including Firefox, Opera, Safari, Media Player, eMule, Kazaa, Google Toolbar, Netscape, Microsoft Office, Nero, Adobe Acrobat Reader, WinRAR, WinAce, WinZip and more.
Registry Cleaning:
CCleaner uses an advanced Registry Cleaner to check for problems and inconsistencies. It can check the following:
File Extensions;
ActiveX Controls;
ClassIDs;
ProgIDs;
Uninstallers;
Shared DLLs;
Fonts;
Help File references;
Application Paths;
Icons;
Invalid Shortcuts and more...
Safety;
High Security;
Multiple Languages.
Added new menu: 'Options' > 'Updates';
Added new controls for automatic updates and update notifications.
2. Piriform Defraggler Professional version 2.22.995 Professional Edition
Defraggler is a defragmenter that can work with a whole disk or with separate folders and files.
Unlike similar programs, this tool has the useful ability to quickly and easily defragment one or more selected files or folders, rather than processing the entire disk. When Defraggler reads or writes a file, it uses the same algorithms techniques that Windows uses. Using Defraggler is just as safe for user files as using Windows.
After starting and analyzing the hard disk, the application displays a list of all fragmented files. Just select the data of interest and user will see their location on the drive, and the program will defragment them in a few seconds. Defraggler works with both HDDs and SSDs, and it supports NTFS and FAT32 file systems.
Key features:
Give user hard drive a quick touch-up with Quick Defrag;
Organizes empty disk space to prevent fragmentation further;
Defragment while user sleep - and wake up with a faster PC. Set Defraggler to run daily, weekly or monthly;
Full Windows OS and Multi-lingual support;
Boot time defrag of system files.
Fixed a bug that caused a scheduled defrag to fail silently;
Improved SSD detection for newer SSD devices;
Improved SSD detection for laptops;
Added new Privacy menu ;
/L (list) switch now highlights SSDs;
Added a warning when attempting to defrag SSDs;
Added switch for forcing defragmentation of SSDs;
Fixed text cutoff on the 'Defrag' button in Dutch;
Added a warning when attempting to defrag SSDs;
Fixed text bleeds in the installer for German and other languages.
3. Piriform Recuva Professional version 1.53.1087 Professional Edition
Recuva is a small but very useful and delightfully easy to use utility for recovering files or deleted emails that were accidentally or intentionally deleted (lost) on computer hard drives, as well as removable media. It is an excellent piece of software to have installed just in case user need it further down the line, but it can also be installed as a portable app so a user can pop it onto a USB drive and use on multiple computers. The program was initially developed for a wide range of users, including those who do not have specific knowledge in the field of data recovery, so it has a convenient, intuitive interface with simple settings.
Also, a step-by-step master assistant has been implemented, which will step by step prompt all the necessary actions for finding and recovering the data user need. In the manual (extended) mode, a user needs to select the disk on which data was supposedly lost, and start the scan. After analysis, the program will show the list of deleted files that could be detected. By checking the box for each such data, a user can immediately find out some information: preview (if available), type, location, size, condition (excellent, average, poor, overwritten, lost) and finally restore it.
Additional features include a convenient sorting of files (by name, path, size, date of a change, status, note), changing of information display mode (as a list, as thumbnails, tree display) and securely deletion of selected sensitive files user want to ensure cannot be recovered. Recuva is a hidden gem in the software world.
Key features:
Data recovery from damaged and formatted storage media on a PC, mailbox messages, digital players, unsaved Microsoft Word documents;
Deep scan;
Secure file deletion;
Easy navigation and quick start wizard.
Improved Ext4 and Ext3 file system support;
Improved Fat32 partition file scanning;
Optimized Secure Overwrite on Windows 10;
Enhanced drive and partition detection;
Improved keyboard navigation;
Minor GUI improvements;
Minor bug fixes.
4. Piriform Speccy version 1.32.740 Professional Edition
Speccy is a comprehensive, lightweight, advanced system information tool that monitors the hardware of the user computer, and displays information about the operating system and the characteristics of the installed device. With the program, a user will be able to find out the detailed statistics on every piece of hardware in a computer; including the version of the operating system, CPU, Motherboard, RAM, Graphics Cards, Hard Disks, Optical Drives, Video card, and Audio support. Also,
Besides, temperature indicators of different components like processor and video card are displayed, as well as the operating RAM frequency and processor bus speed.
With Speccy user can save scan results directly as a snapshot, XML or text file for easy sharing. This data can come in handy for help with technical support. The application provides a quick summary of a system, or a user can dive deeper into every aspect of PCs hardware, to make an informed upgrade and purchasing decisions.
Key features:
Processor brand and model;
Hard drive size and speed;
Amount of memory (RAM);
Graphics card;
Operating system;
Optical Drives;
Speedometer.
Detection:
Improved SSD detection for more modern SSD devices;
Improved SSD detection for laptops.
Settings & Preferences:
Installer:
Fixed a bug where the Speccy uninstaller was removing text and log files from the C: drive.
System requirements:
OS: Microsoft Windows XP/7/8/8.1/10 (both 32 & 64-bit);
Install notes:
1. Kindly read 'Read me.txt' file given in download zip file;
2. Enjoy!
Screenshots: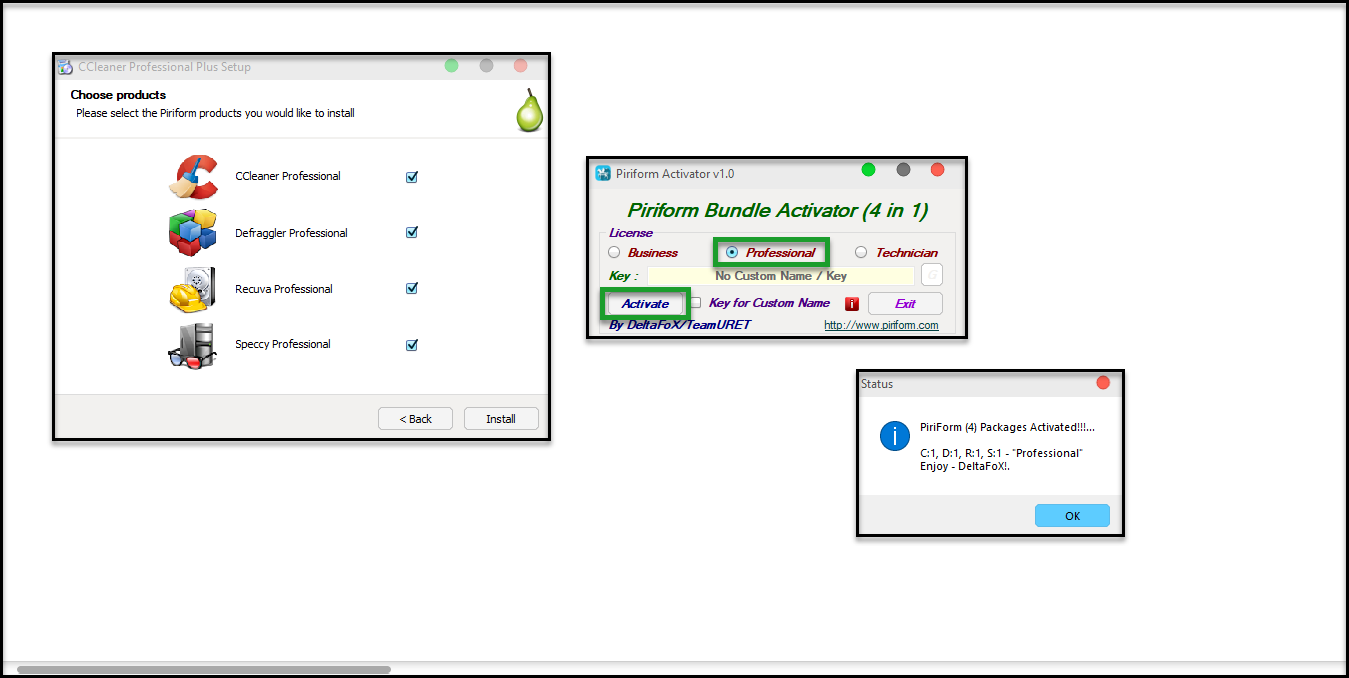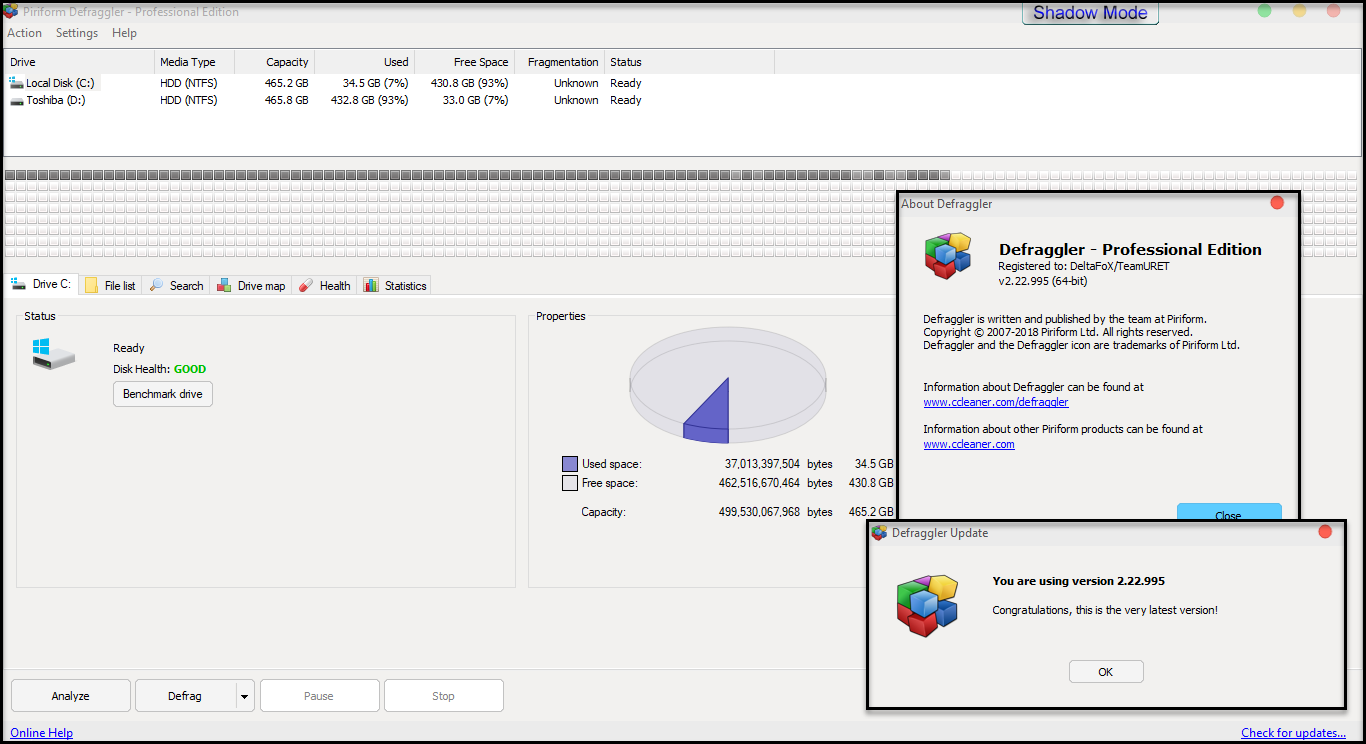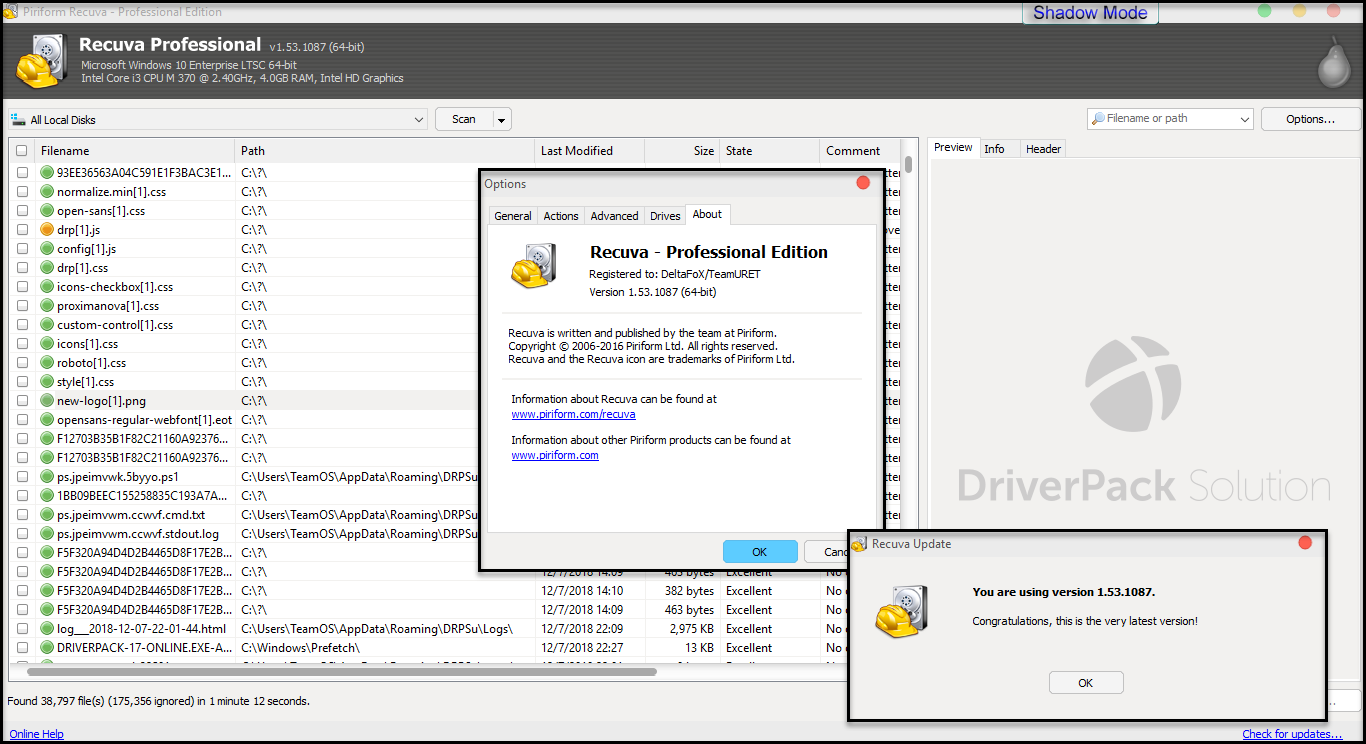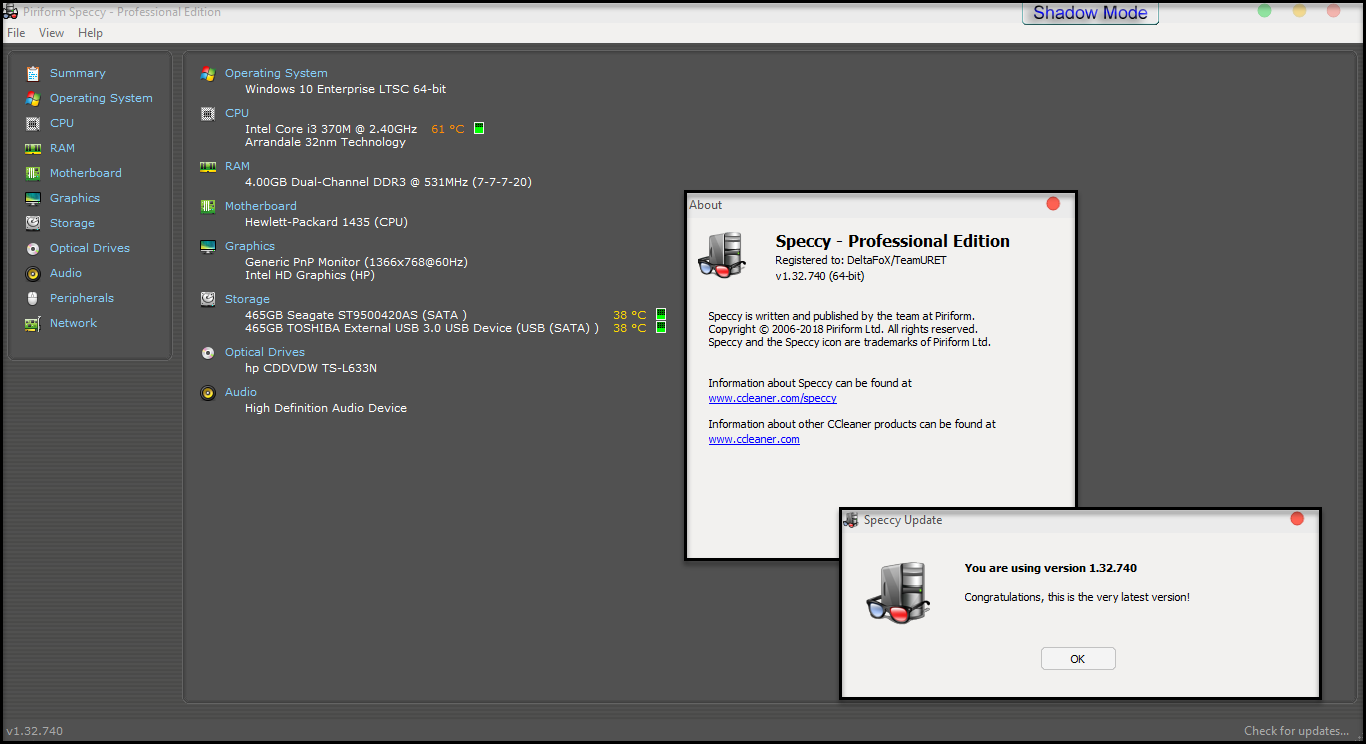 Virus free! No virus signature! 100% clean!
All credits go to the DeltaFoX and TeamURET who shared the activator with us!​
Kind regards,
@Mirkec
in collaboration with TeamOS
Download links (Size: 26.32 MB):
You must be registered for see links
You must be registered for see links
You must be registered for see links
You must be registered for see links
You must be registered for see links
You must be registered for see links
Last edited: