Super Moderator
Windows Modifier
Downloaded

51.6 GB
Uploaded

7.6 TB
Ratio

150.24
Review
PerfectTUNES is a multi-purpose music file manager that enables a user to find album covers or artwork, check user music folders for duplicates entries and scan user songs for integrity and ripping errors. PerfectTUNES comes as a software bundle, containing three applications that deal with each function individually.
The application is capable of identifying and listing the albums contained in user music folder, by reading each file's metadata and display them along with their cover art. If a file does not contain album artwork, the software can browse the Internet and find it. Once the user has chosen an image, from among the results of the search, the user can save it to computer and the software automatically assigns it to the proper file. User can quickly load another music folder and let Album Art analyse new songs.
De-Dup is the component that deals with song duplicates, being able to identify them by the title, duration, format and sound quality. It can display similar files in bundles so that it is easier for a user to analyse them. De-Dup places the file user most likely wish to keep as the first option at the top of each duplicate list. It is usually the file that stores the best audio quality. User can keep the rest of the duplicate files or delete them.
AccurateRip can analyse music albums and display them, along with the number of healthy tracks and the files that contain errors due to incorrect CD ripping. The software component can only scan lossless CD quality files. AccurateRip can read results from each music file's ID tag and automatically delete corrupted songs as it detects them. User can view the list of albums and sort them by artist name or date of release.
PerfectTUNES is a professional and intuitive application that enables a user to organise its music albums and files, deleter the corrupted songs or erases duplicates. User can use its functions to clean music folders as well as to find quality cover artwork for each of its albums.
Album Art automatically add missing covers;
ID Tags edit metadata;
One tag editor, four ways of editing;
AccurateRip check lossless tracks for ripping errors;
DeDup remove duplicate tracks.
Update to R3.2
All % working screens, made taller to fit text and icon better.
Album Art
Retrieve from Internet updated for compatibility;
Sort on Resolution takes both width and height into account;
Previously fixed listing page also gives the option for 'Fix' as well as "Undo Fix" and "..." menu;
When clicking fix, shows Existing art if using the only folder.jpg as a source.
ID Tag
Better support of high DPI;
Added "Type" to file listing options;
Added DSD (dsf) tagging support;
Added settings option (in ID Tag) add "PerfectTUNES: Edit ID-Tags" Command to Windows Explorer folder right click;
Added Channels, Bitrate, Sample Rate and Sample Size possible columns;
Added refresh button for file listing view (if new folders appear);
No longer indexes when choosing the option "Previously edited";
Sort Tags >> Added new option to only Inconsistent show Items;
ID Tag & Album Art - added option in settings to preserve modification date when adding art or updating Tags;
AccurateRip - folder button added so can open explorer to show actual file;
DeDup - added option to send deleted files to a set folder.
Bug Fix
If added D:\Music and D:\Music2 to be watched then the last folder would not be scanned;
Possible GUI lockup removed;
ID Tag, if browsing by metadata and add a new column then would show tracks for the first entry in file view;
ID Tag, if sorting by Rating then would put 5* near zero star rating.
System requirements:
OS: Microsoft Windows® 10, Windows® 8.1, Windows® 7, Windows® Vista & Windows® XP (SP3), Unicode and 64-bit compatible.
Install notes:
1. Run the installation;
2. Enjoy!
Screenshots: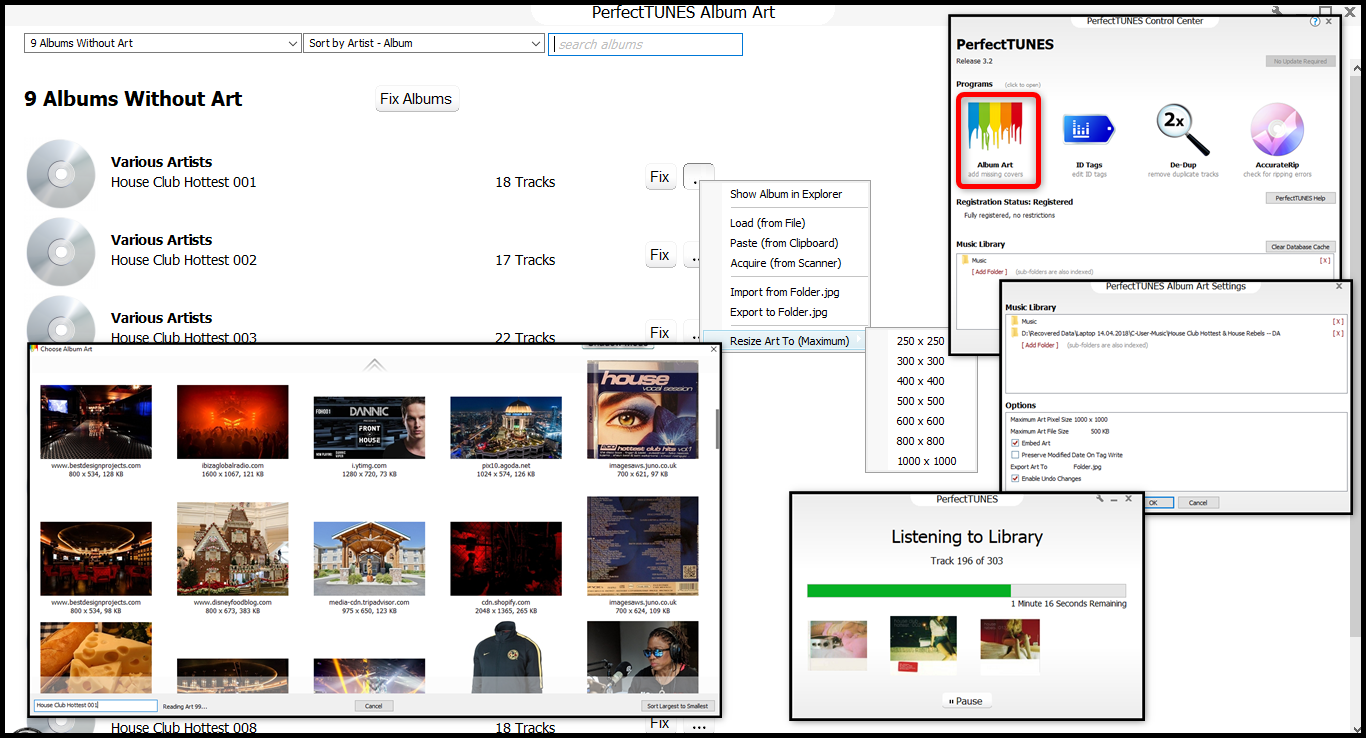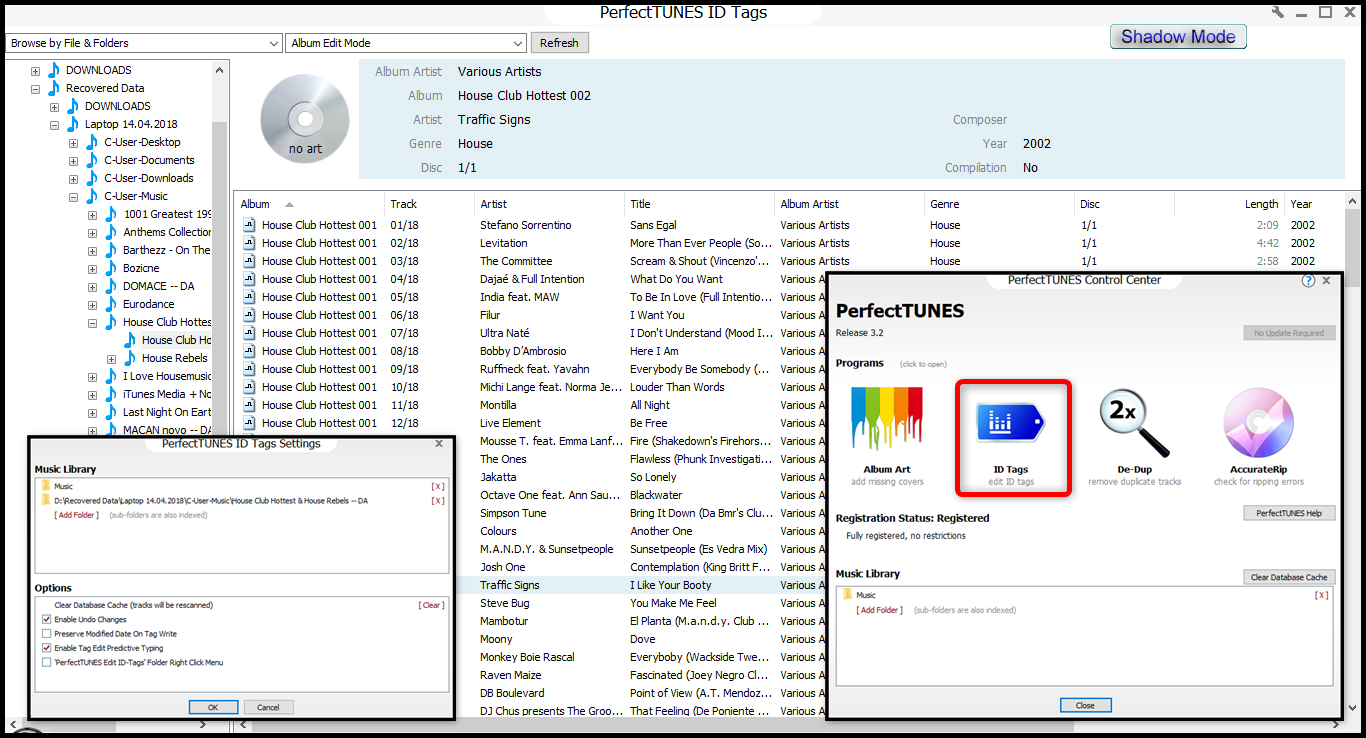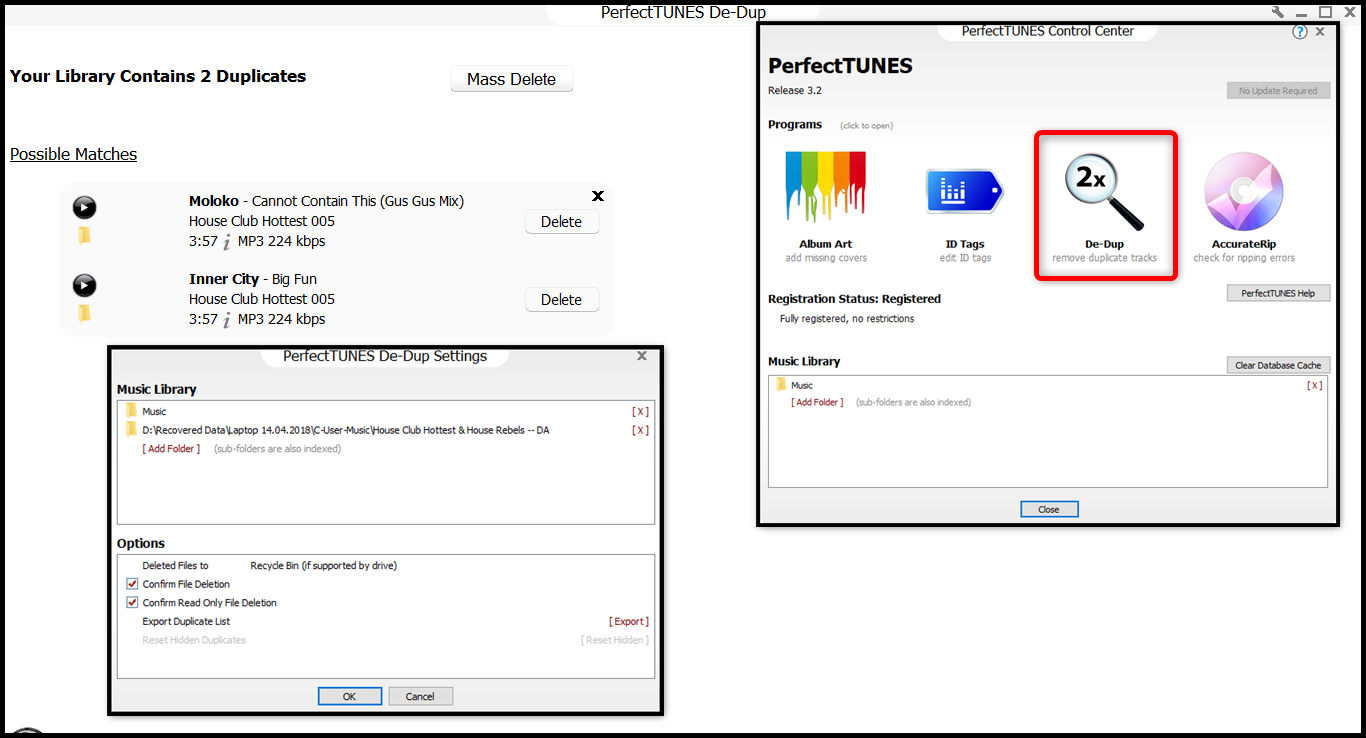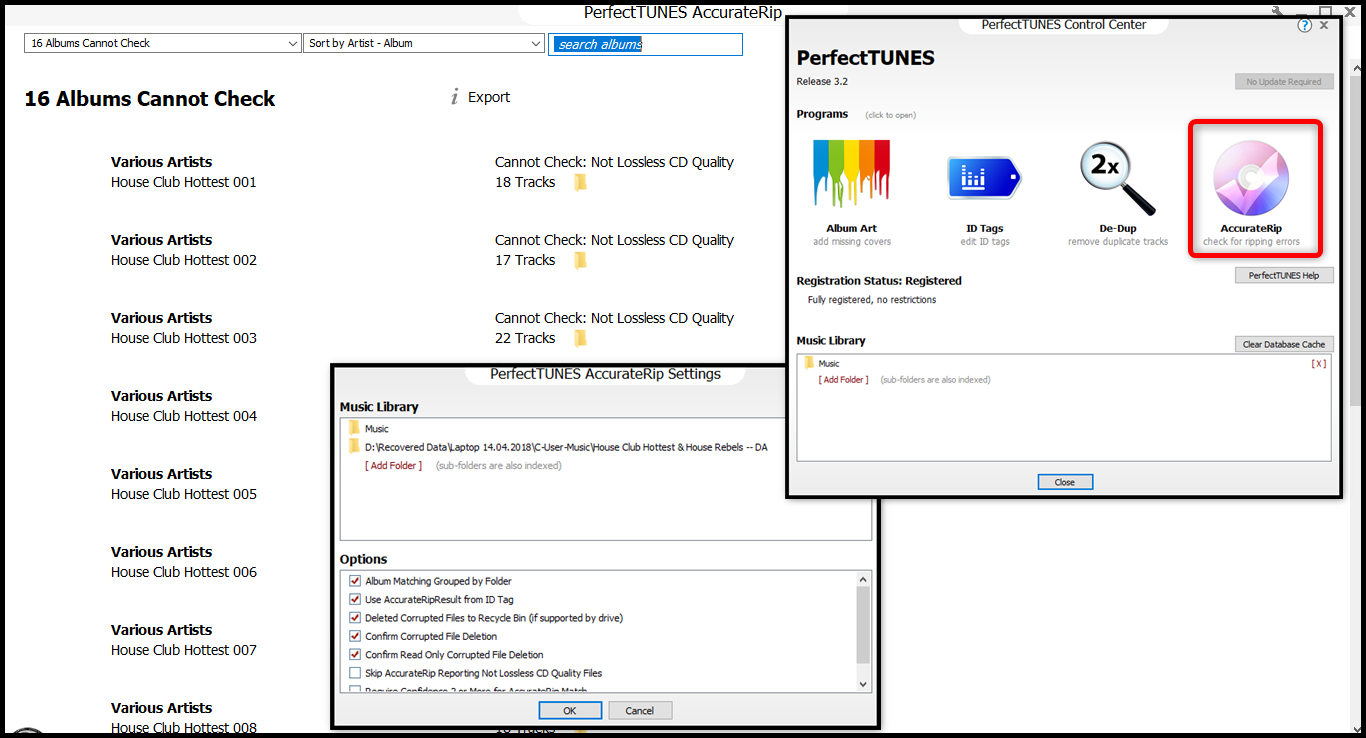 Virus free! No virus signature! 100% clean!
All credits go to who made and shared the crack with us!
​
File: PerfectTUNES-Registered.exe
You must be registered for see links
0/71
MD5: EDDDF7C80CCBA100646256084B60342A
SHA1: 9BB01597A3AD167C84AFEC1468BB72710B0499CB
SHA256: C6969F6DCD5AAADE68794023D7F104F6AD3D1EF073CA189623BB6B99354CABF6
Kind regards,
@Mirkec
in collaboration with TeamOS
Download links (Size: 19.03 MB):
You must be registered for see links
You must be registered for see links
You must be registered for see links
You must be registered for see links
Last edited: