Keep Downloading & Enjoy Your Stay at TEAM OS!!
VIP
Downloaded

14.8 GB
Uploaded

38.7 GB
Ratio

2.61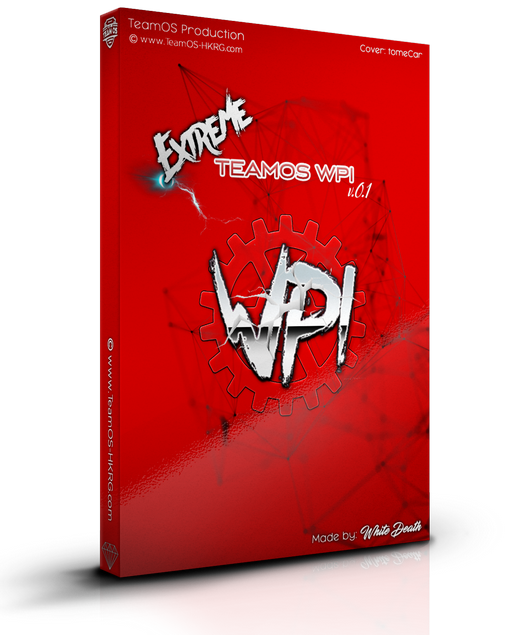 Windows Post-Install Wizard (also known as WPI, for short) is a comprehensive application that will enable you to customize your Windows setup process by allowing you to select which applications may be installed by the end user along with the operating system. This tool eliminates the need for administrators and users to manually download the software files, or to create highly complex scripts for only one-time use. You ca use Windows Post-Install to create a custom configured and automated image that will let users to install any application.
Creator : @WhiteDeath
Tester: : @The Rain
Designing / Images: @tomeCar
Supported: @TheMacGyver
Our Work:
Name:Extreme TeamOS WPI v0.1 ( First WPI )
Architecture:x64
Size:3.63 GB (3,902,633,984 bytes)
Tested:in Windows 10 17112.1 / 17115.1 so supported : Windows 7 / 8.1 / 10 x64
Applications:91 added!
Features:We hoping we will get more applications in the feature
Feedback:We hope our users will help us with more Feedback
Note:there is a change some apps have russian language so we are hoping you will report too us so we can remove it or the next one we will add english one
Cracked word: mean all applications is preacracked
About applications:We did a very good search in alot forums and we gather the most trusted application remember that will be always a change crack dosnt work or expired.!
How Too Use:
Download the iso
Extract it
Run the .exe
Choose the application you like
Start and waiting till finished ( recommended Restart for be sure)
=============================
Note Important for people can't see the fullScreen Solution:
go in Extreme TeamOS WPI v0.1\UserFiles and edit the files name:useroptions
you will see this code example:

// Window tab
Resolution=1;
MainWindowWidth=1920;
MainWindowHeight=1082;
MainWindowX=-1;
MainWindowY=-1;
InstallerWindowX=25;
InstallerWindowY=25;
Change the resolution too yours save it and work done!
==============================
Screenshots: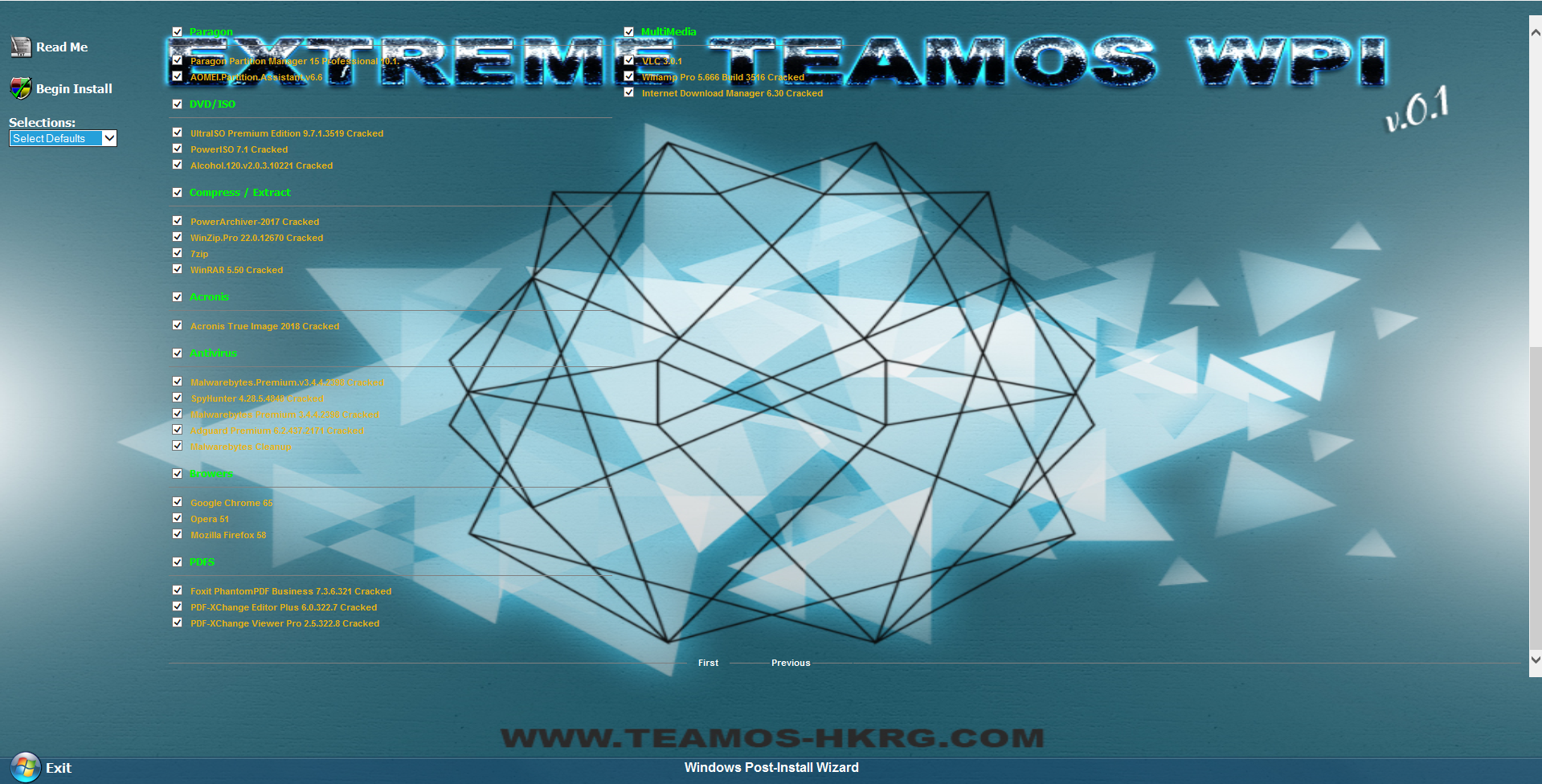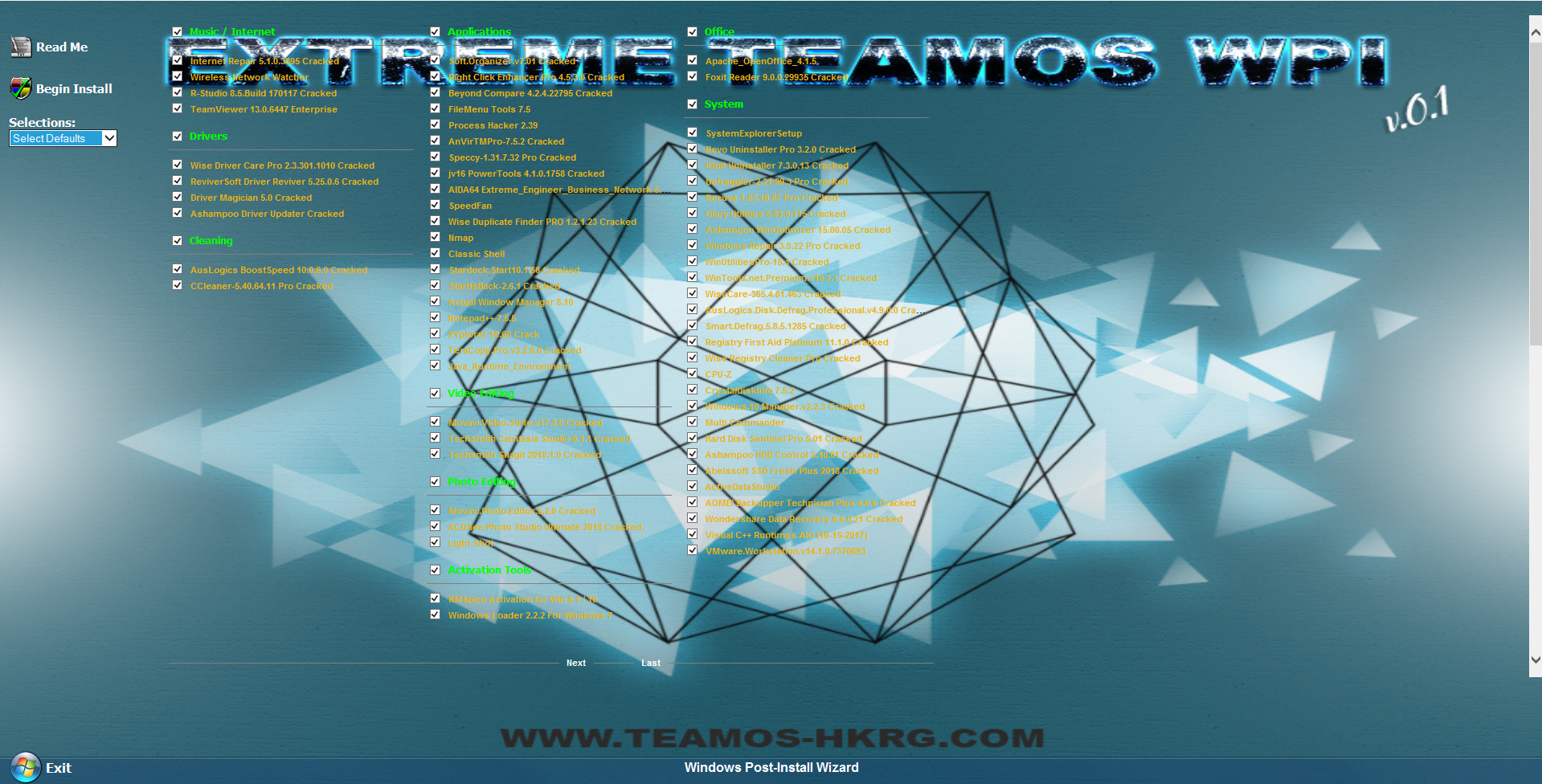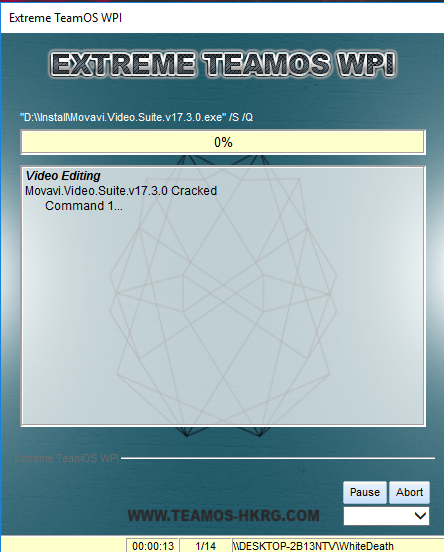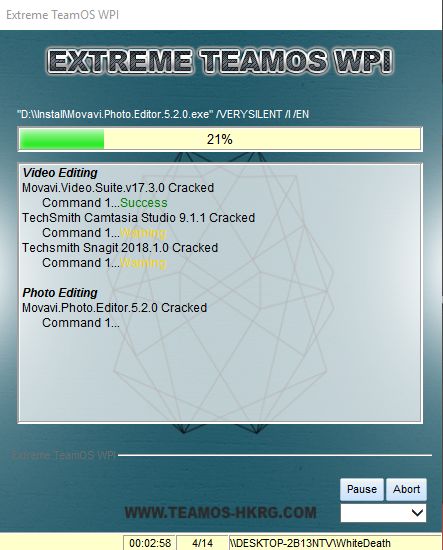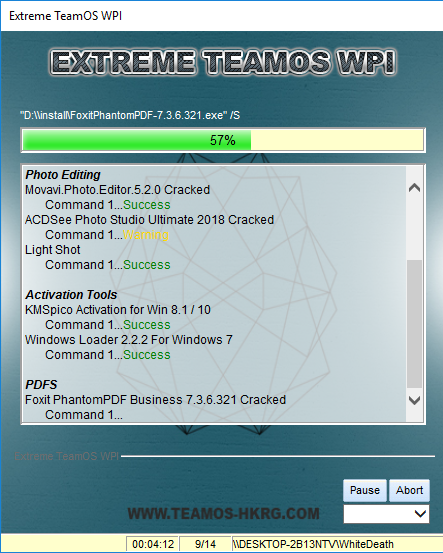 Application List:
7zip ver 18
Abelssoft SSD Fresh Plus 2018 7.3
ACDSee.Photo.Studio.Ultimate.2018.v11.1.1272
ActiveDataStudioSetup
Actual Window Manager 8.10
Adguard Premium 6.2.437.2171
AIDA64 Extreme_Engineer_Business_Network 5.95.4500 Final
Alcohol.120.v2.0.3.10221
AnVirTMPro-7.5.2
AOMEI.Backupper.v4.0.6
AOMEI.Partition.Assistant.v6.6
Apache_OpenOffice_4.1.5_Win_x86_install_en-US
Ashampoo WinOptimizer 15.00.05
ATI.2018.v22.5.1.10640
AusLogics BoostSpeed 10.0.6.0
AusLogics.Disk.Defrag.Professional.v4.9.0.0
Beyond Compare 4.2.4.22795
CCleaner-5.40.64.11
Google Chrome 65
ClassicShellSetup_4_3_1
Complete Internet Repair 5.1.0.3895
cpu-z_1.83-en
CrystalDiskInfo 7.5.2
Defraggler-2.21.99.3
Driver.Magician.5.0
Driver.Reviver.5.25.0.6
DriverUpdater-1.1.0.27413
FileMenu Tools 7.5
Firefox Setup 58.0.2
Foxit.Reader-9.0.0.29935
Glary Utilities 5.93.0.115
HDD.Control-3.10.01
HDSPro-5.01.8557
SpeedFan 4.5.2
Internet.Download.Manager.v6.30.5
IObit Uninstaller 7.3.0.13
jv16 PowerTools 4.1.0.1758
KMSpico(activator)
Windows loader Daz ( Activator)
Malwarebytes.Premium.v3.4.4.2398
mbam-clean-2.3.0.1001
Movavi.Photo.Editor.5.2.0
Movavi.Video.Suite.v17.3.0
MultiCommander_x64_(7.7.0.2404)
Network Map
npp.7.5.5.x64
Opera_51.0.2830.40
PartitionManager-15.10.1.25.779
PDF-XChange.Editor.Plus.v6.0.322.7
PDF-XChange.Viewer.PRO.v2.5.322.8
PowerArchiver-2017.St.17.00.92
PowerISO 7.1
processhacker-2.39
Recuva-1.53.10.87
Revo Uninstaller Pro 3.2.0
RFA-11.1.0.2492
Right Click Enhancer Pro 4.5.3.0
R-Studio.8.5.170
Smart.Defrag.5.8.5.1285
lightshot
Soft.Organizer.v7.01(during installation reg key open press ok for continue)
Speccy-1.31.7.32
SpyHunter-4.28.5.4848
Stardock.Start10.1.56
StartIsBack-2.6.1
SystemExplorer
TeamViewer-13.0.6447
TechSmith.Camtasia.Studio.v9.1.1.2546
TechSmith.SnagIt.v18.1.0.775
TeraCopy.Pro.v3.2.6.0
UltraISO 9.7.1.3519
Visual C++ Runtimes AIO (10-15-2017)
vlc-3.0.1
VMware.Workstation.v14.1.0.7370693
WDFSetup
Windows Repair 3.9.22 Pro
Windows.10.Manager.v2.2.3
WinRAR.v5.50
WinTools.net.Premium.v18.2.1
WinUtilitiesPro-15.1
WinZip.Pro-22.0.12670
Wise.Driver.Care.Pro-2.3.301.1010
Wise.Registry.Cleaner.Pro.9.5.4.624
WiseCare-365.4.81.463
Wondershare.Data.Recovery.6.6.0.21
XYplorer.18.60
Netwatcher
Checksum:
File: Extreme TeamOS WPI v0.1.iso
CRC-32: e2a073a8
MD4: 9fa10185d53945d30a32f41432475654
MD5: 70fca6f5b39d8c0ff8cbb538c59c516b
SHA-1: a80f88a81eb4258405b38c7ee09160bf1640247c
Code:
Extreme TeamOS WPI v0.1 Signle links
https://4downfiles.org/g33nyn9c2cw6
or
https://douploads.com/kwf56i1nnelt
or
http://fileflares.com/bqwu4k6bfbde/Extreme_TeamOS_WPI_v0.1_TeamOS.rar.html
or
http://uptobox.com/412p0v5z3gaw
Code:
Extreme TeamOS WPI v0.1 Multi Parts links 1GB:
http://suprafiles.net/gr22ekbhgsrw
http://suprafiles.net/j51e4q3grto7
http://suprafiles.net/4733tdhll23z
http://suprafiles.net/0t09qbos4zcw
or
https://4downfiles.org/7r9uxv0vuuqr
https://4downfiles.org/a3btue3tg565
https://4downfiles.org/j3p83kfbd0v7
https://4downfiles.org/qkgkgep5yxdd
or
https://douploads.com/vnnnoqpkqk7e
https://douploads.com/29sc458py6no
https://douploads.com/txw6ey98vphw
https://douploads.com/fpqi6igdz7cf
or
http://fileflares.com/wb1mgqpcco7m/Extreme_TeamOS_WPI_v0.1_TeamOS.part1.rar.html
http://fileflares.com/jfjgs2fb4kl6/Extreme_TeamOS_WPI_v0.1_TeamOS.part2.rar.html
http://fileflares.com/1cposwumik71/Extreme_TeamOS_WPI_v0.1_TeamOS.part3.rar.html
http://fileflares.com/2aogouxo2wh8/Extreme_TeamOS_WPI_v0.1_TeamOS.part4.rar.html
or
https://openload.co/f/5qi4gheKa-E/Extreme_TeamOS_WPI_v0.1_TeamOS.part1.rar
https://openload.co/f/CzOcK5TmtrI/Extreme_TeamOS_WPI_v0.1_TeamOS.part2.rar
https://openload.co/f/6tsh4KJwxzg/Extreme_TeamOS_WPI_v0.1_TeamOS.part3.rar
https://openload.co/f/VQ1XnVikVe4/Extreme_TeamOS_WPI_v0.1_TeamOS.part4.rar
Last edited:
Created With:

uTorrent/2210

Comment:

No Comment For This Torrent

Peers:

0 Seeders + 0 Leechers = 0 Peers

Loading…