Downloaded

0 bytes
Uploaded

871.7 GB
Ratio

-
MPB Gamer Elegant Edition
(Windows10 RS5 x64)
aXeSwY & tomeCar
​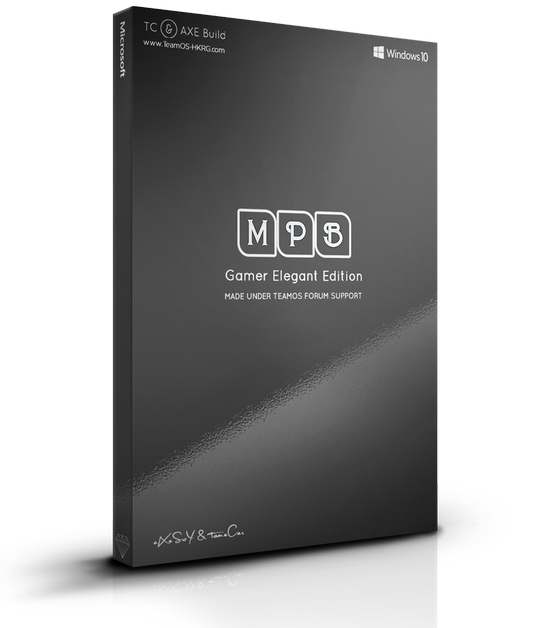 As you guys know MPB is short for My Private Build.. i have make this build for me...for my usage..i never have think to share it with anyone..so..if u dont like it..or u missing something in it.. u need to know that i will not fix it for u..or do next build and add something i dont like or need.. for me this build is perfect as it is..my advice to everyone -->> first try it in Virtual Machine.. then install it if u like it..
if u have installed my last MPB Build then u dont need this one..it is the same as old one..but have new tweaks like safe mod in right click.. and more right click tweaks..
have add new Game Service Tweaks.. This Build was tested for 10 days.. we didnt find anything wrong with it..
This Build is English ONLY!!
This Build is for Advanced Users Only..
What is diferent in this MPB
:
Superfech is gone (good for SSD and Gaming)..
Action Center is gone to..
Ribbon in File Explorer not removed
Clock is gone..
Right Click Tweaks added
10 themes added
Enjoy!!
Build
: Windows 10 Pro RS5 v.1809.17763.348 En-Us x64 ESD Pre-Activated
Installation
:
Create bootable USB (highly recommended) with Rufus
Or burn to DVD-DR at slow speed
Info
:
how to change keyboard layout! ----->>

You must be registered for see links

You must be registered for see links

Install process is Automated but you need to press Enter Button ---->>

You must be registered for see links

Microphone will work..but volumen you can't adjust (for some mic dont work at all) working on Fix..
NOTE
:
i have info aXe about sound problem.. hes working on it
and about network problem..he say there is no problem.. only u need to manual install driver
Language
: English
Compression
: ESD
Architecture
: 64bit
File Size
: 1.3GB
​
DOWNLOAD LINKS:
You must be registered for see links

You must be registered for see links

You must be registered for see links

You must be registered for see links

You must be registered for see links
Split Download Link (450MB):
You must be registered for see links

You must be registered for see links

You must be registered for see links
Last edited:
Created With:

qBittorrent v3.3.1

Comment:

No Comment For This Torrent

Peers:

41 Seeders + 0 Leechers = 41 Peers

Loading…