Downloaded

0 bytes
Uploaded

5 GB
Ratio

-
Kaspersky Reset Trial CLUB: v3.1.0.29 ATB (Final v2) [EN | RU] - REPACK
​
Review
KRT-CLUB formerly known as a KRT Trial Resetter is a program developed to help extend the use of Kaspersky Lab Products by means of allowing a user to re-activate the trial version of the application once the licence has already expired.
The protection of the antivirus must be paused when using the resetter! We did not do "space" protection from the KRT developers due to lack of free time, related with this; there is a significant possibility that in the next release of KRT Club it will be different.
This KRT program is ENTIRELY RUSSIAN. At the moment, only the Russian version of the application has been cracked! So please do not ask for any other language. Moreover, take care to follow the screenshots carefully to activate!
NOTE: On slow and old computers there is a problem of running the repack version. It does not start the first time, or it does not start at all. The issue with the speed of launching the repack version can also be experienced.
This is the most up-to-date version available.
​


What is new in version 2:
​
Fixed the time changing error on 04/05/2019 related to Windows regional settings wh.
Screenshots: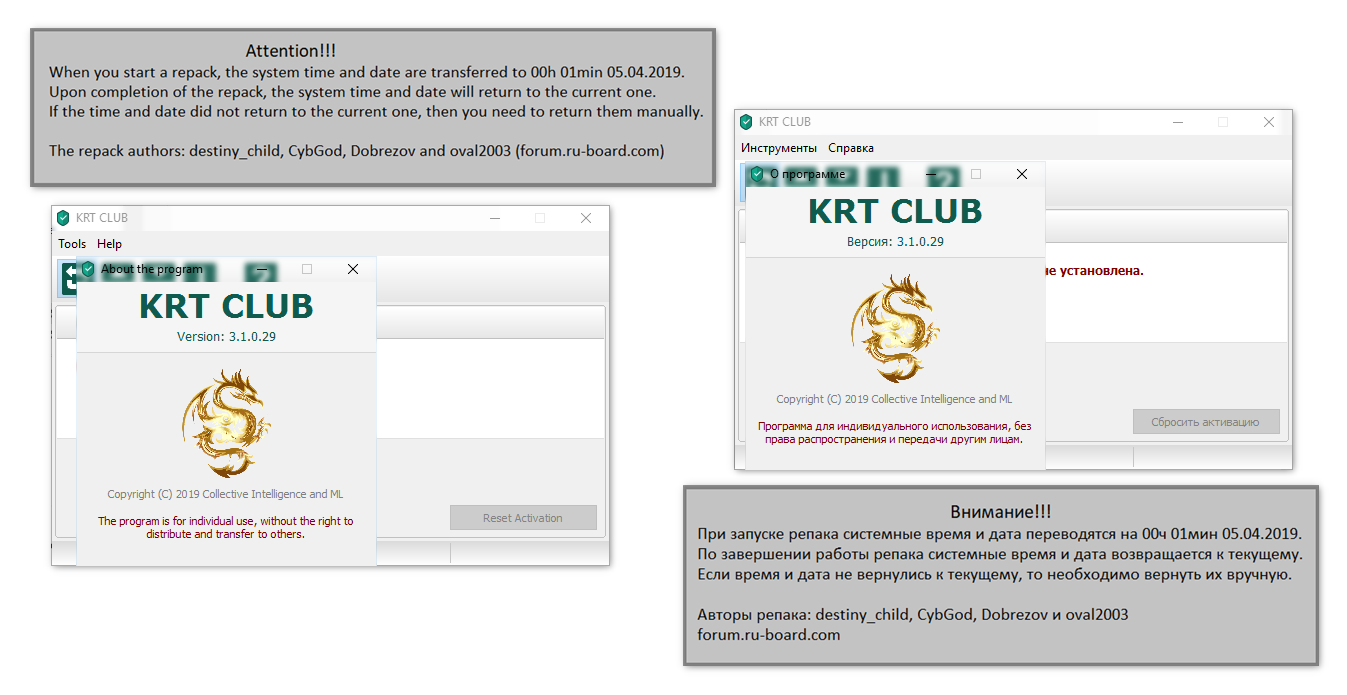 ​
All credits go to destiny_child, CybGod, Dobrezov and oval2003 who made and shared the repack version with us!
​
File: RePack_KRT_CLUB_3.1.0.29_ATB_En_Final_v2.exe


You must be registered for see links

11/70
MD5: 9462ED708CE16A65DEB9B318FB527246
SHA1: 53F4874CB0814E020B63EFD4B047FF1C80D60944
SHA256: F0524D6771BFAF00E4581C5863A600BAEB3BBD549F69309C3677B50CDB4A30EB
File: RePack_KRT_CLUB_3.1.0.29_ATB_Ru_Final_v2.exe


You must be registered for see links

15/69
MD5: 099A29EA2877D7430DF33742EF49ABFB
SHA1: 529A50A3D53C8AA3AE2014A1CC5B28BD3B1747D9
SHA256: 4022BB9DE2BC243664D2F13766C5C52ACA4C18B9BED3B8C3F870D19FA7387BBD
You can use the resetter with the provided serial keys for the Kaspersky Internet Security (Click here)
​
Download links (Size: 35.51 MB):
You must be registered for see links
You must be registered for see links
​
Last edited by a moderator: