Downloaded

365.2 MB
Uploaded

80.2 GB
Ratio

224.78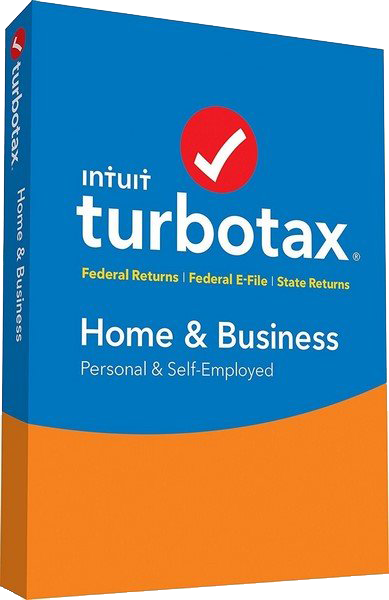 Intuit TurboTax Home and Business v2019.41.12.202 - update 2020 US version
|
379/361 MB
Software Full Name:

Intuit TurboTax and Business 2019

File Name:

Intuit_TurboTax_v2019.41.12.202.rar

Full Setup Size:

379 MB

Setup Type:

Offline Installer / Full Standalone Setup

Compatibility Architecture:

32 Bit (x86) / 64 Bit (x64)

Latest Version Release Added On:

February 10, 2020


Version Type:

US version

Developers:

Intuit

Features of Intuit TurboTax Home and Business 2019



•

Handle tax and accounting of your business.

•

Simple and easy to use.

•

Set rules and options.

•

Extract detailed and separate reports.

•

Supports export with printing format.

•

Alerts users to remind them for tax or instalment payment.

•
Operating System: Windows XP/Vista/7/8/8.1/10.
•
Memory (RAM): 1 GB of RAM required.
•
Hard Disk Space: 300 MB of free space required.
•
Processor: Intel Dual Core processor or later.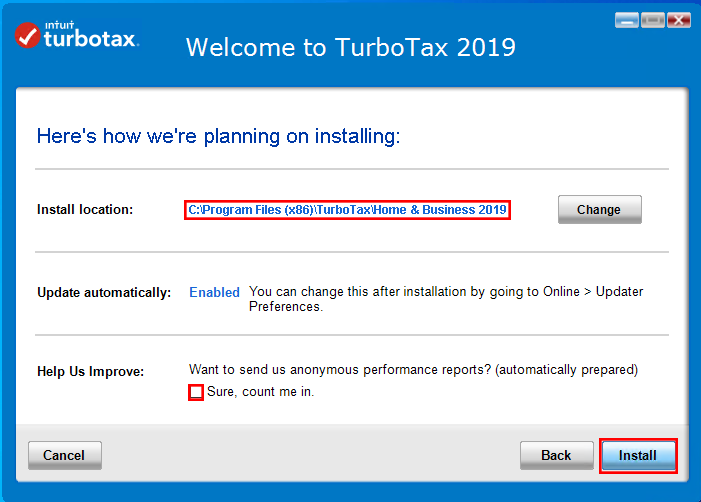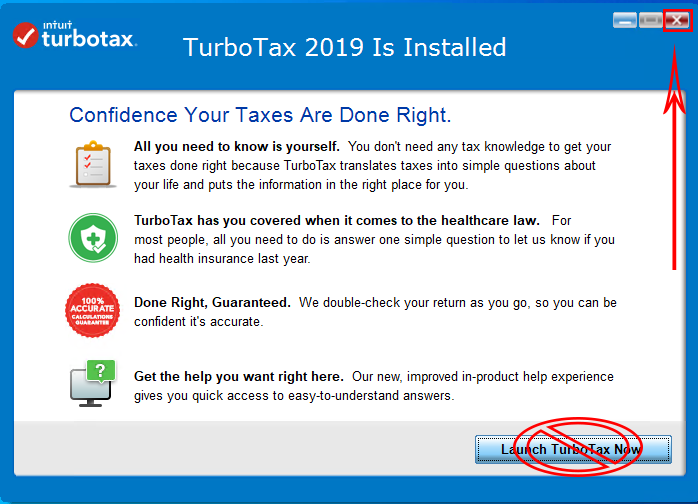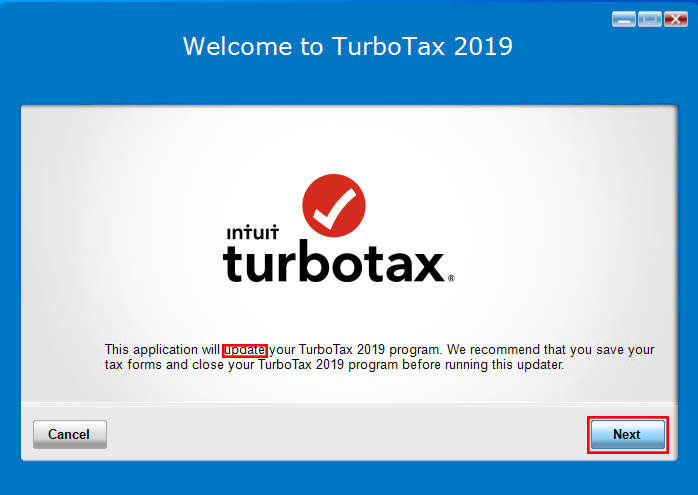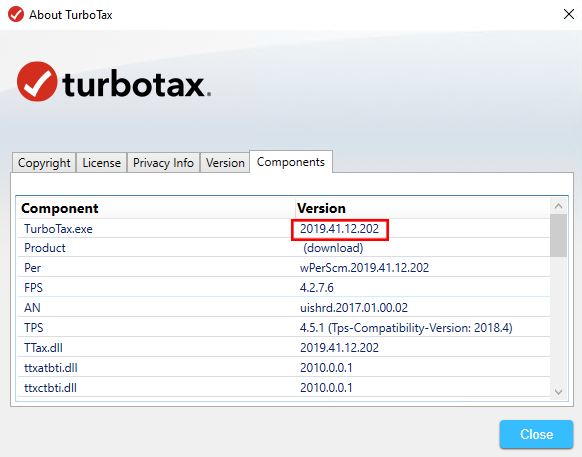 INTRUCTIONS (Read carefully, do not hurry!)

0.
Disable internet
(important!)

1.
If You are using the Old version Please Uninstall it With IObit or Revo Uninstaller Pro
2.
Install retail setup.
3.
No launch program
(important!)

4.
do not install the update that comes with the file, install the
latest update
(see below, "
Latest Updates
" section )
5.
No launch program
(important!)

6.
Copy and replace the
latest Pacht DLL
(see below, "
Latest DLL Patches
") to the folder:
C:\Program Files (x86)\TurboTax\Home & Business 2019\32bit
7.
Don't go online
.
Don't update online
to a higher version patch will be out if you do so.
8.
Click
Cancel
to
update
notice at
launch (important!).
Click Updater Preference, Choose I don't have internet and prefer to use manual update
. You won't have update notice after you set it up.

TIPs:
A)

Install offline!




B)

First run

only OFFLINE

!

C)

Disable automatic updates (step 9)

to use the online program

!

D) If not deactivated automatic updates use only OFFLINE!

E)

DO NOT automatic update (update manually)!

F) REAPPLY PATCH after update! REAPPLY PATCH AFTER MANUALLY UPDATE! (NOTE for all TT versions)
Every time you install an update, reapply patch!, you must copy the patch DLL to the C:\Program Files (x86)\TurboTax\**VERSION INSTALLED**\ 32bit directory.



TurboTax doesn't offer free state efiling.

You need to pay for state efiling or ema il it.




How to download a state and fill out tax forms (tutorial shared by @logiXCorona)

For anyone having problems here is how I was able to push my e-file and I will go through my whole process. You may only need the last few steps. Read on;

1.

Download and Install Home and Business Turbo Tax

2.

Process update and patch (DLL)

3.

Once you are ready to download state file, connect to Internet and download state. It may also want to update TurboTax. Let it.

4.

Go into the turbo tax folder and copy the Forms folder once it has download it and paste it on your Desktop or somewhere.

5.

While you are on the internet, go here and download the manual Turbotax update to .207

Code:
https://ttlc.intuit.com/community/updating/help/manually-update-turbotax-for-windows-software-basic-deluxe-premier-home-business/00/26041
6.
Head over to TT Business page and download the Business Turbotax, just the DLL if you can. I downloaded the whole thing.
Code:
https://www.teamos-hkrg.com/index.php?threads/intuit-turbotax-business-v2019-41-14-207-new-2020-us-version.118984/
7.
Disconnect again from the internet and apply the manual update.
8.
Copy the Forms folder from your desktop into the TurboTax Folder and replace it
9.
Go into the TT Business download and copy the DLL into your 32bit folder in TurboTax
10.
Proceed with filing. At the very end, its going to ask you to update Federal forms and connect to the internet. It will update and it will proceed to finalize and submit your return.
Problem with the states [Fix]


Download state from another machine and copy over the state folder to the original machine.

Here all the latest DLL patches created will be published.
If you have made an update and the included DLL patch does not work.
Try the latest version published here.
PATCH DLL R14
You must be registered for see links

Here all the latest manually updates will be published.
1.
Close
TurboTax and all other programs
2.
Download
updater
3. Save
the update file to your Windows desktop.
4. Double-click
the update file
w_perrelsuperpatch
... on your desktop to install the manual update.
5.
Close Turbo Tax and
reapply DLL patch
.
Direct download link for

TT

PERSONAL EDITIONS

(Home & Business, Premier, Deluxe) updater to

R16

-

last updated

‎February 10, 2020 12:49 PM

:


You must be registered for see links




Direct download link for

TT

PERSONAL EDITIONS

(Home & Business, Premier, Deluxe) updater to

R17

-

last updated

‎ ‎February 12, 2020 7:10 PM

:


You must be registered for see links

Scanned with Avast Premium Security 2019 - 100% virus or malware free
If you download it, seed it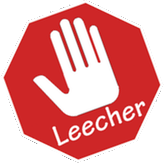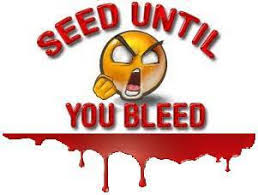 You must be registered for see links
Last edited:
Created With:

uTorrent/3.5.5

Comment:

Downloaded From https://www.teamos-hkrg.com/

Peers:

28 Seeders + 0 Leechers = 28 Peers

Loading…