Moderator
Uploader
Windows Modifier
Downloaded

51.5 GB
Uploaded

1.6 TB
Ratio

31.71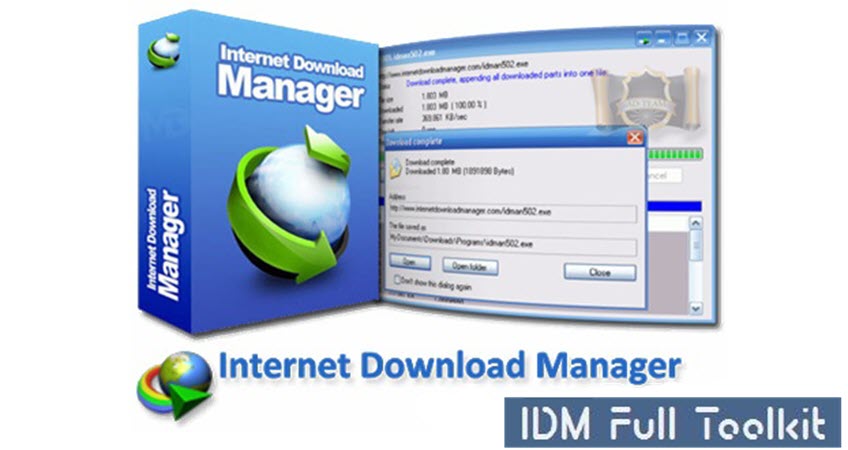 Review
Try this fantastic all-in-one IDM tool. Fully functional and works with all previous versions until now!
How to use toolkit:
1. Run the toolkit;
2. Enter the own username to register;
3. Select the action as preferring;
4. Enjoy!
NOTE:
Always select options as preferring before running the
1-Click Update IDM
function. For example, if a user selected the Vietnamese language, the 1-Click update function will add Vietnamese package. For more information click on the YouTube icon in the upper left corner to watch a video tutorial.
Crack allows updating to the newest releases directly inside IDM without losing the activation status.
General features:
Supports IDM activation for all versions;
Toolkit section:
Automatically download, install, activate and update the latest IDM (silent procedure);
Download & install the newest IDM;
Manually register IDM with own username;
Auto reset IDM trial period (30-day trial period);
Completely uninstall IDM from devices (full & default).
Integrate into IDM:
Auto Update and activate IDM install AutoUpdate file to a computer, startup with Windows, automatically update and enable IDM when a new version is available;
Auto reset IDM install the IDM TrialReset file to a computer, startup with Windows, automatically restore the trial period after counting the number of days (should remove full and then reinstall before using Trial)
Option section:
Clear registry leftovers of the previous IDM;
Turn off annoying IDM notifications;
Optimize IDM speed and connections: Increase connection speed and maximum connection number;
Repair IDM Auto media download links on YouTube,...;
Bilingual: English and Vietnamese (need to restart);
Add new toolbars for IDM;
What is new in version 3.9 (Released on March 19, 2019):
Server updated with Ali.Dbg crack (version 16.5);
Fixed problems with video recognition for several types of web sites;
Fixed bugs.
What is new in version 3.8 (Released on November 14, 2018):
Supports version 6.32 (all further builds).
Screenshots: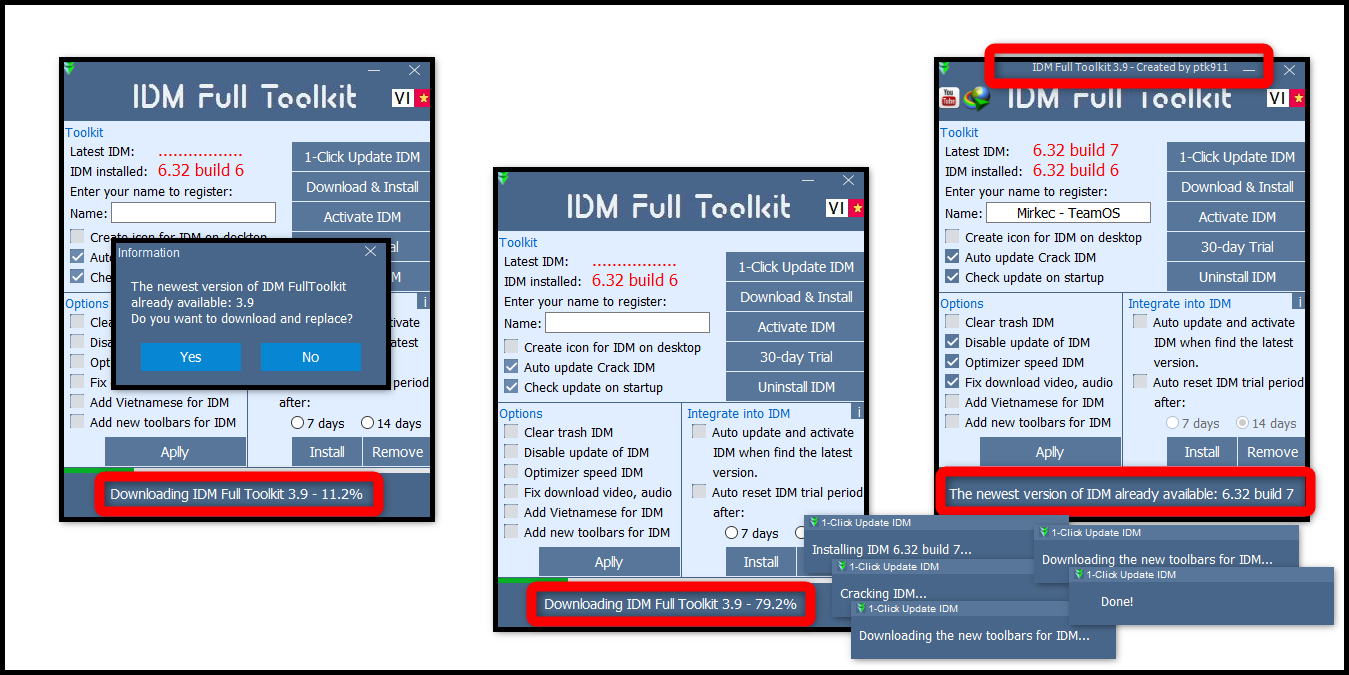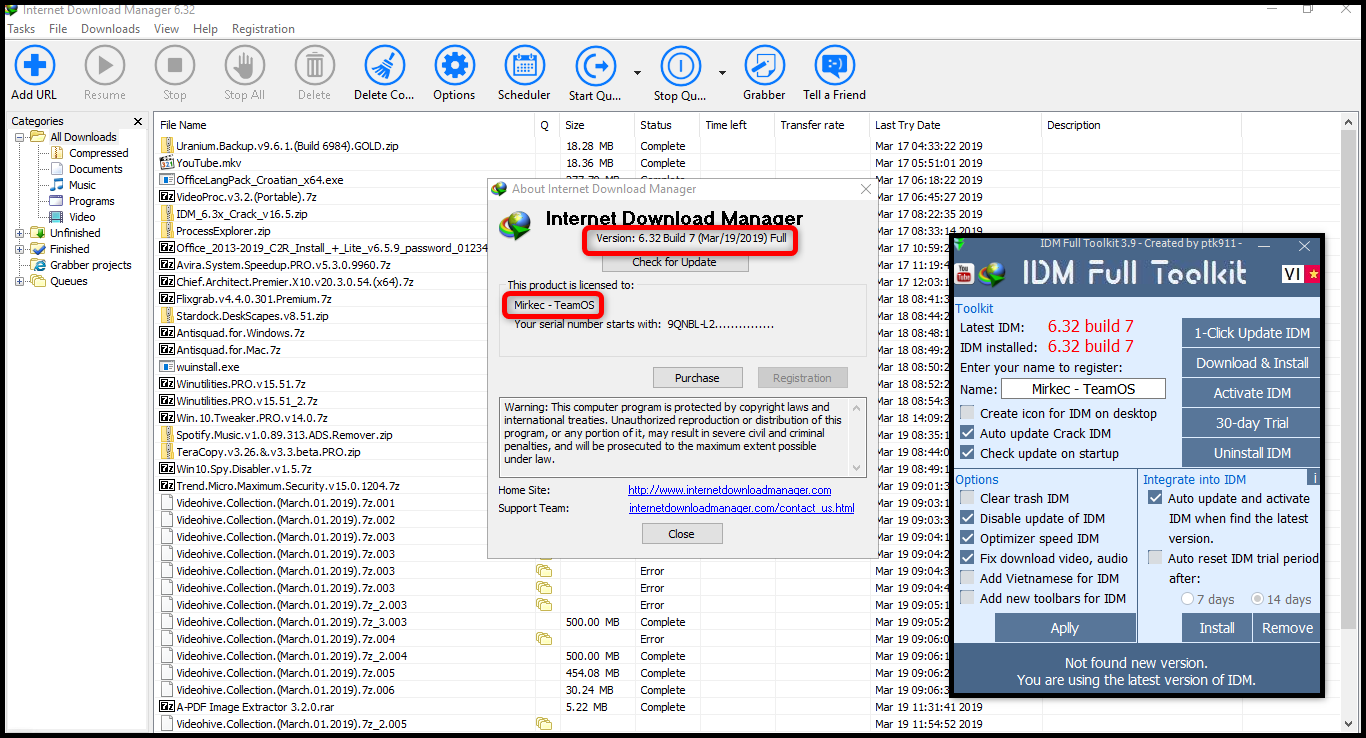 Virus free! 100% clean!
All credits go to the ptk911 who made and shared the toolkit with us!​
Kind regards,
@Mirkec
in collaboration with TeamOS
NOTE:
The AutoIT Toolkit script has some detections, just add an exception in exclusion list of your AV.
File: IDM Full Toolkit 3.9.exe
You must be registered for see links
17/66
MD5: 75853C8FA82F5544FAD9E384E71363A5
SHA1: 9A831ED1238F217A11BB159EF9EE24F047180E92
SHA256: B6221FCA4503661FFCB81E0A744A2D2699670AC1506156CAC72A67577EE0CCE6
Download links - version 3.9 (Size: 1.46 MB):
You must be registered for see links
You must be registered for see links
You must be registered for see links
You must be registered for see links
Last edited: