Administrator
Windows Modifier
Downloaded

51.7 GB
Uploaded

13.1 TB
Ratio

258.99
Review
FileZilla is a fast FTP and SFTP client that features multiple connections support and a dual-pane interface for more straightforward navigation, securing transfers using advanced protocols. FileZilla evolved from what was originally a class project into a full-featured, open-source FTP application. The global project consists of the Filezilla client and Filezilla Server, both of which can be used individually for website management and transfer.
The FileZilla client features support for various protocols, such as FTP, FTPS (FTP over SSL/TLS) and SFTP (SSH FTP) and can handle the IPv6 technology. It achieves outstanding transfer speeds and can be used for remote file editing. With this program, the user can save usernames, passwords, connection types, and other details necessary for connecting to a website, thanks to the built-in Site Manager.
FileZilla adopts a tabbed style for the user interface, which makes it easy to navigate through files and folders. Most of the functions are bundled in a few menus, but a toolbar of buttons for essential features is also available. With FileZilla, users can batch download and upload files from and to multiple servers, modify access rights, change firewall settings, cache directories to increase FTP site browsing speed, quickly connect to the server, set to automatically adjust transfer speeds, to name the most important ones.
With drag and drop support, speed limits, process queue and multiple transfer modes, FileZilla also sports a vast settings menu with configuration options that concern every single feature of the app, such as transfers, proxy, interface, file editing or language. All these settings can be exported and imported back at a later time. FileZilla is one of the most appreciated FTP clients on the market and for a good reason, too. It is fast, intuitive and makes the perfect companion for website administrators.
Multi-language support;
Supports massive file transfer and supports resume;
Easy to use;
Drag & Drop;
Custom commands;
Site manager with folders;
Keep alive system;
Timeout detection;
IPv6 support;
Firewall support;
SOCKS4/5 and HTTP1.1 Proxy support;
SSL secured connections;
SFTP support;
Manage powerful websites and queue transport;
GSS authentication and encryption using Kerberos;
Ability to resume uploads/downloads (if the server supports it);
Upload/Download Queue;
Bookmarks;
Drag and drop support;
The formal conversion speed limits;
Network configuration wizard;
Edit the file remotely.
What is new in version 3.48.0 (Released on April 28, 2020):
Fixed vulnerabilities:
Custom associations for file extensions containing spaces were not saved correctly.
What is new in version 3.47.2 (Released on March 11, 2020):
macOS: Potential fix for clipped text labels on a few systems;
SFTP: Backported selected fixes from developement versions of PuTTY;
Fixed value range for directional transfer limits;
Fixed layout issues if changing to/from comparative search.
What is new in version 3.47.1 (Released on February 26, 2020):
Site synchronization, FileZilla Pro can now securely synchronize your Site Manager between installations, with any remote storage of user choice;
Added new search mode: Comparative search;
Pressing F7 now switches focus between local and remote panes;
Google Drive: Forward slashes in remote file names are now converted to underscores;
MSW: Limit amount of text that can be entered in spin controls;
MSW: Workaround a linker bug breaking ASLR;
macOS: Avoid spurious button events consuming keyboard shortcuts;
Fix visual glitches adding/removing filter rows;
Increased minimum width of a text field in generic input dialogs;
Refactored Site Manager controls to increase modularity and fixed some minor GUI inconsistencies;
Refactored engine connection logic.
What is new in version 3.46.0 (Released on November 26, 2019):
Bugfixes and minor changes:
Fixed a rare crash if closing FileZilla the very same moment a connection or transfer requests user attention
What is new in version 3.46.0-RC1 (Released on November 15, 2019):
New features:
Show an error message in the local directory listing if the user lacks permission to show the directory.
Bugfixes and minor changes:
Local file list status bar is now reset if accessing a local directory fails;
macOS: Workaround a bug in macOS 10.15 (Catalina) were closing a dialog shown from a timer can result in temporary freezes;
Refactored speed-limiting code;
Building and running FileZilla now depends on libfilezilla >= 0.19.1.
What is new in version 3.45.1 (Released on September 25, 2019):
Bugfixes and minor changes:
Fixed sorting issues in the directory trees
What is new in version 3.42.0-RC1 (Released on April 26, 2019):
Bugfixes and minor changes:
Switching from using a master password to not saving passwords at all no longer requires entering the master password;
*nix: Fixed support for internationalized domain names on systems having AI_IDN when using SFTP;
Fixed an assertion after importing a manipulated queue file;
When importing sites, any imported passwords are now immediately protected/deleted depending on the password protection settings;
The ability to import Sistem Manager entries from antique FileZilla 2, last updated over a dozen years ago, has been removed.
Supported Operating Systems:
OS: Windows 10, Windows 8.1, Windows 8, Windows 7.
Screenshots: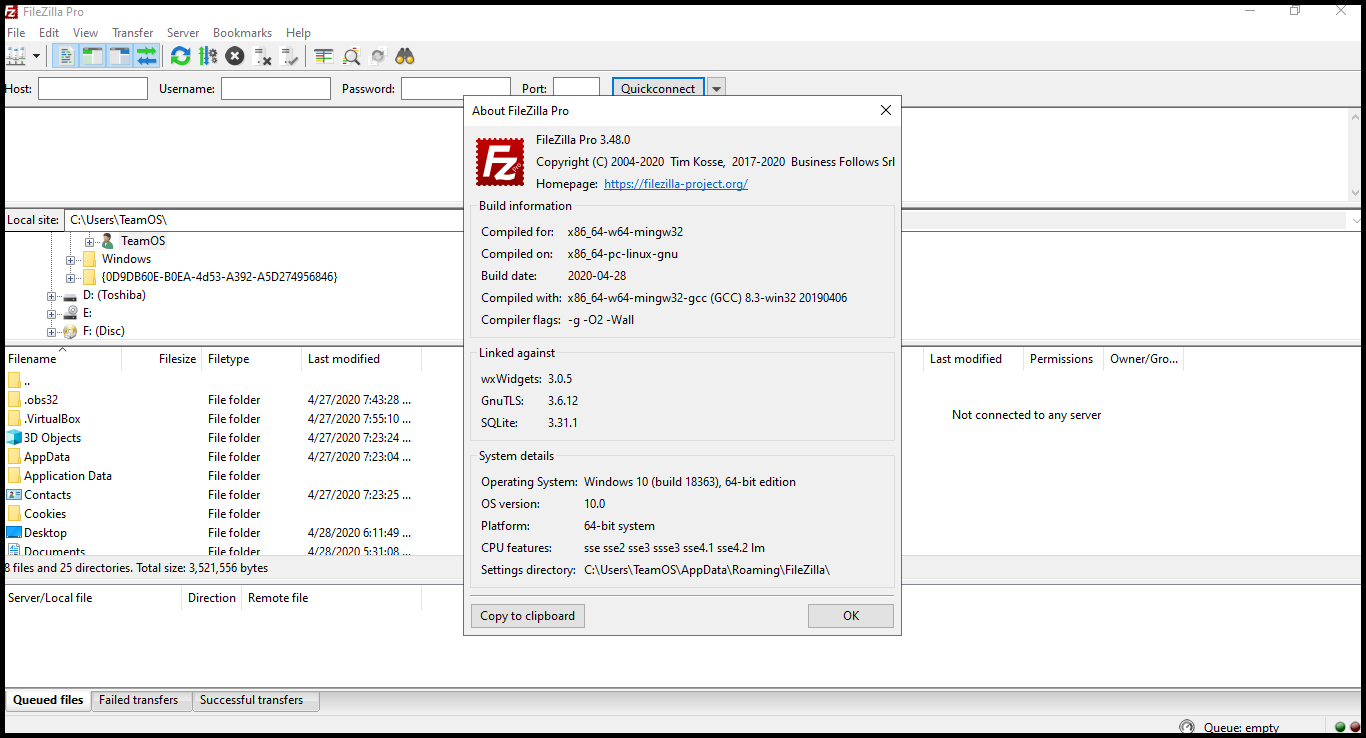 Virus free! 100% clean!
​
File (32-bit): msimg32.dll
You must be registered for see links
29/70
MD5: 2329F5A57059317A37BC81F9E67B1E26
SHA1: B143CD7E1F0D4ED15BD7B99D74966D11D75DAF4F
SHA256: 4C3738D9C5C9BD7E7A2848D99EF5450E29C46ECFEDE3C6620D8267972759D1B1
File (64-bit): msimg32.dll
You must be registered for see links
02/70
MD5: E89763D9709182FEB9DBB6092F8430AF
SHA1: FED0EA994D38EE62799F00F43C2403216F54B41D
SHA256: 9802314BC3A25BAD0E0894F50209BD72ADF0FBBFBD6BC0A8DBC931173D5EF84F
Kind regards,
@Mirkec
in collaboration with TeamOS
Download links - version 3.48.0 (Size: 37.75 MB):
You must be registered for see links
You must be registered for see links
You must be registered for see links
You must be registered for see links