Keep Downloading & Enjoy Your Stay at TEAM OS!!
VIP
Downloaded

16 GB
Uploaded

39 GB
Ratio

2.45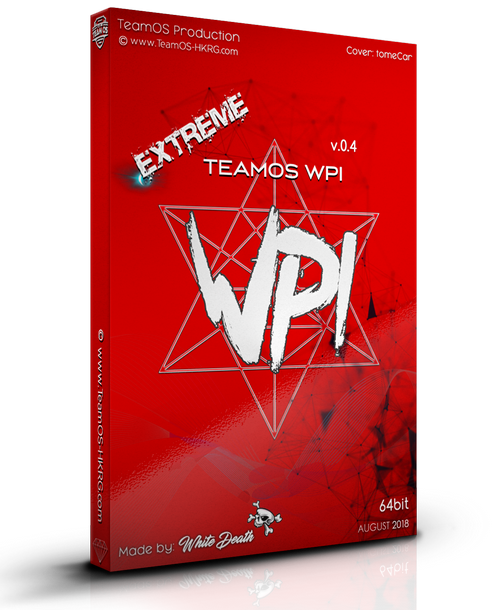 Code:
Description:
Windows Post-Install Wizard (also known as WPI, for short) is a comprehensive application
that will enable you to customize your Windows setup process by allowing you to select which
applications may be installed by the end user along with the operating system. This tool eliminates
the need for administrators and users to manually download the software files, or to create highly
complex scripts for only one-time use. You ca use Windows Post-Install to create a custom configured
and automated image that will let users to install any application.
Code:
Our Work:
Name:Extreme TeamOS WPI v0.4=WhiteDeath=
Architecture:x64
Size:17.5 GB (18,839,144,448 bytes)
SHA1:f0ef872b5a7ecddcdfa0264cb624ad166cc2d495
Tested:in Windows 10 17112.1 / 17115.1 / 16299.15 so supported : Windows 7 / 8.1 / 10 x64
Applications:93 added!
Features:We hoping we will get more applications in the feature
Feedback:We hope our users will help us with more Feedback
Note:there is a change some apps have russian language so we are hoping you will report too us so we can remove it or the next one we will add english one
Cracked word: mean all applications is preacracked
About applications:We did a very good search in alot forums and we gather the most trusted application remember that will be always a change crack dosnt work or expired.!
Code:
How Too Use:
Download the iso
Extract it
Run the .exe
Choose the application you like
Start and waiting till finished ( recommended Restart for be sure)
=============================
Note 1: Important for people can't see the fullScreen Solution:
go in Extreme TeamOS WPI v0.1\UserFiles and edit the files name:useroptions
you will see this code example:

// Window tab
Resolution=1;
MainWindowWidth=1920;
MainWindowHeight=1082;
MainWindowX=-1;
MainWindowY=-1;
InstallerWindowX=25;
InstallerWindowY=25;
Change the resolution too yours save it and work done!

Note 2:Remember When used the wpi extreme disable your antivirus and also if you choose install all products of adobe recommended disable your internet!
Code:
Application List:
-Windows Loader v2.2.2 ( For windows 7 )
-7zip x64
-Abelssoft SSD Fresh Plus 2018 7.3
-ACDSee.Photo.Studio.Professional.2018.v11.2.888
-ACDSee.Photo.Studio.Standard.2018.v21.2.818
-ACDSee.Photo.Studio.Ultimate.2018.v11.2.1309
-Hwidgen - Digital Licence Activator V10.24(For all windows 10 Permantly Activation Note:Need Internet)
-Active Data Studio 11
-Adguard Premium 6.2.437.2171
-Adobe.Acrobat.Reader.DC.v2018.011.20055
-Adobe.After.Effects.CC.2018.v15.1.2.69
-Adobe.Audition.CC.2018.v11.1.1.3
-Adobe.Bridge.CC.2018.v8.1.0.383
-Adobe.Dreamweaver.CC.2018.v18.2.0.10165
-Adobe.Illustrator.CC.2018.v22.1.0.314
-Adobe.Media.Encoder.CC.2018.v12.1.2.69
-Adobe.Photoshop.CC.2018.v19.1.5.61161
-Adobe.Photoshop.Lightroom.Classic.CC.v7.4.0
-Adobe.Premiere.Pro.CC.2018.v12.1.2.69
-AIDA64.v5.97.4600_Business
-AOMEI.Backupper.v4.1.0
-AOMEI.Partition.Assistant.v7.0
-Ashampoo WinOptimizer 15.00.05
-Ashampoo.Driver.Updater.1.2.1.53382
-Acronis True Image 2018 Build 12510 (22.5.1.12510)
-AusLogics.BoostSpeed.v10.0.13.0
-AusLogics.Disk.Defrag.Professional.v4.9.1.0
-Auslogics.Driver.Updater.1.13.0.0
Code:
Application List 2:
-CCleaner.v5.45.6611
-Google Chrome 68.0.3440.84
-ClassicShellSetup_4_3_1
-Complete Internet Repair 5.1.0.3943
-Cpuz 1.85
-CrystalDiskInfo 7.5.2
-Driver.Reviver-5.25.9.12
-EaseUS.Partition.Master.v12.9
-Speed Fan 4.5.2
-Internet.Download.Manager.v6.31.3
-IObit Uninstaller 7.5.0.7
-Kmspico Activation for Office etc
-MAGIX.SOUND.FORGE.Pro.v12.0.0.29
-MAGIX.VEGAS.DVD.Architect.v7.0.0.84
-MAGIX.Vegas.Pro.v15.0.384
-Microsoft.Office.Pro-Plus.2016x64.v2018.07
-Movavi.Photo.Editor.5.5.1
-Movavi.Video.Converter.v18.4.0
-Movavi.Video.Editor.14.Plus.v14.5.0
-Movavi.Video.Suite.v17.5.0
-Media Player Classic 1.7.13
-MultiCommander_x64_(7.7.0.2404)
-Opera 54.0.2952.64
-PartitionManager-15.10.1.25.779
-StartIsBack.v2.6.4_v1.7.6
-System Explorer 7.0
Code:
Application List 3:
-TeamViewer 13.1.3629
-TechSmith.Camtasia.Studio.v9.1.1.2546
-TechSmith.SnagIt.v18.2.1.1590
-TeraCopy.Pro.v3.2.6.0[
-UltraISO 9.7.1.3519
-VBCRedist_AIO_x86_x64 14.12
-VCR_Hyb_x86_x64_11.05.2018
-Vlc Player 3.0.3
-VMware.Workstation.v14.1.2.8497320
-Wise Duplicate Finder 1.2
-Windows Repair 3.9.22 Pro
-Windows.10.Manager.v2.3.2
-WinRAR.v5.60
-WinZip.Pro-22.5.13114
-Wise.Care.365.Pro-4.91.472
-Wondershare.Data.Recovery.6.6.0.21
-XYplorer.19.10
-Zoner.Photo.Studio.X.v19.1806.2.72-en
-EZ.CD.Audio.Converter.v7.1.5.1
-FileMenu Tools 7.5
- Mozilla Firefox 61.0.1
-FxSound.Enhancer.v13.024
-Hard.Disk.Sentinel.Pro.v5.30.9417
-HDD.Control-3.10.01
-Registry First Aid 11.1.1.2516
-Revo.Uninstaller.Pro.v3.2.1
Code:
Application List 4:
-Right Click Enhancer Pro 4.5.3.0
-lightshot 5.4
-Smart.Defrag.6.0.1.116
-SoftMaker.Office.Professional.v2018.933.0620
-PDF-XChange.Editor.Plus.v7.0.326.1
-PDF-XChange.Viewer.PRO.v2.5.322.8
-Photodex.ProShow.Producer.v9.0.3797
-PowerArchiver-2018.18.00.58
-PowerISO.v7.2
-processhacker-2.39
Code:
Checksum:
  File: Extreme TeamOS WPI v0.4=WD=.iso
CRC-32: 30556417
MD4: c86b0df1031ae5c1b3cec5b0e9a152d2
MD5: c01474df3cde01af168d58b03ae9f6b3
SHA-1: f0ef872b5a7ecddcdfa0264cb624ad166cc2d495
Creator :
@[[TeamOS]]
Helper: :
@The Rain
Designing / Images:
@tomeCar
Supported:
@TheMacGyver
Last edited by a moderator:
Created With:

uTorrent/2210

Comment:

No Comment For This Torrent

Peers:

25 Seeders + 0 Leechers = 25 Peers

Loading…