Do Not Message or PM, I am BOT
VIP
Power User
Downloaded

0 bytes
Uploaded

0 bytes
Ratio

-
Deepbrid is a premium link generating service that will help you to download different files from multiple file hosters. The best thing about this link generator service is that it supports over 80 file hosting services.
You can access all those 80 file hosting options from a single Deepbrid account. Further, it uses around 70 streaming servers for it to work, which makes it a quality and speedy service.

However, this service is paid, but it also provides some features for free. But the free plan has limited features, so I would suggest you choose it only for testing purposes. Once you are happy with their free version, you can shift towards the paid one.
The premium plan will allow you to use any of the supported hosters without concerning the limitation problem. Apart from it, this service additionally holds a few other plugins that you can get with the premium plan.



Many of Us have been through links like Rapidgator, Uploaded etc.. which require you to wait for download and gives very slow speed for downloading. And in 24 hours we can download only 01 / 02 files for free with limited speed and lots of waiting time. But deepbrid comes in for rescue for those who wants to download files from such filehosts. It lets us download files at fast speed aswell as without any waiting. You are just a click away from getting your favorite files. I have been using it myself since long for Rapidgator and it really works great to serve me premium links of Rapidgator.
List of Supporting Hosts :-
1fichier, 4shared, alfafile, ausfile, backin, bayfiles, bdupload, big4shared, buenastareas, calameo, clicknupload, dailymotion, dailyuploads, datafilehost, ddownload, depositfiles, docs, easybytez, extmatrix, fastshare, file, file4safe, filefactory, fileflyer, filenext, filer, filerio, filescdn, firedrop, fireget, flashx, free, gigapeta, goloady, hitfile, hotlink, hulkshare, icerbox, inclouddrive, indishare, issuu, k2s, katfile, littlebyte, mediafire, mega, mexashare, nitroflare, oboom, prefiles, promptfile, racaty, radiotunes, rapidgator, rapidrar, rapidvideo, rutube, salefiles, scribd, sendit, sendspace, slideshare, solidfiles, soundcloud, takefile, turbobit, tusfiles, unibytes, upload, uploadboy, uploaded, uploadgig, uploadrocket, uptobox, userscloud, vidoza, vimeo, wdupload, worldbytez, wushare, xubster, youtube, zippyshare
1fichier, 4shared, alfafile, backin, depositfiles, ddownload, easybytez, extmatrix, filefactory, filenext, goloady, hitfile, katfile, littlebyte, mediafire, mega, prefiles, rapidrar, rapidgator, tusfiles, uploaded, uptobox, wdupload, wushare, youtube, zippyshare
Features :-
1. File Downloader :-

This lets you paste Upto 10 Links at Once and get the premium link for those. You will be able to download those Premium Links with Just one click and high speed without any waiting.



2. Torrent Upload & Download :-

Many of us have came across situation where we want to download a torrent but either it have very less seeder, or the seeder seeding it have very slow speed and we have to keep our system on for a long time to get those files.

But with Deepbrid you just have to paste the magnet link in deepbrid and it will start downloading file in its server , you come back later and when the download is finished on deepbrid server you can get a direct download link for that and download those files with ease.
Please note :- Torrent Upload functionality only supports Magnet Links, It doesn't allow you to upload torrent files for downloading.
You can find the whole list of File Hosters and their Active Status and Limitations here through the Status Link :-
https://bit.ly/2WV9sIG
Free Services :-
Deebrid offers free services for users to test the functionality of Deepbrid. With Deepbrid Free you can downloaded content through the freehosters mentioned on above lists.

You will be able to download 01 Rapidgator File of 450MB , 01 Alfafile File , 01 Filenext File of 300MB .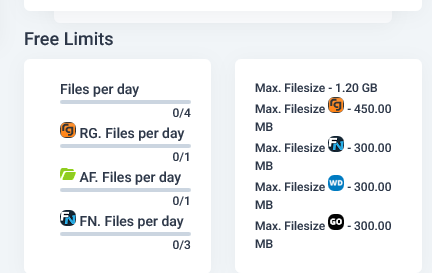 Paid Services :-
With Paid Services you will be able to Download Files from all the Mentioned File Hosters and Torrent Upload Functionality with ease. They have Premium Plans starting from 4.99 Euro for 30 Days which is way cheaper than what you have to pay for a single Premium File Host.

If you see here :- https://rapidgator.net/article/premium , Only Rapidgator alone charges 14.99 USD per month , considering this price point, Deepbrid is giving you access to premium links of 80+ Hosts , It is offering great services in effective price range. So if you need such an service you must consider to try out the deepbrid.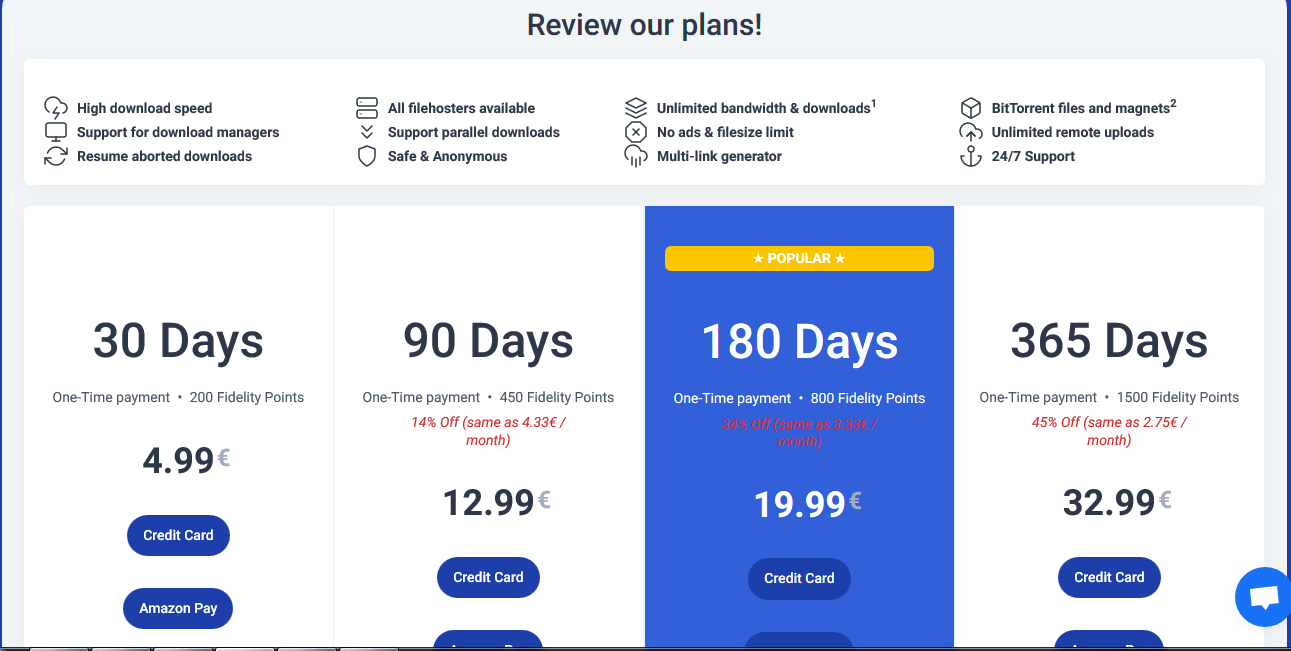 ​
Limitations :-
There are limitations which you should be aware of and should check regarding it before purchasing the plan.

1. Size Limit :- Some hosts have size limit , so you can download only an amount of GB per day. For Eg. - With Rapidgator you will be able to download upto 40 GB Per day, which gets auto renewed next day.
2. Torrent Limit :- Through the Torrent Upload method you can upload upto 12 Torrents at a time. For adding new Torrents you will have to remove some other torrent from the storage and add new one.
3. Down Hosts :- Some Hosts gets down sometime because changes made by original hosts or due to accounts getting banned by the host, so they come back online again once the things are fixed and new accounts are added. So before purchasing the plan make sure to check the status of all Hosts at Status Page.
Update 1 :- Rapidgator has been Temporarily Disabled for Free Users due to heavy abuse of Service. It is now available for premium members only.
Update 2 :- Nitroflare is not going to work for anyone either Free/Premium as Nitroflare is blocking all the accounts of premium hosters manually , making it difficult for them to maintain the premium services of nitroflare.
Update 3 :- K2S is not going to work for anyone either Free/Premium as they are also blocking the premium accounts of hosters making it difficult for them to maintain the premium services of k2s.
So anyone looking for purchasing the premium plan , please note that Nitroflare and k2s (Keep2share) is not going to work on Deepbrid ATM.
​
Why Limitations ? & How it Works? :-
Well i am not quite specifically know how these services work , but here is my rough idea, they use API's to connect to those servers through their own accounts and let you download those files through premium features. So sometimes the original hosts block their account and than they have to buy new accounts and associate with their API to make the services work again , so that's why sometimes you will find some hosts down.
Support :-
They have a Chat System and Support Section in their site through where you can contact their support staff and get support. You may also contact their Support through their Facebook page for quick responses :- https://www.facebook.com/deepbridcom/
Last edited: