Windows updater and modifier
Super Admin
Downloaded

0 bytes
Uploaded

257.4 TB
Ratio

-
Adguard Premium 6.1.314.1628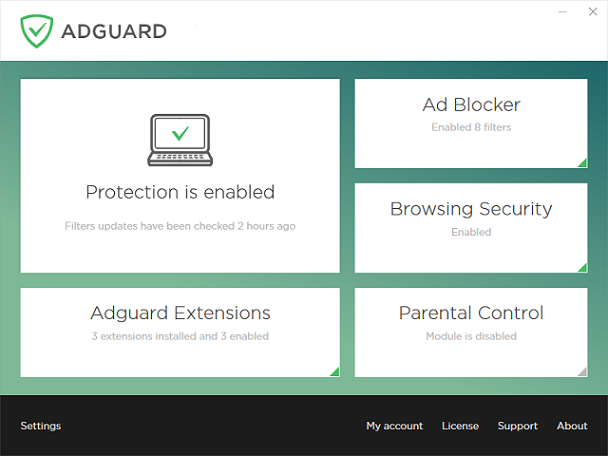 Software Version: 6.1.314.1628
Language: Multi
Treatment: not required (Premium for 180 days free of charge)
System requirements:
Windows® XP / Vista / 7/8 / 8.1 / 10

Internet Connection
Description: Adguard - Internet filter to protect users from dangerous Web sites, blocking all the possible types of advertising on the Internet. The program is a great addition to your basic anti-virus protection with effective blocking malicious, fraudulent and phishing resources, and parental monitoring of online activities of children. Web Protection works with all web browsers, effectively blocking Internet threats due to daily update the program database via the largest resource Google Safe Browsing, Web of Trust Lists (WOT) and Malwaredomains. Adguard belongs to the family Adblock programs, whose main task is to operate quality control of Web resources and the Internet in general. Number of users of the program consists of several million people.
Additional Information:

Adguard includes anti-phishing features, antitreking, parental control and antibanner. Internet filter is designed to block malicious and fraudulent websites (web protection) and all possible kinds of unwanted advertising (the Adblock) online
New in version 6:
Adguard user interface has been completely redesigned. Now has a modern Adguard "tile" design.

Adguard been translated into many languages. This includes a user interface assistant Adguard, filters, etc.

The positions of the application window is now saved and restored when you restart the application.

in the notification menu redesigned, improved availability of different options through the notification area.

The interface of the new version is much more friendly to blind users or users with low vision.

The speed of the user interface and loading speed were significantly optimized memory consumption greatly reduced.

Now, when you first start Adguard shows the welcome screen for you to determine Adguard and briefly telling about its capabilities.

Upgrading to a new version of Adguard 5 is now possible and does not lead to a loss of settings.

New ability to change the channel updates on "Beta" and get all the beta updates, including updates Assistant and extensions.

Antitreking - a new module has been added. It protects your personal information online in various ways, including blocking cookies external sources, hiding IP addresses, and much more.

Improved support for application filtering. Now Adguard automatically detects the applications installed on your computer and offers filtering them. This applies to the Windows app store.

Editor filters and filtration magazine have been completely redesigned. You will find a fresh design and improved functionality.

You can now use the new search feature throughout the program for any keyword by typing it in the text box in the upper right corner.

Now you can add any filter to the URL or set the path to a local file on your computer, and Adguard will automatically track it changes.

Extensions were made into a separate module that can be turned on and off as a whole.

Security custom extensions has been greatly improved.

numerous additions and improvements to the filtering process were made, separately worth noting the support of the new rules and modifiers accelerate filtration.

Many other changes, which are impossible to list all the changes in the list.
Changes in version 6.1.314:

Version 6.1.314 added a fix for the defect # 1569 interfering with the work of disabled HTTPS filtering.
Features of version:
The full functionality of the premium version is available for free for 6 months (180 days) without priority support Adguard.

You get all the functions: Protection from advertising, protection against malicious websites and Parental Control.
Created With:

uTorrent/2210

Peers:

7 Seeders + 0 Leechers = 7 Peers

Loading…